originally published: 11/27/2019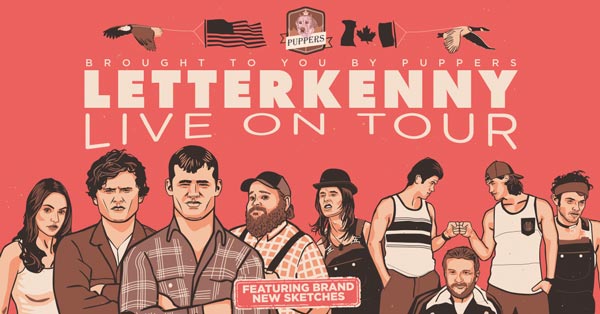 (RED BANK, NJ) -- The stars of the wildly popular award-winning Crave Original Series LetterKenny are bringing "Letterkenney Live!" to the U.S. for the first time in 2020.  All new, the acclaimed 90-minute comedy experience will feature nine of the beloved cast members along with never-before-seen sketches and more.  The highly anticipated live event, that comes to The Count Basie Center for the Arts on Sunday, March 22 at 7:00pm stars Jared Keeso (Wayne), Nathan Dales (Daryl), Michelle Mylett (Katy), K. Trevor Wilson (Dan), Dylan Playfair (Reilly), Andrew Herr (Jonesy), Tyler Johnston (Stewart), Evan Stern (Roald), and Mark Forward (Coach).
Letterkenny is a Canadian comedy television sitcom created by Jared Keeso and Jacob Tierney. The television show focuses on sibling pair of Wayne (played by Jared Keeso) and Katy (played by Michelle Mylett) who run a farm and produce stand in a small rural Canadian community called Letterkenny.
After originally starting off as a web series, Letterkenny has expanded its cast to include Wayne's cronies Daryl and "Squirrely" Dan, members of the local First Nation also known as 'the natives,' the farmers (the hicks), the town's minister, the local drug addicts (the skids), and the local hockey players Reilly and Jonesy who just so happen to be in a polyamorous relationship with Katy.
With six successful seasons under Letterkenny's belt and several televised specials streamable through CrateTV and Hulu, Letterkenny is taking their production on the road in June in a show they've entitled Letterkenny Live.
Count Basie Center for the Arts is located at 99 Monmouth Street in Red Bank, New Jersey. Tickets range from $39 to $75.
---