originally published: 11/26/2019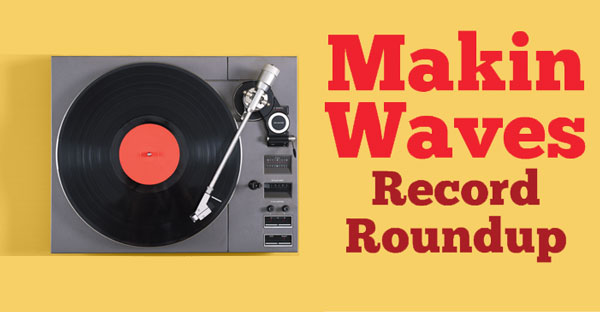 The energetic jangle of New Brunswick indie-rock veterans The Clydes returns with second full-length album on North Jersey-based Mint 400 Records and their third since 2015's self-released "Hiding from the Summer." Like its predecessor, 2017's "So the Story Goes," "Old-Time Monarchy" was produced by label head Neil Sabatino, who helps the band unlock a more vibrant sound fueled by the Johnson Brothers' passionate vocals and lead guitar playing, respectively by Brent and Brian. The songwriting also is better this time out, perhaps because of a variety of keyboards to bounce off Brian's ringing guitars, but also because the lyrics reflect on inner chaos as it relates to that of the world amidst the strange times in which we are living.
The 10-song collection kicks off with the title track about impending doom at a royal wedding. One of the strongest showcases of those aforementioned vocal and guitar chops. "Old-Time Monarchy" is a treat. Even better is the closer, "Tobacco Point," a haunting but beautiful ballad that is The Clydes' masterpiece. Everything comes together for the band – also bassist Andrew Cougar Orlando and drummer Pete Gambino -- in this eerie examination of the appeal of nostalgia and more simple times. 
Neil captures Brian's e-bow magnificently and layers it with other atmospherics that add to the weight of the brothers' foreboding lyrics, the opening verses of which are well worth quoting: "Hooked in the fairless, down to the travesties, coming on point this time.
Oh, we're waiting all day and killing our minds to find it. It's all been truncated, and I've been cross-dated. The monsters in the sun sing that song to me. Sing that song. Hooked in the balance, and down to the Travers, they'll never cry out loud. Sing Hosana to come. I'll be at the top of the bough."
I also love the dual guitar solos between Brian and Andrew that fade the album out on an impressive note.
Another standout, "Left My Bullets (In Another Gun)," is about trying to overcome something when the chips are down and frustrations arise because life feels like a continually losing gunfight. The heartfelt tune features some of the album's best performances all the way around, especially by Pete on drums.
All three of these songs are better than the album's two singles: "Jalisa," which is about feeling that love still isn't within your grasp, even when you think you've met the right person, and "Beggar Ballin'," the tale of a smitten fool who longs for true love. "Jalisa" features an impressive high-pitched vocal that delivers an interesting slang rhyme scheme. A strong guitar stomp ends the track nicely, but the song is not as memorable to me as the others mentioned and certainly not as meaningful. Meanwhile, "Beggar Ballin'" sports a passionate delivery of clever lyrics, such as "The mirror's makin' faces when it looks at me," but in my opinion, this is weakest of the 10 tracks because of a cutesy, oversimplified and monotonous melody. 
While both songs are the most "commercial-sounding," they aren't necessarily the most catchy, which is a construction and appeal that makes you want to listen again and again. I'm of the firm believe that indie-rock bands should put their best material forward rather than what's most likely to appeal to the lowest common dominator. After all, who needs another pop star? The Rock Gods know we have enough of those! 
The album also features: 
• The shotgun marriage of "27/31," a women-are-from-Venus, men-are-from-Mars look at the incongruity of the male-female dynamic … apart from good sex
• "Sister Daylight," a zealous squawker that expands into a cacophony of cool guitars
• "A Kind Of Romance," a modern-day take on a rave-up about trying to make the best of love gone bad
• "Oddstaker," another showcase of Pete's chops in Beatlesque rhythm-fest that would make Ringo proud until scorching, screeching guitars steal the show and take the track in a different direction and more original-sounding conclusion
• "Unlikeable," an off-kilter but happy-go-luck rocker about trying to do your best within a relationship and featuring tinges of Big Sandy-like West Coast R&B.
What's cool about "Unlikeable" and many of the new Clydes songs is that they would work just as well if Brent performed them solo acoustic, which is a testament to the strength of his and his brother's songwriting. 
Daughter Vision provides the fun and fascinating mix of the theatrical glam of David Bowie, the art rock of Laurie Anderson, and the synth pop of Kraftwerk and Vince Clarke of Depeche Mode, Yaz and Erasure can be heard on the new three-song "DV EP." If Robert Smith from The Cure and Siouxsie Sioux were married by Paul Jourgensen of Ministry, Daughter Vision would make the perfect wedding band.
Together more than seven years with two LPs and an EP to their credit, the artsy Asbury synth-pop unit recently added to the lineup beloved Jersey Shore singer-songwriter Emily Grove, but in her Daughter Vision role as Amarna Yoni, she delivers a much different dynamic than her solo act with even more range due to the often fierce versus folk nature of the music. An excellent showcase of this dynamic is "Hang the Picture" on which Amarna degenerates from a heavenly, hymn-like opening that sounds like a Celtic angel to a musical Medusa who poisons with poetics, especially the second verse: "You speak in tongues as I'm hiding underground waiting for you to fall. With one wave of my hand, I drew the blood from your poisoned mouth. Now you can take your crown of thorns and throw it on the fire. The one who once was the king of lies is finally my prey."
The intense tune also features a sweet keyboard solo most likely by Stephen H. Christ, which unlike a lot of synth-pop or electronica, is gritty and soulful. More avenues for guitar traveled by Väl Challah also set apart Daughter Vision, who also feature great performances on percussion and sequencer by Bob Dammit.
The EP opens with "Beyond the Pale," which is propelled by poppy Vince Clarke-like keyboards that balance a menacing melody that sounds more like Nine Inch Nails. The closer is a re-recording of the erotic domination of "Suffocate the World," but with Amarna at the mic. Originally released on the 2016 LP, "Do What You Want," the dichotomous track is a great fusion of danceable pop and dark dissonance that offers bouncy fun one minute and haunting heaviness the next. I especially love the titillating, cult-like gang chant on the refraining bridge.
I'm really looking forward to hearing more from the female-fronted Daughter Vision who will follow their performance at Tallie Fest with a show on Dec. 2 at the Wonder Bar also in Asbury Park with El Noordzo, Joy on Fire and Joe Galuppo.
Like the late 1960s into the early '70s, the early '90s were one of the most artistic time periods for rock music with bands, such as Nirvana, Soundgarden, Pearl Jam, Mudhoney, Alice in Chains, Tool and Jane's Addiction. Were it 1993, Baron Praxis might represent New Jersey within that circle of modern-rock royalty with their edgy hysterics, progressive pummeling and Sabbathy sludge. Since it's crappy 2019 -- and what's left of the music industry wouldn't know good music if it bit it on its collective ass -- the Toms River-based band must bang it out in the local scene. 
And a mighty bang it is based on the strength of their forthcoming 13-song collection, "Precusor," which follows last year's first full-length, "Satanic Panic," and the 2017 debut EP, "Ghost Town." Much more artistic than they are commercial, Baron Praxis open with a near 10-minute track, which actually is the brief title soundscape into the epic "Aliens," a mini-rock opera onto itself or at the very least, a suite that kicks off an apocalyptical theme. 
Throughout "Precursor," Baron Praxis, who take their name from a video-game villain, seem to be saying that we're fucked by the irreversible plight caused by the political corruption that fuels war, pollution, poverty and plague. Several of the tracks explore this concept, such as "Demons Below," a moody tale about wasting one's time within a toxic world. The resulting anger expressed adds to the tune's moodiness, as do haunting guitar atmospherics.
"Nice to Meat You" sounds like Pink Floyd's "Welcome to the Machine" covered by Jane's Addiction, in a menacing lament about the lack of humanism within the post-industrial world. A briefly mellow acoustic intermission to the insanity that is "Precursor" comes on the intro to "L'appel Du Vide" until fierce rhythms once again rumble within a thick wall of thunder as lightning sparks from squealing, squawking guitars. Midway through the album, a moody, atmospheric instrumental, "Syzygy," sounds like God casting judgment on the sins chronicled thus far.
The lull continues with "Haven City," a rhythmic track that's a plea for salvation and about as close to a power ballad as Baron Praxis can get. On "Aluminum Sunsets," which is as close to a love song as the band can get, more mellow rhythms, as well as a fantastic guitar solo, propel this pretty expression of the frustration and disappointment in a dead-end romantic relationship. I just wish they let the closing solo extend as an album track alongside a radio edit. The clipping of the blistering solo seems to be the only commercial move on this collection.
The tapping guitar work on "Little Skeletons" also is particularly impressive, as is the crunching conclusion with its splatter of rhythms that are the musical equivalent of SpinArt. The dynamic Tool-like track fluctuates between pretty, pummeling and punctuating, while a range of emotions are spilled along the way
Another standout is "Bushido," a high-octane grunge fest that fashionably wears MC5 and Black Sabbath on its sonic sleeve, while also giving a nod to mid-'80s hardcore and thrash, such as Agnostic Front and Slayer. As spooky as it is political, this is a great track to release right around Halloween and Election Day.
But the most political is the CD's bonus track, "9/11 Was an Inside Job," which recently was released as a digital single but won't appear on the digital version of the album. The dynamically dichotomous track is as fun and funny as it is well-meaning, exploring the theory that the U.S. government knew about 9/11 well before it happened, yet allowed it to come about so that the Bush family and their cronies within the Carlyle investment group could reap profits from subsequent weapons manufacturing and inflated oil prices. Fans of MC5, The Clash and Dead Kennedys definitely will appreciate this kick-ass track.
"Precursor" also features:
• "Shishigami," an eerie soundtrack to the end of the world
• "Spontaneous Human Combustion," a steaming punk-fueled slab of grunge that continues the album's apocalyptic tale
• "Modern Warfare," another example of how Baron Praxis can combine mean, menacing rhythms with a pretty melody and vocals, creating a dichotomy that is fascinatingly unsettling, yet richly entertaining.
Throughout Baron Praxis show much maturation from their previous releases on all levels but especially as a cohesive unit as tight as the vice in Henry Rollins' father's well-stocked garage. See them live Dec. 13 at the Wonder Bar in Asbury Park and Dec. 14, Anchor Rock Club, Atlantic City.