originally published: 11/17/2019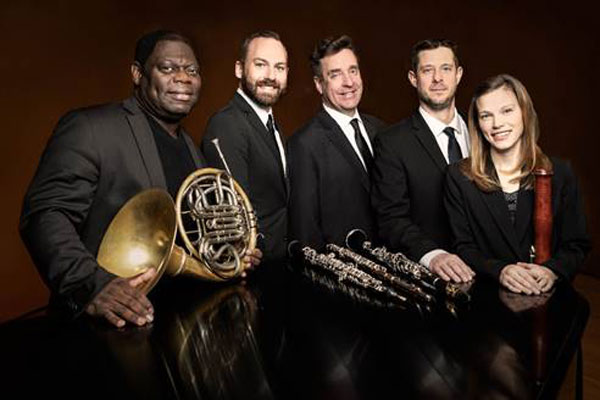 (NEW PROVIDENCE, NJ) -- The New Jersey Youth Symphony (NJYS) will host a Day of Winds featuring the Montclair Wind Quintet (Janet Arms, flute; Ryan Walsh, oboe; Ben Baron, clarinet; Sasha Enegren, bassoon; and Emma Wahlstrom, French horn) and Maureen Hurd Hause, Head of Woodwinds at Rutgers Mason Gross School of the Arts on Friday, November 22 from 4:00pm-8:00 p.m. at 570 Central Avenue in New Providence.
Day of Winds will focus on the 2020 High School All-State Solo Audition pieces and includes performances by NJYS Fortissimo Flutes, Clarinet Ensemble, and CL4tet led by conductors Diana Charos Reilly and Bryan Rudderow. The event is free for Wharton Arts students and $5 at the door for all others. Students must sign up online at www.NJYS.org.
Says Artistic Director and Principal Conductor Helen H. Cha-Pyo, "At NJYS, we help our young musicians to improve as performers through offering exceptional opportunities beyond their ensemble training, and the Day of Winds is one of those enrichment experiences that will move them forward to the next level."
Day of Winds will begin with a performance by Montclair Wind Quintet demonstrating techniques and nuances of the art of chamber music followed by the opportunity for select students to perform from this year's NJMEA All-State required pieces with members of the quintet on their respective instruments. D'Addario product manager and saxophonist Kristen McKeon will give a presentation about reeds, instrument maintenance, and gear, and other vendors on hand will include Elefante Music offering minor instrument repairs and K&S Music. Finally, Day of Winds concludes with special guest Maureen Hurd Hause, Head of Woodwinds at Rutgers Mason Gross School of the Arts. She will not only speak about the music presented by NJYS students but also touch on concepts and philosophies of making music.
Clarinetist Maureen Hurd Hause has appeared in concerts and master classes throughout Europe, Asia, and North America, performing at New York City's Carnegie Hall, David Geffen Hall, Alice Tully Hall, (le) poisson rouge as soloist in Michel van der Aa's Hysteresis, and Jazz at Lincoln Center, and with the American Symphony Orchestra, the New Jersey Symphony Orchestra, the New York City Opera Orchestra, and the Broadway production of The King and I at Lincoln Center. She has presented international master classes and performances in Korea, France, and Mexico, and she has performed at International Clarinet Association ClarinetFests® in Belgium, Italy, Japan, Canada, and the US and at the Norfolk, Skaneateles, Lancaster, and Zodiac Festivals. She has been recognized for her study and performances of classical works connected to Benny Goodman, including the recent 2019 world premiere of the last Goodman commission, Allen Shawn's Concerto for Clarinet and Cello (completed in 1983 but never performed) and presenting lectures and performances at Yale University, Carnegie's Zankel Hall, the Bruno Walter Auditorium of the New York Public Library for the Performing Arts, the Norfolk Chamber Music Festival, and the University of North Texas. She has published articles on the subject in The Clarinet, journal of the International Clarinet Association. Hurd Hause is Head of the Woodwind Program and Associate Professor of Clarinet at the Mason Gross School of the Arts. She has recorded for Naxos, MSR Classics and Marquis Classics. Her solo CD, Spelunk, includes premiere recordings of American works for clarinet and includes music by William Bolcom, Evan Hause, Morton Gould, Alan Shulman, and Robert Starer. She recently performed William Bolcom's Concerto with the Rutgers Wind Ensemble, and she was soloist for that ensemble's Naxos recording of Michael Daugherty's Brooklyn Bridge. Her primary teachers were David Shifrin, Charles Neidich, Joseph Messenger, and Ayako Oshima. She is a Selmer Paris Artist, a D'Addario Artist, and a Silverstein Works Artist, playing Selmer Paris Signature and Recital clarinets, D'Addario Reserve and Reserve Classic reeds, and Silverstein ligatures.
---
The article continues after this ad
---
---
The Wharton Institute for the Performing Arts' mission is to provide the highest quality performing arts education to a wide range of students in a supportive and inclusive environment, where striving for personal excellence inspires and connects those we teach to the communities we serve.
Wharton Arts is New Jersey's largest independent non-profit community performing arts education center serving over 1,500 students through a range of classes and ensembles including the 15 ensembles of the New Jersey Youth Symphony, which serve 500 students in grades 3 – 12 by audition. Beginning with Out of the Box Music and Pathways classes for young children, Wharton Arts offers private lessons, group classes, and ensembles for all ages and all abilities at the Performing Arts School. With the belief in the positive and unifying influence of music and the performing arts and that arts education should be accessible to all people regardless of their ability to pay, Wharton teaches all instruments and voice and has a robust musical theater program. Based in Paterson, New Jersey, the Paterson Music Project is an El Sistema-inspired program of the Wharton Institute for the Performing Arts that uses music as a vehicle for social change by empowering and inspiring children through the community experience of ensemble learning and playing.
Wharton Institute for the Performing Arts is located in Berkeley Heights, New Providence and Paterson, NJ and reaches students from 10 counties. All of Wharton's extraordinary faculty members and conductors hold degrees in their teaching specialty and have been vetted and trained to enable our students to achieve their personal best.