originally published: 11/14/2019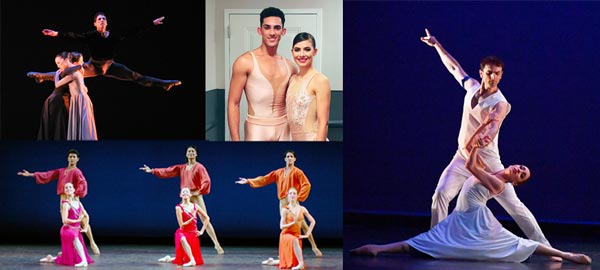 This time of year is always my favorite, because so many performing arts seasons get underway, and they are full of promise and excitement.
While New Jersey Ballet has already kicked off their full season earlier this fall (its 61st!), they are about to open the Mayo Performing Arts Center portion this Saturday, November 16 with their "Season Opener" program. This program features five works showcasing a range of styles.
One of the works on the program is "Death and the Maiden," choreographed by Robert North to music by Franz Schubert (String Quartet in D Minor). This Schubert string quartet music itself is actually known as "Death and the Maiden" because the theme in the second movement is taken from a song he wrote in 1817 with that title. This string quartet is a really important work of the chamber music repertoire and was composed in 1824 after Schubert became seriously ill and realized he was dying. The ballet by Robert North is searing portrait of a young woman's struggle and eventual surrender to Death, and represents the full range of dramatic possibilities that are possible in dance.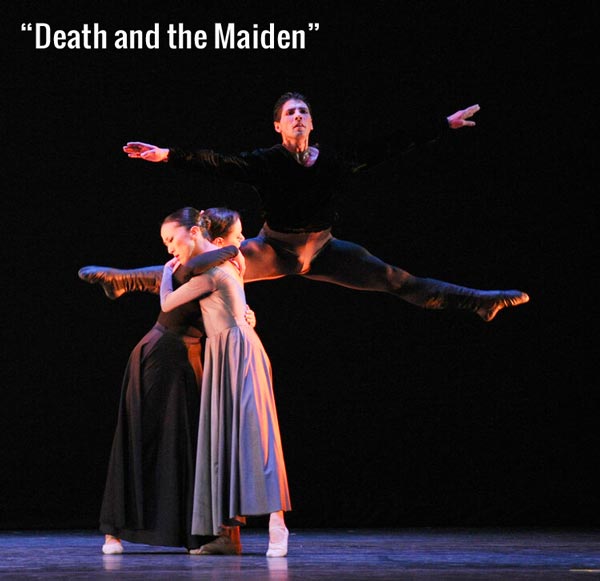 The role of the Maiden is danced by Gabrielle Pierson, who has just begun her 21st season with New Jersey Ballet. This season will also be her last with the ballet company – she will retire at the end of the season. Pierson is dancing this work for the very first time, though it is a work she saw growing up and has been in the company's repertoire for so long.
Pierson is dancing this work on Saturday as a gift to her mother. She told me, "My mother said that if there was any ballet she wanted to see me dance, it would be this. My mother got me to where I am today, so I requested to be able to dance this work as my gift to her."
(By the way, if anyone is looking to jump start their New Year's Resolution list, I think Pierson has given us all a wonderful starting point: Make a similarly moving, meaningful gesture to our parents or loved ones.)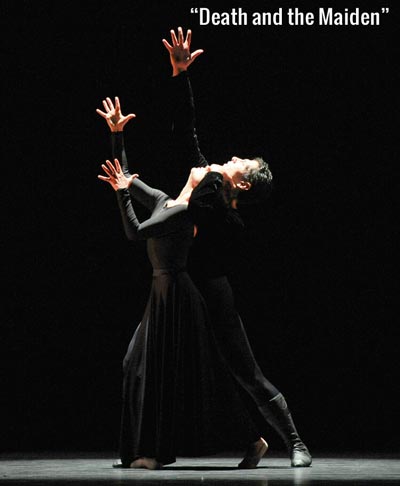 Beyond this weekend's performance, this entire last season is especially momentous for Pierson. "It's been a hard decision to make to retire," she told me. "Ballet has been my passion – especially performing. I live to perform. Every time I'm on stage now, it's bringing me close to the end, but that makes every performance all the more special. I've had a wonderful career, and it was important to me to be able to finish my career still dancing everything I could dance when I first started."
Pierson says that the company is like family to her. She saw New Jersey Ballet's production of "The Nutcracker" in December of 1989, and the very next month enrolled in classes.
"My director turned me into the dancer and even the person I am today," she said. When asked if there was a piece on Saturday's program that she especially wanted to watch, she said no, that there was no one favorite work. "I'm really a fan of the other dancers in the company and I love to watch them onstage. Because I've also taught in the ballet school, I've seen many of these dancers grow up and a number of them have been students of mine."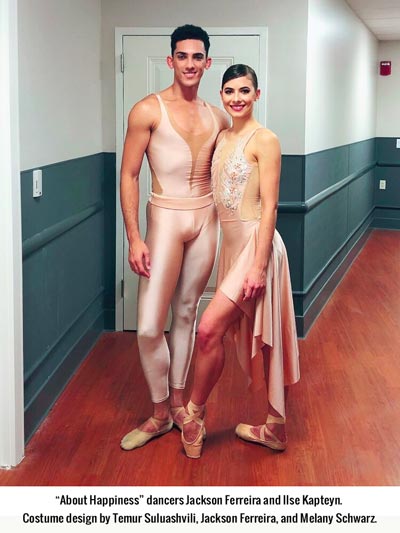 Another work on the Season Opener program is "About Happiness," which is a new ballet choreographed by Jackson Ferreira, a dancer in the company, to music by Julius Röntgen: 3 Suites and Sonatas for Solo Violin, Op. 68. Ferreira tells me that this is a fun piece of choreography, divided into four movements and performed by two dancers.
"It begins with a slow and expressive duet where both dancers are searching for self-happiness in their partner," said Ferreira. "Shortly into that duet, they realize that happiness is complex and must start from within themselves. The female variation, performed by Ilse Kapteyn, includes precise musicality and fast movements. The male variation, performed by me, includes modern-inspired technique and emphasis on upper body movements. The final pas de deux is very joyful and is the final moment where the dancers become connected in their enjoyment."
When asked about the inspiration for the work, Ferreira said that "this piece derived from my own experience trying to translate the true meaning of happiness. This piece is full of dynamic movements because I quickly realized that happiness takes many forms. That said, I hope each audience member watches my piece and leaves feeling closer to their own definition of what happiness is."
This is the first work that Ferreira has choreographed for New Jersey Ballet. Choreography gives him the freedom to express himself through another dancer's body.
"It's indescribable to see my emotions and thoughts being interpreted through other dancers," he said. "I love getting to choreograph on my fellow dancers and friends because every dancer has such different artistry, so I can push myself to create pieces that best suit the dancer, while also pushing them outside of their comfort zone in the best way possible."
This is hopefully the first of many pieces we'll see choreographed by Ferreira.
"From hip hop to a church group to ballet, I always have been choreographing. I aspire to choreograph for a very long time and I'm grateful that the New Jersey Ballet Company has given me a platform to present my work to a large audience."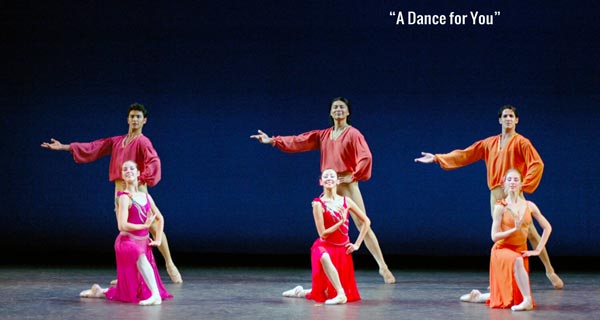 Other works on the program Saturday evening are "A Dance for You," "Danzon" and "This Thing Called Love."
"A Dance for You" is performed to music by Teresa Carreno and choreographed by Vincente Nebrada. Nebrada describes this work as "a dance for dancers. I wanted to create a ballet that will give every dancer a chance to shine." The pas de deux from this ballet has been performed by American Ballet Theatre and the Royal Winnipeg Ballet and was the inspiration for this full-length work.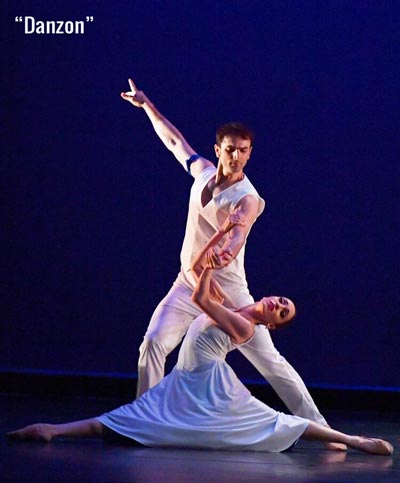 "Danzon" is choreographed by Pedro Ruiz to music by Arturo Marquez. The danzon is a traditional ballroom dance played by the Cuban charangas and has been called the official dance of Cuba. It is a descendent of the popular Spanish danza of the 1800s and the French contredanse brought by the French immigrants fleeing the Haitian Revolution, who settled in Cuba's eastern region. Cuban choreographer Pedro Ruiz has reinvented this traditional dance and music form with contemporary language to create a joyous celebration of music and movement.
Finally, "This Thing Called Love" is also a new work, choreographed by Margo Sappington to music by Cole Porter. In addition to the song "This Thing Called Love," other Porter songs used in this work include "Night and Day," "Ridin' High," "You Do Something to Me," "So in Love" and "It's De-Lovely." 
Want more New Jersey Ballet at Mayo PAC? You're in luck because they will perform five other programs there this season: "Nutcracker" (December 13–27); 'Hansel and Gretel" (March 1); "Don Quixote" (March 14); "All American Evening," featuring Agnes de Mille's "Rodeo" (May 16); and "Cinderella" (May 17).
The Details
New Jersey Ballet presents its Season Opener program on Saturday, November 16 at 8:00 p.m. at Mayo Center for the Performing Arts, located at 100 South Street in Morristown. Tickets ($29–$89) may be purchased at mayoarts.org. For more information about New Jersey Ballet, visit njballet.org.