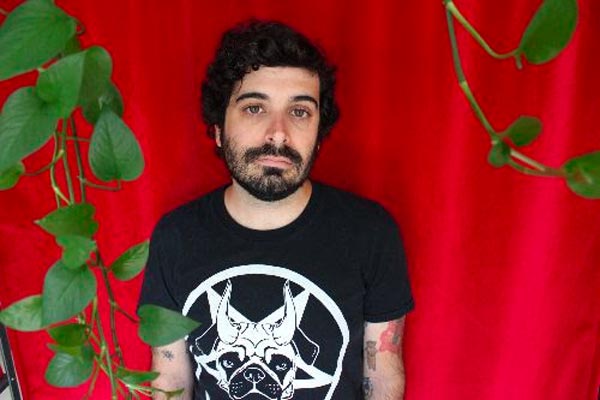 In 2017, Kevin Day guitarist/vocalist of the New Jersey indie-punk band Aspiga, released his first solo EP under the moniker Graduation Speech. Quiet & Calm, was an exercise in stripping down music to the basics and included praise from Alternative Press, The Key XPN, and New Noise Magazine. Graduation Speech is back with Maintenance Required a five song EP that continues to build on the foundation of his first solo record.
Maintenance Required finds Day collaborating with additional musicians and building layers of atmosphere to draw the listener in. If you're a fan of acoustic pop songs that are reminiscent of bands like The New Amsterdams, Fingers Cut Megamachine, and Sundowner you'll definitely want to hear what Graduation Speech has to offer. Head over to New Noise Magazine for a full stream of the EP. You can order the release on CD from Black Numbers or stream/purchase it from your preferred digital vendor. To coincide with the release, Graduation Speech will be touring throughout the East Coast in November. 
Most solo projects seem to fall into one of two categories. First, there are those that resemble a simpler, stripped down version of the artist's primary band—think John K. Samson, whose solo albums could be mistaken for Weakerthans records despite lacking the tell-tale guitar leads. Conversely, there are those projects that allow the artist to express a separate side of their musical identity than they can with their primary band—like Stephen Brodsky, who's quirky solo songs contain mere shades of Cave In and Mutoid Man.
Graduation Speech, the solo endeavor of Kevin Day (who leads pop-punk grumblers Aspiga), some how fits both categories. On the project's second EP Maintenance Required, Day takes his band's songwriting approach and extends it in a more dynamic, more tender direction.
On 2017's Quiet and Calm, Graduation Speech's debut took the form of a quiet project that showcased Day's saccharine vocals over simple, shuffling chords. But the first few beats of "Your Heart. My Lungs" suggests Maintenance Required will be more than another acoustic endeavor. Indeed, distorted electric guitar winds between Day's scratching acoustic chords on this opening track and throughout the record, and light percussion punctuates each almost every measure. Drums thump on "Ourselves," a song whose momentum bridges the gap between both of Day's projects; likewise, both "Love and Patience" and "Shedding Myself" features a full drum set alongside a steady bass, a flickering electric guitar, even chiming piano, bringing these beautiful song to life.
---
The article continues after this ad
---
---
Day succeeds at expanding Graduation Speech's sound by adding, but also by taking away. The chorus on "Small Apartment" pulses with pounding toms and glinting accents, but each verse creates open space for acoustic chords and harmonic notes to breathe and bend into infinity. "Straighten me out when I lean into you / Straighten me out in the frames of your eyes," Day sings, his acoustic snapping against the throbbing beat, a meandering piano melting into the sizzling guitar lead.
Maintenance Required shows a solo musician doing what he has never done before and what he can't really do with his other band. More importantly, though, Graduation Speech manages to do what most solo projects cannot—that is, appeal to Aspiga's fans while letting Day explore a more sentimental side of his songwriting.
---
Tour Dates:
11/08 @ Millhill Basement - Trenton, NJ w/ Meganow, Nikki Nailbomb

11/9 @ Winter Hill Brewing Company - Somerville, MA w/ Small Songs (Christine of Save Ends)

11/10 @ Limited to One Records (Punknews Presents) - New York, NY w/ Ruby Landen, Hemingway (solo), + special guest

11/14 @ Spaceboy Clothing - Wilmington, DE w/ Nathan Gray (Boysetsfire)

11/15 @ Fuzzee Cactus - Richmond, VA

11/16 @ Cafe Nola - Frederick, MD w/ Swerves, Glue Factory

11/17 @ The Tileroom - Millersville, PA