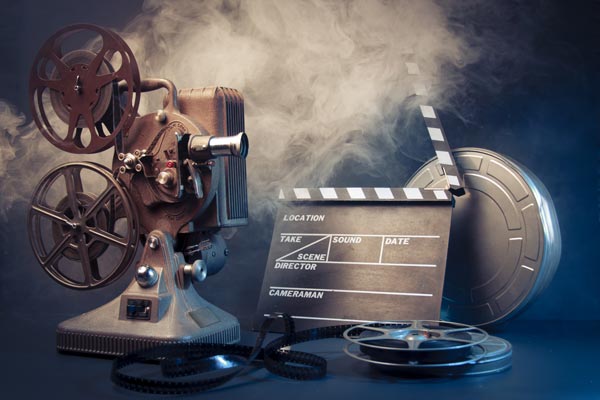 (VINELAND, NJ) -- Four highly-acclaimed award-winning foreign films representing diverse cultures and themes will screen at Levoy Theatre, 126-130 N. High St., in Millville as part of the 2019 International Jewish Film Festival, which begins Monday, November 18 and runs through Monday, November 25, 2019. The four films, The Invisibles, The Other Story, Shoelaces, and Tel Aviv on Fire, will introduce the cinemagoers to themes that are common to many international films, and each is representative of the finest of today's international cinematographic art. 
"Come and enjoy four acclaimed and enjoyable films, from Germany and Israel," said Jewish Federation executive director Kirk Wisemayer.  "You will laugh, cry, be touched, and be transported to other times and other places".
"We are grateful for how well received the festival has been each year", said Dr. Michael Sarnoff, who chaired the festival's inaugural run in 2008, and has attended every year since.  "Thanks to the support of our audience and sponsors, this has grown into the premier international film festival in this part of New Jersey".
Tickets are $8 for adults for one film, $15 for two films, $20 for three films, and $25 for all four films. Admission is free to students under 21 with student ID.  Tickets are available through Jewish Federation at (856) 696-4445, or may be purchased the night of each film at the Levoy Theatre box office.  Film screenings on November 18, 19, and 25 begin at 7:00pm, and that on November 24 will screen at 4:00pm.
An Opening Night cocktail reception will take place November 18, 2019 at 6:00pm, at Levoy Theatre prior to the screening of The Invisibles.  Reception tickets for general admission are $25 per person.  Following the screening of The Invisibles, Harry Furman, chair of South Jersey Holocaust Coalition, will lead a discussion on the film.
---
The article continues after this ad
---
---
A movie/dinner package is available on Sunday, November 24, 2019, at $40 per person.  The film will screen at 4:00pm, and will be followed by dinner at 6:00pm, at Andrea Trattoria Italiana, located at 16 N High Street in Millville.  Dinner will consist of a salad, main course, dessert, and coffee or tea.  Gratuity is extra, and Andrea is a BYOB establishment.  Please call Jewish Federation at (856) 696-4445 for dinner reservations. 
The festival line-up promises cinemagoers a moving and meaningful experience, one that addresses universal themes through an artistic lens. The films to be screened and the dates they will screen are:
The Invisibles, Monday, November 18 at 7:00pm, with Opening Night reception at 6:00pm - A 2017 German biographical drama set in Berlin, in February 1943.  The Nazi regime declares the Reich's capital "free of Jews."  Of the 7,000 German Jews who succeeded in going into underground hiding, only some 1,700 survived.  The Invisibles tells the stories of four of these Jews who went into hiding in Berlin.  Hanni Lévy, just 17 years old, Cioma Schönhaus, who, while in hiding, saves the lives of dozens of other Jews, Eugen Friede, who joins a resistance group that distributes anti-government leaflets, and Ruth Arndt, who poses as a war widow and dreams about life in America.  The film was directed by Claus Räfle, written by Claus Räfle and Alejandra Lopez, and stars Max Mauff, Alice Dwyer, Ruby O. Fee, Aaron Altaras, and Andreas Schmidt.  It was awarded Best Narrative Feature Award at the 2018 Philadelphia Jewish Film Festival. (German, with English subtitles, 110 minutes) Harry Furman, chair of South Jersey Holocaust Coalition, will lead a discussion of the film after its screening.
The Other Story, Tuesday, November 19 at 7:00pm - A 2018 Israeli drama, the film tells the story of an estranged father, Dr. Yonotan Abadi, who receives a telephone call from his ex-wife, Tali, with an unexpected announcement from their hedonistic daughter, Anat.  In a complete departure from her party girl lifestyle, Anat becomes engaged to a devout musician and enrolls in an Ultra-Orthodox seminary.  Unsettled by her embrace of religious zealotry, Yonatan and Tali are desperate to force Anat to reconsider her radical new path, one from which there will soon be no turning back.  Directed and written by Avi Nesher, and starring Sasson Gabai, Yuval Segal, Joy Rieger, Maya Dagan, and Nathan Goshen, the film screened in the World Cinema section at the 2018 Toronto International Film Festival.  (Hebrew, with English subtitles, 112 minutes)
Shoelaces, Sunday, November 24 at 4:00pm, followed by dinner at 6:00pm - A 2018 Israeli drama, this engaging and tender dramedy explores the knotty relationship between an irascible mechanic and his exuberant special-needs son.  When his ex-wife dies, Reuven must take over custody of Gadi, his now-adult son.  The bond between them gradually grows, but is tested by events that raise profound moral and legal questions.  A rare, honest depiction of special-needs characters, told with gentle humor and sensitivity.  Directed by Jacob Goldwasser, written by Haim Merin, and starring Doval'e Glickman, Evelin Hagoel, Nevo Kimchi, Yafit Asulin, and Dror Keren, the film won Best Film and three other awards at the 2018 Israeli Film Academy, and awards at the 2019 Atlanta and Seattle Jewish film festivals.  (Hebrew, with English subtitles, 98 minutes)
Tel Aviv on Fire, Monday, November 25 at 7:00pm - In this 2018 Israeli comedy, Salam, an inexperienced young Palestinian man, becomes a writer on a popular soap opera after a chance meeting with an Israeli soldier.  His creative career is on the rise, until the soldier and the show's financial backers disagree about how the show should end, and Salam is caught in the middle.  Directed and written by Sameh Zoabi, and starring Kais Neshef, Yaniv Bitton, Maisa Abd Alhady, Lubna Azabal, Salim Dau, and Nadim Sawalha, the film won Best Film at the 2018 Haifa International and Venice film festivals, the 2019 Seattle International Film Festival, and five other film awards.  (Arabic and Hebrew, with English subtitles, 100 minutes)
The festival is presented for the twelfth consecutive year by Jewish Federation of Cumberland, Gloucester & Salem Counties.
Funding for the festival has been made possible in part by New Jersey State Council on the Arts, the National Endowment for the Arts, and Cumberland County Board of Chosen Freeholders through the Cumberland County Cultural & Heritage Commission.