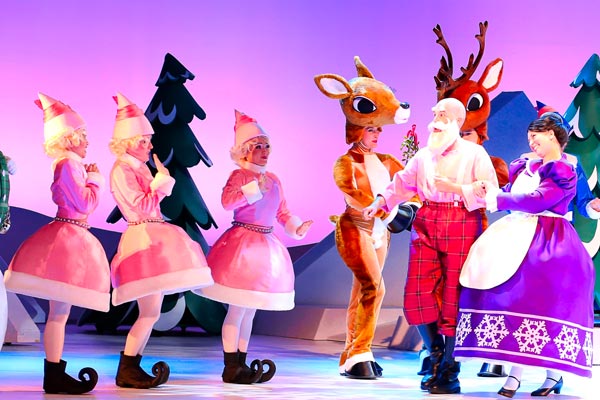 Following five successful years of touring and more than 500 performances, the "most famous reindeer of all" from the longest running and highest rated holiday television special will fly into cities across the country live on stage with the critically acclaimed Rudolph the Red-Nosed Reindeer: The Musical. The world's most famous reindeer and a holly jolly cast of iconic characters including Hermey the Elf, Yukon Cornelius and the Abominable Snow Monster will help Santa save Christmas. The HERMEY Tour comes to BergenPAC in Englewood on November 24 and the YUKON Tour comes to the Count Basie Center for the Arts in Red Bank on November 29.
In 1964, the beloved stop-motion animated television classic, Rudolph the Red-Nosed Reindeer, made its network television debut and has been delighting audiences across the country for over 50 years. "Rudolph the Red-Nosed Reindeer: The Musical is a wonderful new way to experience this family tradition," says producing partner Jonathan Flom. The national tour is a family favorite -- a "holiday staple" (The Boston Globe) and an "utterly charming, top-notch production" (Orlando Sentinel).
Projections, costumes and characters are faithfully brought to the stage against a backdrop of nostalgic set designs. The 12-foot-plus-tall Abominable Snow Monster is jaw-dropping. The cast brings high energy to classic songs and dialogue, while irresistible and loveable puppets highlight the charming "roughness" from the television show's stop-motion effects.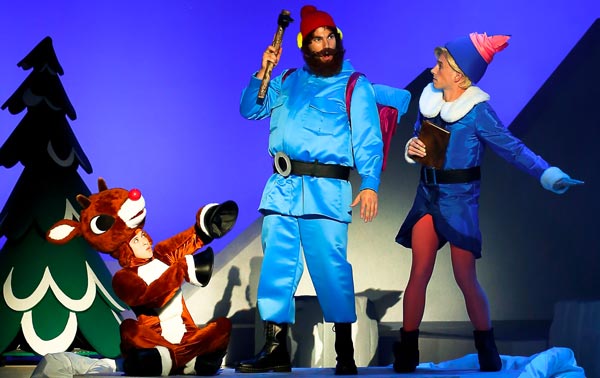 Flom says, "The familiar story elements from the television special are addressed with a talented cast and puppeteers who help recreate the magic on stage." Since the special itself is a classic musical, the stage show does not feel at all like an adaptation and audiences are surprised and delighted when they see performances of songs such as "Fame and Fortune" and "Rockin' Around the Christmas Tree" that are heard but not performed in the TV special. 
The story tells the tale of a young Rudolph who, because of the appearance of his bright, shining nose, is excluded from the Reindeer Games. He flees Christmastown and meets up with new friends Hermey the Elf and Yukon Cornelius. After finding The Island of Misfit Toys, Rudolph journeys home, where a snowstorm of epic proportions is threatening Christmas. Can Rudolph rescue his family and friends and help Santa save the holiday?
---
The article continues after this ad
---
---
Rudolph's partnership with PACER's National Bullying Prevention Center continues this year.  The show offers a free toolkit to teachers that leverages the powerful messages from the Rudolph story to teach important character values. 
Rudolph the Red-Nosed Reindeer: The Musical will play extended engagements in two cities this year: November 16-December 27 in Nashville, TN at Grand Ole Opry House and November 23 – December 24 in Raleigh, NC at the Duke Energy Center Performing Arts Center. 
---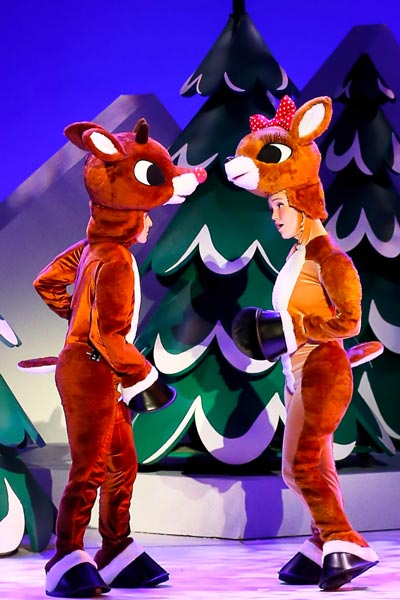 2019 Tour Dates (subject to change):
YUKON TOUR
November 22-23              Salt Lake City                                      Eccles Theatre
November 25                     Bismarck, ND                                     Civic Center
November 26-27              Burnsville, MN                   Ames Center
November 29                     Red Bank, NJ                                      Count Basie Theatre
November 30                     Pittsburgh, PA                                   UMPC Events Center
December 1                        Detroit, MI                                          Fox Theater
December 3                        Little Rock, AR                   Robinson Performance Hall
December 4                        Wichita, KS                                         Orpheum Theatre
December 5                        Colorado Springs, CO                      Pikes Peak
December 6                        Greeley, CO                                        Union Colony Civic Center
December 7                        Rapid City, SD                    Rushmore Plaza Civic Center
December 8                        Cheyenne, WY                  Cheyenne Civic Center
December 11                     Lawrence, KS                                     Lied Center
December 12                     Stillwater, OK                                     McKnight Center
December 13                     Lufkin, TX                                             Temple Theatre
December 14                     Orange, TX                                          Lutcher Theatre
December 15                     Dallas, TX                                             ATT PAC
December 16-17               San Antonio, TX                Tobin Center
December 19                     Charlotte, NC                                     Ovens Auditorium
December 20                     Jacksonville, FL                  Florida Theatre
December 21                     Orlando, Fl                                          Bob Carr
December 22                     Ft Pierce, Fl                                         Sunrise Theatre               
December 23                     Miami, FL                                             Arsht Center     
December 26-27               Houston, TX                                        Jones Hall
December 28                     Galveston, TX                                    Grand Opera House
December 29                     Cedar Park, TX                   HEB Center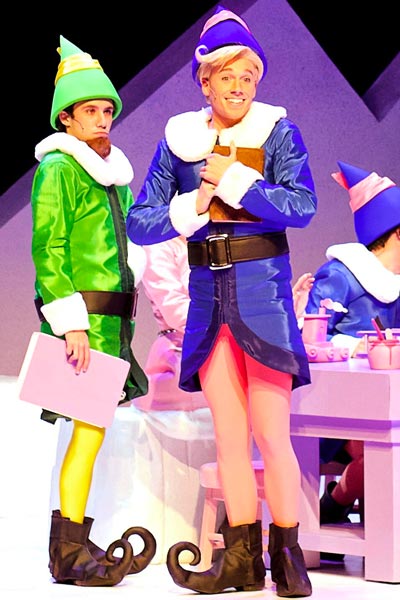 HERMEY TOUR
November 16                     Madison, WI                                       Overture Center
November 21                     Burlington, VT                   Flynn Center
November 22                     Utica, NY                                              Stanley, PAC
November 23                     Wilmington, DE                 Grand Opera
November 24                     Englewood, NJ                  Bergen County PAC
November 26                     New Philadelphia, OH     Kent State University at Tuscarawas
November 29-30              New Haven, CT                  Shubert Theater
December 1                        Brooklyn, NY                                      Kings Theater
December 3                        Indiana, PA                                         Kovalchick Complex
December 4                        Wilkes Barre, PA                               FM Kirby Center
December 5                        Binghamton, NY                                Broome County Forum Theatre
December 6-8                    Boston, MA                                        Shubert Theater
December 11                     Joliet, IL                                                Rialto Theater
December 12                     Rockford, IL                                        Coronado Performing Arts Center
December 13-14               Columbus, OH                   Palace Theater
December 17                     Wheeling, WV                   Capitol Theatre
December 18,                    Indianapolis, IN                 Clowes Hall
December 19                     Akron, OH                                           Akron Civic Theater
December 20-22               Buffalo, NY                                          Shea's PAC
December 23                     Baltimore, MD                   Lyric Opera House
The touring productions of Rudolph the Red-Nosed Reindeer: The Musical are produced by Right Angle Entertainment, S2BN Entertainment and Premiere Producers LLC.
Right Angle Entertainment (Producer) specializes in the production, marketing, management and distribution of live theatrical, digital and concert events. RAE's proud roster includes: The Office! A Musical Parody (New York City and National Tour), FRIENDS! The Musical Parody North American Tour, Love Actually!? The Unauthorized Musical Parody (NYC), One Woman Sex and the City, Rudolph the Red Nosed Reindeer (Nashville and National Tour), Heather McMahan: The Farewell Tour, Cat & Nat #MomTruths Tour, Sasha Velour's Smoke & Mirrors Tour, Elvis and Me: An Evening with Priscilla Presley, Family Feud: Celebrity Edition Tour, and The Price is Right LIVE!  among others