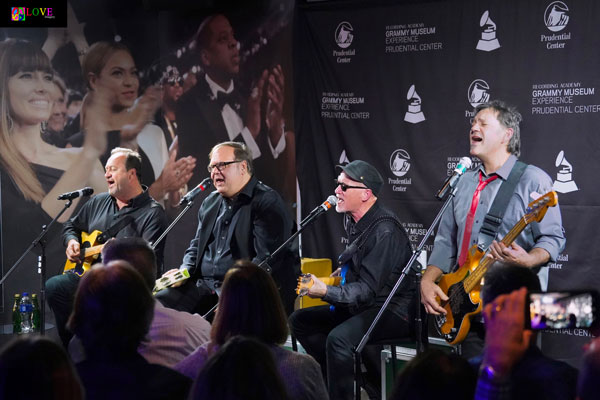 A crowd is forming outside Newark, NJ's GRAMMY Museum Experience Prudential Center this Thursday, October 24, 2019 evening as music fans line up to take part in a special NJ musical event — An Evening With…. The Smithereens!
The GRAMMY Museum's An Evening With… educational series provides intimate, moderated conversations with iconic recording artists about their history, creative process, and current and future projects. The programs do not only include a conversation with the artist and an audience Q&A session, but often an exclusive live performance by the artist as well.
Past An Evening With… events at the Prudential Center have included Earth, Wind and Fire's Philip Bailey and recent Rock and Roll Hall of Fame inductees The Zombies. A similar series — The GRAMMY Museum's Spotlight Series — has offered comparable programs with Brandy Clark, a recording artist and songwriter whose compositions have been recorded by performers including Sheryl Crow, The Band Perry, LeAnn Rimes, and more, and Bobby Bandiera, former guitarist for Bon Jovi and Southside Johnny and the Asbury Jukes.
The GRAMMY Experience doors open and we're invited backstage to chat with the three current members of The Smithereens — Mike Mesaros, Dennis Diken, and Jim Babjak.
When asked about their Jersey roots, bassist Mike Mesaros declares, "Being from Jersey has served us well. We grew up with a blue collar ethic," adding, "Being a part of a hard-working rock and roll band is a real Jersey thing."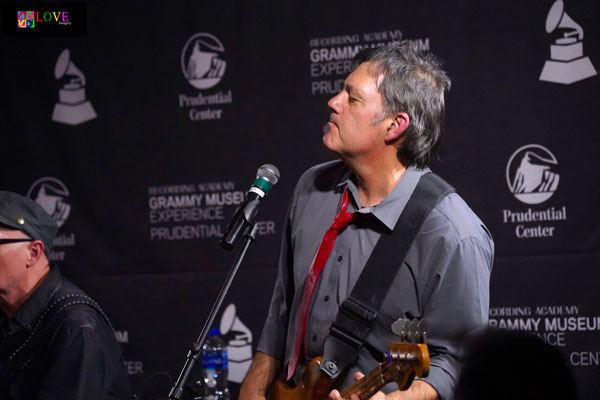 ---
The article continues after this ad
---
---
Drummer Dennis Diken continues, "This blue collar work ethic that Mike mentions has really influenced our attitude as a band. You see, people from New Jersey speak their minds," suggesting, "Where there's mostly meat and potatoes there, there's also a little gravy on it, too! "
Guitarist Jim Babjak also weighs in on the band's work ethic when he says, "When we perform, we give it 100%. If we're sick or a have a problem, once we hit that stage, it's still 100% — no dogging it. We don't ever just go through the motions."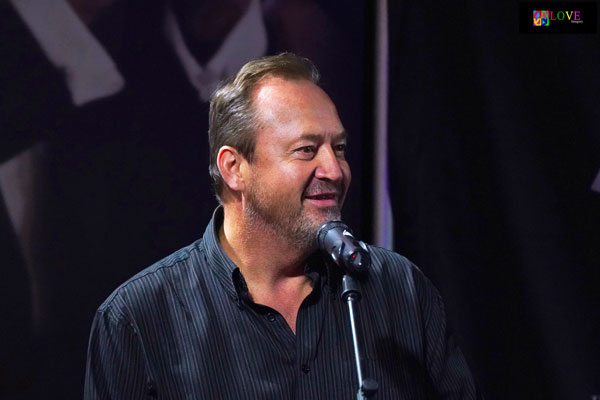 Babjak also talks about the genesis of tonight's An Evening With… The Smithereens! appearance revealing, "I was here at the GRAMMY Museum for the Bobby Bandiera Spotlight Series experience and I liked the format so much, I thought it would be something The Smithereens could take part in."
Lastly, we chat with the musicians about the announcement of their induction into the New Jersey Hall of Fame.
Comments Mesaros, "Being inducted into the New Jersey Hall of Fame is unbelievable, especially when you look at the company we're in."
Diken agrees noting, "When you think of the New Jersey company we're with — Frank Sinatra, Abbott and Costello, The Four Seasons, Albert Einstein — it's really amazing."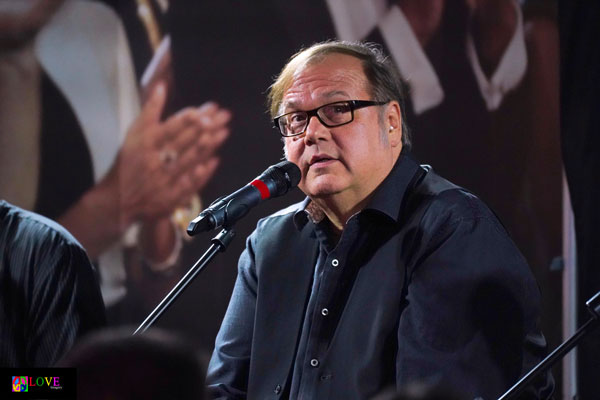 Continues Mesaros, "And, you know, every time we play, I think back to our being kids rehearsing in Jimmy's garage," noting, "It makes us really miss our original lead singer and songwriter, Pat DiNizio."
" Pat's songs for The Smithereens were extremely personal," explains Mesaros. "When the fans loved his songs, he took it personally; to him, it meant they loved him. Pat was the kind of guy who always persevered — he believed in us and he never gave up — and he would have really loved this recognition."
Following our chat, we make our way back into the GRAMMY Museum where white lights proclaim "New Jersey Legends," a permanent exhibit which honors GRAMMY winners who hail from the Garden State. Items on display include the white beaded dress that Newark native Whitney Houston wore to the 1994 GRAMMY Awards, in addition to a tuxedo and captain's hat owned by Red Bank's own William James "Count" Basie. Memorabilia from additional New Jersey artists including Dionne Warwick, Wyclef Jean, Les Paul, Bruce Springsteen, Frank Sinatra, Bon Jovi, Queen Latifah — along with The Smithereens — are also on display.
Next, we're treated to a traveling exhibit entitled Legends of Motown: Celebrating The Supremes which gives visitors a one-of-a-kind look at the life and career of one of the most successful American singing groups of the 1960s: The Supremes.
The exhibit, which runs through April 26, 2020, begins at the start of The Supremes' career — when they were still known as The Primettes — and takes visitors on a timeline tour leading through the height of their success with Motown.
Featuring rare items from the personal collection of Supremes' founding member, Mary Wilson, numerous artifacts can be seen on display including a trio of beaded pink gowns which The Supremes wore on the occasion of meeting Queen Elizabeth.
The various gowns and outfits come complete with photos of The Supremes wearing them, and look even more stunning in person than they do on film.
Rounding out the exhibit is a video of a conversation with Ms. Wilson which brings the history of The Supremes to life and helps transport music lovers back to the Motown heyday of the 1960s.
We take our seats inside the intimate GRAMMY Museum Experience performance space for tonight's main event — a conversation and performance by three of the members of The Smithereens — Mike Mesaros, Dennis Diken, and Jim Babjak — along with singer/guitarist Marshall Crenshaw, who originally recorded with the group back in the 1980s and now functions as lead vocalist with the band at select engagements.
Mark Conklin — Artist Relations and Programming director for The GRAMMY Museum Experience — welcomes the audience to tonight's event.
Greeting the packed house, Conklin says, "We host a lot of different types of acts here at the Grammy Museum, but for me, this is the coolest one so far."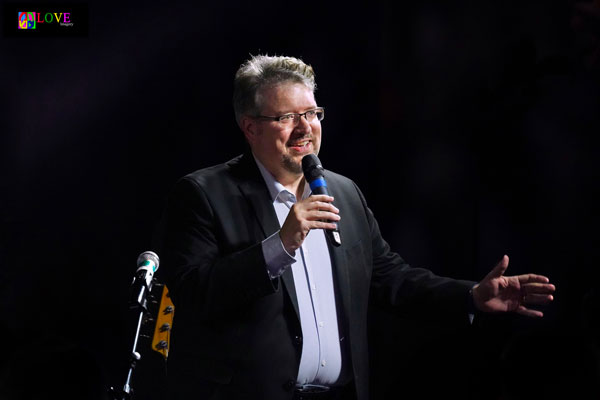 Recalling, "I interviewed for my position here a year ago," Conklin explains, "Since I was already in the music business, I made a list of the acts I would want to see in the 'New Jersey Legends' display if I got the job, and in my notebook, the first thing I wrote was 'The Smithereens.' When I got the job, I reached out to our founding director, Bob Santelli, and told him that, and he said, 'They're the most underrated band in Jersey — do it!'"
The crowd cheers as Conklin introduces The Smithereens, and Mesaros, Diken, and Babjak — along with Crenshaw — take the stage.
Conklin starts off tonight's conversation by asking the musicians about their recent New Jersey Hall of Fame induction announcement.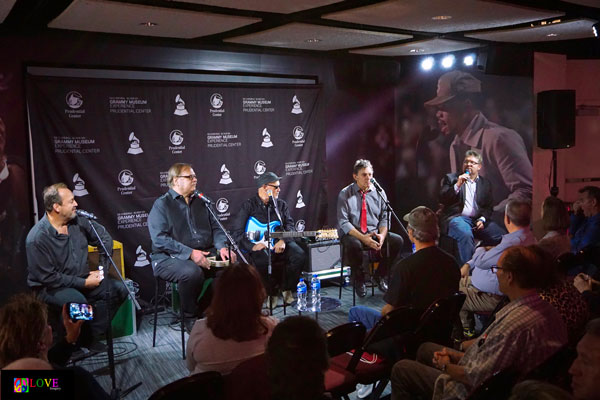 Responds Diken, "It's a big deal to recognized. We're all from New Jersey. It's in our blood — it's always home for us." Joking, "Marshall Crenshaw is not from Jersey," Diken notes, "but our late singer/songwriter, Pat DiNizio was from Jersey."
Mesaros replies, "I live in California now, but I see how New Jersey is thought about over there," noting, "We are very proud here in Jersey. We have all the cool stuff — diners and pizza. TV shows might bad mouth us, but I'm very happy to be part of something that New Jersey is proud of."
Conklin tells the group members, "The Smithereens do a 'take-no-prisoners' kind of show. I was at the Brendan Byrne Arena show in '88 when Pat DiNizio said, 'No one sits down at one of our f***ing shows,' and everyone stood up!"
At this, the men laugh before talking about the group's climb to the top.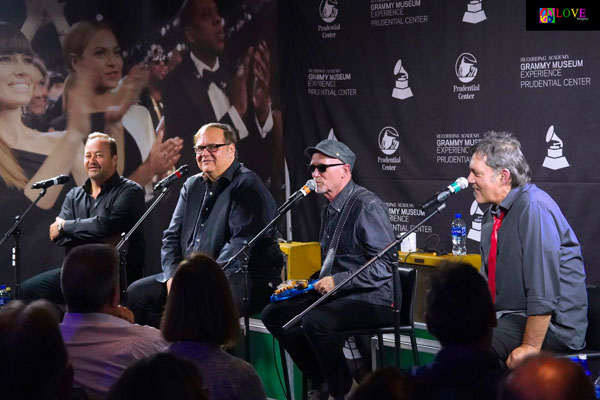 Recalls Diken, "It took us six years to get a record deal — it took a long time. We were getting turned down by every label."
Babjak goes on to add, "Our first gig was opening for ZZ Top in West Virginia on a 4th of July weekend. Ted Nugent was supposed to be the opening act, and our record, 'Blood and Roses,' was starting to get airplay, so we got the job. A lot of people didn't know us, though, and 20,000 people started throwing stuff at us — shoes, cigarettes — we played our entire show dodging them."
Mesaros exclaims, "One guy hit me with a lit cigarette!" acknowledging, "They stick to you when you're sweaty," before revealing, "When the show was over, I went to shake his hand — and I popped him one!"
Conklin asks the guys about their early years together, starting out by inquiring about when then first met.
Replies Diken, "I met Mike at Lincoln Grade School in Carteret."
Jim Babjak chimes in, "I knew Mike from church — St. Elizabeth's — from our first communion, and in 1964, and we had the same accordion teacher."
Diken continues, "I met Jimmy in high school. I was wondering if I could ever find a guitarist who could play 'I Can't Explain' by The Who, and there he was in class with pictures of The Who in his notebook."
Continuing, "About five years later, we were looking for a lead singer and placed an ad in The Aquarian," recalls Diken, "It turns out, Pat DiNizio was looking for a drummer, so I answered that ad and played with his band for about six months."
Conklin asks The Smithereens how they came up with the name for their band.
Diken recalls, "I had band names written in a notebook. And 'Smithereens' was a name that sounded like it should have been a band. Remember Yosemite Sam used to say "Varmint, I'm a-gonna blow you to smithereens?"
Mesaros adds, "But it had to be 'The' Smithereens like 'The' Beatles and 'The' Who," explaining that a lot of groups during that early '80s weren't using "The" as a part of their band's name.
With regards to what led up to their big break to stardom, the members of the group describe how they played in various bars, with Mesaros recalling, "In 1980, we did half originals and the other half covers," and Diken declaring, "But right off the bat we knew Pat's songwriting was for us."
Recalls Diken, "We would save gig money to go into a studio — half of our first album was an EP we were shopping — and one song, 'Blood and Roses,' was picked for the soundtrack for Cannon Films' Dangerously Close in 1986. We did a video, and radio and MTV played it — even though the film died."
Conklin asks Marshall Crenshaw when it was that he met the members of The Smithereens, to which Crenshaw replies, "I always knew them. I got invited to play keyboard on one of their early recordings."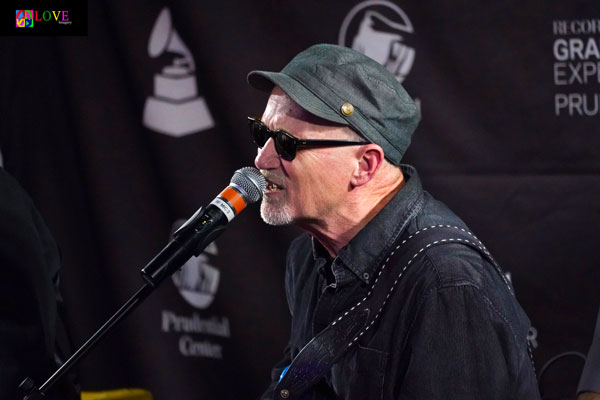 Conklin follows up by asking the musicians about a 2018 tribute show for Pat DiNizio at which Crenshaw played an integral part.
Says Diken, "We had booked a show for January, 2018 at the Count Basie Theatre in Red Bank while Pat was still alive. He died in December, 2017. Little Stevie Van Zandt was the producer of that show and he suggested we make it a tribute concert with guest vocalists, so we did it with Marshall Crenshaw and Robin Wilson of the Gin Blossoms," acknowledging, "It was never our intention to replace Pat in the band."
Notes Crenshaw, "That night was unforgettable. It was the weekend of my 40th wedding anniversary, so it already was an emotional time for me," before noting that, even today, "I want to continue the spirit of that night — I'm just trying to carry on the vibe from that night."
Reveals Mesaros, "We talk about Pat a lot. When you lose someone, you never really get over it. It just goes to a better place and you can handle it better, but we're still working on it."
Following a series of audience questions for The Smithereens, the musicians pick up their instruments for a live concert presentation, at which point Babjak announces, "We always start with this song."
Opening with "Behind the Wall of Sleep," the quartet rocks as Crenshaw handles the lead singing, "Now I lie in bed and think of her/Sometimes I even weep/Then I dream of her behind the wall of sleep" as the rest of The Smithereens add harmony vocals. Pulsing forward with a driving bass line and percussive tambourine rhythms, Babjak plays a reeling solo and the crowd responds with avid cheers.
Moving on to the catchy rocker, "I'd Like to Say I'm Sorry But I Won't," the musicianship and talent of these boys from Jersey rock the house. The audience appreciates every moment of this exhilerating up-close-and-personal experience.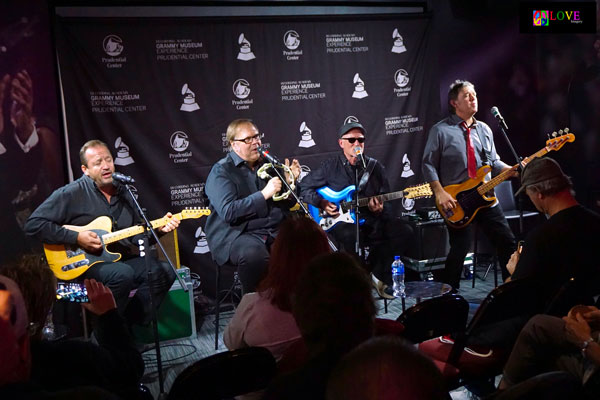 Following excited cheers and applause, Babjak announces, "This next song is called 'Especially for You,' revealing, "Pat and I wrote it after the first album."
Crenshaw's baritone voice is clear and resonant in contrast to the twang of his and Babjak's 12- and 6-string guitars on this appealing waltz-like tune which features Mesaros' skillful bass playing.
For their final number of the evening, Babjak says, "This is the song that started it, I guess." Quoting the song's opening lyric, he jokes, "It was so long ago, but it seems like yesterday."
Audience members' heads bop to the irresistable Mesaros' bass line which introduces "Blood and Roses."
After Crenshaw sings, "I want to love, but it comes out wrong/I want to live, but I don't belong/I close my eyes and I see blood and roses," Babjak plays a mesmerizing electric guitar solo.
Babjak and Mesaros stand facing one another, each playing off the other as the band's sound builds and intensifies. Notes from Babjak's guitar shoot across the stage as he steps forward and circles his arm as he strums — powerfully and dramatically — while accompanied by Mesaros' sturdy bass, Crenshaw's 12-string strumming, and Diken's rhythmic percussion.
The song's ending is slow and unresolved until the piece's final power chords wave the performance to a satisfying conclusion.
Audience members stand and cheer for their New Jersey musical heroes — The Smithereens — who take time to sign autographs, take selfies, and meet and greet members of the happy crowd.
At this time, we take a moment to chat with several program attendees who share their opinions of tonight's An Evening With… The Smithereens! conversation, Q&A, and concert event.
Comments Derek from Yardley, "As a long time fan of The Smithereens, it's great to see them in this intimate space, but also, just as great to find them getting inducted into the New Jersey Hall of Fame."
Revealing, "I've seen The Smithereens between 20 and 40 times since 1988," Derek recalls, "It was very different back then — were were all a little bit younger back in the summer of 1988!"
Acknowledging, "Tonight's event makes you see what a great band Pat had behind him," Derek explains, "Each person is truly a virtuoso on his instrument," before concluding, "They're all really great musicians."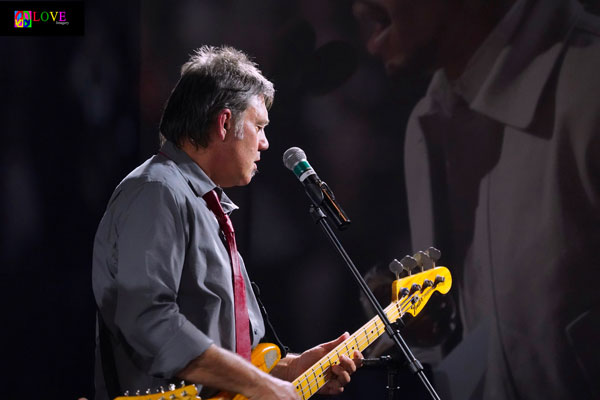 Jerry from Warren recalls, "I first saw The Smithereens at The Court Tavern in New Brunswick, even before their first record came out." Adding, "This was a great opportunity to hear them talk about the early days," Jerry notes, "And this is my first time hearing Marshall perform with them, and he did really well. All in all, it was a great night, and a lot of fun."
Bill from Watchung acknowledges, "This is my first time hearing The Smithereens' music live. They are fantastic musicians, and I love Marshall Crenshaw, too. The stories they told were great, and I was intrigued with everyone in the group as they talked about how they got their start and how they got to where they are today."
Recalls Jan from Newark, "I was raised in Newark, and I've been in the music business for 40 years. Believe it or not, Newark was a music capital in the past, and it's great to see Newark's music scene coming back with venues like NJPAC, The Pru, and the GRAMMY Museum Experience."
Acknowledging, "I've been a fan of The Smithereens since the 1980s when my son introduced me to their music," Jan recalls, "Altogether, I've seen them about 15 times, including going to the Count Basie tribute concert." Adding, "That show was done so well — it really was a great tribute," Jan notes, "but I loved getting to experience The Smithereens in this very intimate setting."
Lastly, we chat with tonight's moderator, Mark Conklin, who states, "I think it is so fitting for The Smithereens to be here at the GRAMMY Museum, and I'm happy to have been able to include them in our 'New Jersey Legends' exhibit," before concluding, "They're not only legends — they're our legends."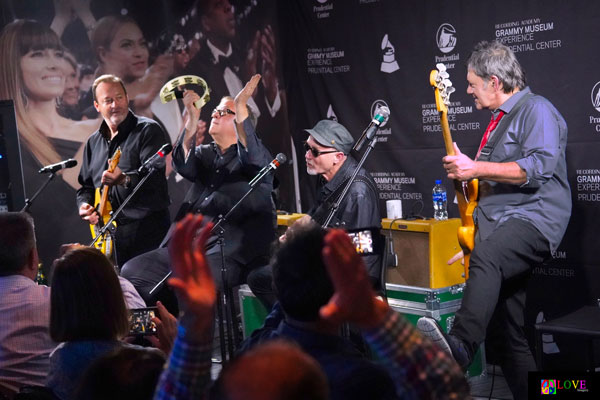 To learn more about The Smithereens, please go to officialsmithereens.com. For information on events at Newark, NJ's GRAMMY Museum Experience Prudential Center — including the Legends of Motown: Celebrating the Supremes exhibit which is on display from now until April 26, 2020 — please click on grammymuseumexp.org.
Photos by Love Imagery
Spotlight Central. Your source for Jersey entertainment news and reviews
Love Imagery Fine Art Photography. all you need. peace/love/flower/power