By Spotlight Central
originally published: 11/05/2019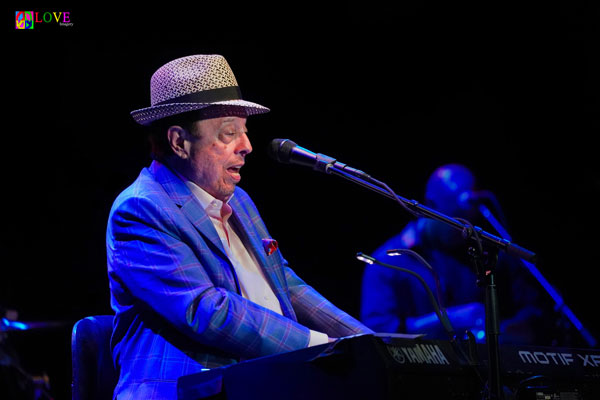 Light Brazilian rhythms play as music lovers enter the beautiful MPAC auditorium in Morristown, NJ, this Tuesday, October 22, 2019 evening. All are ready to experience a special 60th Anniversary of Bossa Nova concert by the legendary Brazilian musician Sérgio Mendes and singer Bebel Gilberto.
Producer, composer, keyboardist, and vocalist Sérgio Mendes is one of the most successful Brazilian artists of all time. Internationally famous for his group, Sérgio Mendes and Brasil '66, Mendes has recorded more than 35 albums with numerous gold and platinum recordings. He's a six-time Grammy nominee and three-time Grammy winner, in addition to having received a Oscar nomination for his song, "Real in Rio," from the animated film Rio.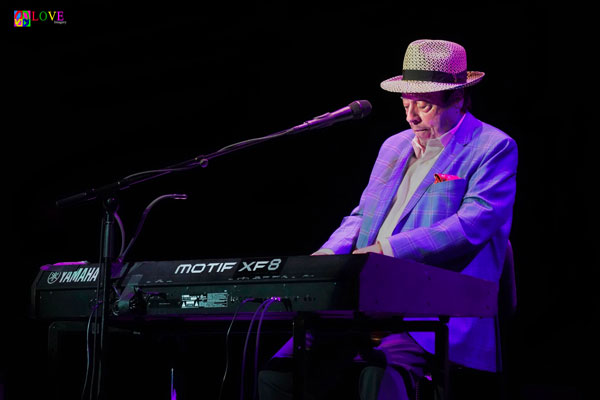 Bebel Gilberto is a well-known Brazilian singer/songwriter. Her father, João Gilberto, is recognized as one of the most iconic figures in Brazilian music and her mother, Miúcha, was a well-known singer/songwriter in her native Brazil. Best known for Tanto Tempo, her 2000 worldwide breakout album featuring her trademark electronic bossa nova sound, Bebel also received a Grammy nomination for her 2009 studio album, All in One.
Inside the stunning MPAC concert hall, lights shine orange and blue on a multitude of percussion instruments that adorn the stage from end to end. The house lights dim as guitarist Guilherme Monteiro and percussionist Léo Costa take the stage.
Opening with Antonio Carlos Jobim's "Wave," Bebel Gilberto floats onto the stage, her rich alto voice sounding soft and inviting.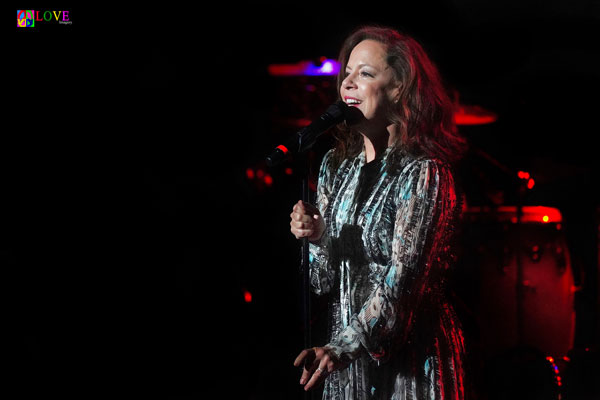 ---
The article continues after this ad
---
---
As she sings and moves to the delicious bossa nova beat, audience members nod their heads to the unmistakable sound of Costa's sticks hitting the rim of his drum.
Moving gently as she sings, Gilberto uses her compelling vocal abilities to tell a story on "Vice," dancing to the groove as she improvises, "Bap, bap, bap." Then, scat singing on the melody, she performs "Bolinha De Papel," bowing graciously at the conclusion.
"Good evening. How are you tonight?" announces Gilberto in English. Poised and graceful as she speaks to the audience in both Portuguese and English, Gilberto says, "What a pleasure it is to be here for this 60th anniversary concert with Sérgio Mendes. It's beautiful to be playing all these tunes."
Here, she and her group launch into a pair of Antonio Carlos Jobim tunes: "Corcovado" and "Desafinado." Opening with percussionist Costa playing shells and then chimes to Monteiro's guitar, on these numbers, Gilberto's vocal is soft, sweet, and full of emotion. Softly motioning as she sings, her voice floats out over the MPAC audience.
Slowly dancing over to Costa as she sings her father, João Gilberto's, "O Pato," her voice circles the crowd like an embrace. Bebel shimmies gently as she croons, inviting the audience to sing along with her on this uptempo number. Members of the crowd sway together before an audience member shouts, "We love you, Bebel!"
Following her rendition of Marcos Valle's "Summer Samba (So Nice)," where she twirls on the break to the audience's delight and sings with the crowd on the vocal interlude, Gilberto sequels into the theme from the 1964 film, A Man and A Woman.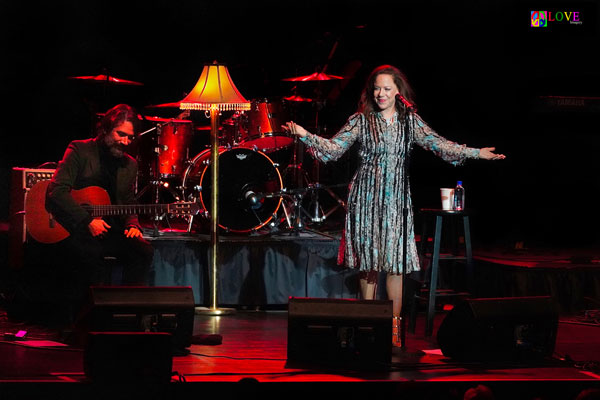 Vocalizing like a brass instrument while pantomiming playing a trombone, Gilberto conducts the audience as they sing along on the familiar melody before blowing kisses to the audience.
Gilberto dances center stage on "Só Danço Samba" to the beat of the drum, before announcing, "I'm gonna sing a song my Mom recorded — here's one she did with Daddy."
Here, Gilberto performs her interpretation of Cole Porter's "Just One of Those Things." Singing in English, "It was just one of those things/Just one of those crazy flings/One of those bells that now and then rings/Just one of those things," her voice is light and clear as she croons with style on this syncopated and upbeat arrangement.
Following a lyrical "Doo, doo" introduction, percussionist Léo Costa plays cymbals with his hands as Gilberto performs "Saudade Vem Correndo." Effortlessly vocalizing up and down the scale, Gilberto sings the lyrics before scatting rhythmically and ending with flair, striking a pose as she holds the microphone high.
Swaying her hips to the hypnotic beat as she sexily sings, Gilberto follows up with her father's composition, "Undiú," and then plays with the English word "baby" on Caetano Veloso's hit "Baby," syncopating and sliding her voice for effect on this interpretative song.
Concluding her set with her electronica arrangement of Baden Powell and Vinicius De Moraes's "Samba da benção (Samba of the Blessing)," Guilherme Monteiro accompanies Gilberto with his dissonant-sounding guitar part as Costa beats his drums with brushes. Gilberto's vocal rides along, her rich alto low and sensuous, before bowing deeply to large applause from the crowd as she motions to her fellow musicians on stage.
Announcing, "This is a very beautiful place" and thanking her parents for "the songs that were written 60 years ago," Gilberto performs an encore of George and Ira Gershwin's "'S Wonderful" in a bossa nova style.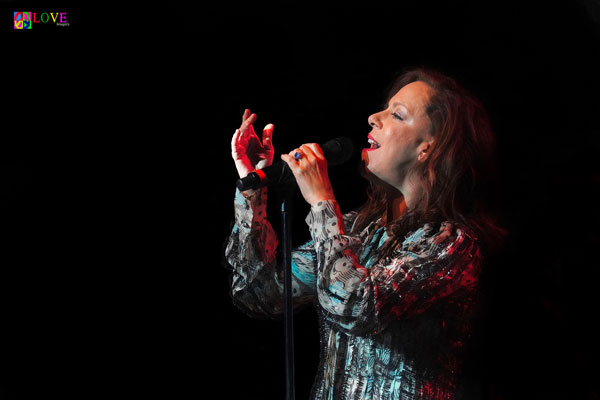 Crooning the lyrics in English, "'S wonderful! 'S marvelous/That you should care for me!/'S awful nice! 'S paradise/'S what I love to see," Gilberto's low and husky vocal pushes and pulls with and against the syncopated rhythms of Monteiro's guitar and Costa's drums.
At the conclusion, the audience responds with a standing ovation, at which point Gilberto takes a bow, kneels to the music lovers in the front row, and stops to chat with several audience members before saying "Ciao!" and taking leave of the stage.
During intermission, we chat with several fans in the audience who share their thoughts on Bebel Gilberto's performance this evening.
Says Lia from Branchburg, "Bebel Gilberto was great! I used to listen to her dad's music all the time. I recognized so many songs tonight, I felt I was listening to my mom's music," before adding, "I really like the beat, and the style appeals to me."
Lia's mom, Grace from Basking Ridge, agrees adding, "I love the bossa nova so much — the rhythm appeals to me," declaring, "I still love listening to this kind of music!"
The lights dim and a group of musicians — guitarist Kleber Jorge, bassist Andre De Santanna, drummer Léo Costa, percussionist Gibi, keyboardist/saxophonist Scott Mayo, along with vocalists Gracinha Leporace and Katie Hampton — take the stage.
A saxophone intro leads into drums, percussion, guitar, bass, and twin female vocalists joining in on "Magalenha" before Sérgio Mendes takes his place at the keyboard.
On this upbeat and driving song, Mendes plays a syncopated keyboard solo before Scott Mayo is featured on a rousing alto saxophone solo.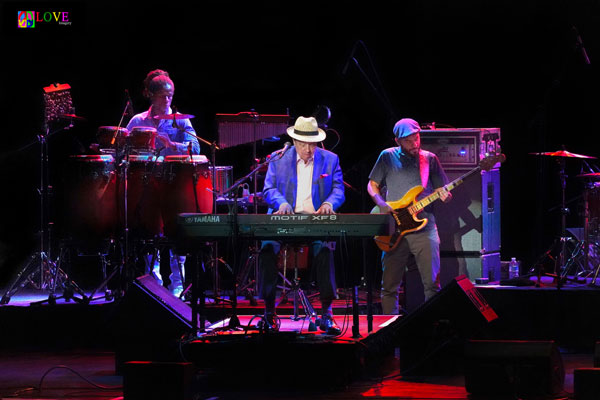 The crowd cheers and the band segues into "Waters of March" which opens with a Scott Mayo flute intro. On this infectious bossa nova number, Gracinha Leporace and Katie Hampton sing perfectly in unison in Portuguese before Mendes and guitarist Kleber Jorge join in on harmony vocals. Audience members can't help but sway and move to this rhythmic and melodic arrangement.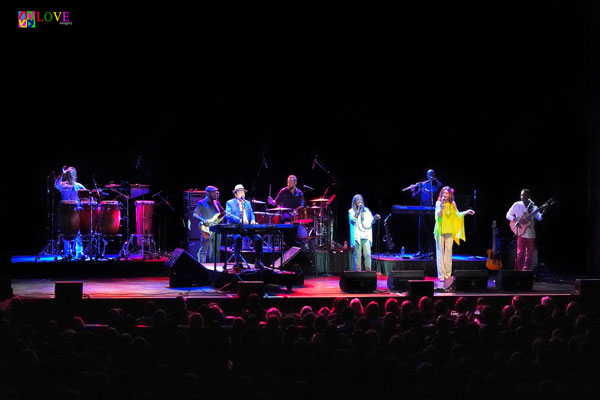 Sérgio Mendes handles the lead in Portuguese on "Ela é Carioca," and the female vocalists add harmonies as percussion and synthesized strings ring out over the crowd.
Following avid applause, Mendes says, "Good evening! Thanks for coming. It's great to be here in Morristown. Join us on our musical journey — it goes back a few years — we're celebrating 60 years!"
Moving into "Upa, Neguinho," Leporace and Hampton sing in two-part harmony on this upbeat number.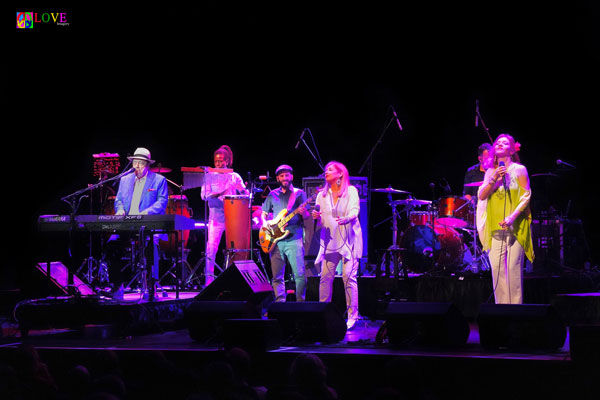 The rhythm is syncopated and driving as the song moves forward and the women dance. On the interlude, Mayo plays a Latin-flavored flute solo, as heads bop in agreement to the sizzle coming from the stage and enthusiastic cheers emanate from the crowd.
Mendes tells the crowd a story about the next number, saying "In 2005, a young man came to my house — will.i.am, from Black Eyed Peas. He told me he grew up listening to my music, and asked me to do the songs I did with Brasil '66 with him."
Here, Mendes and Co. launch into "Água de Beber." Starting with an upbeat vocal version featuring three-part vocals on the verse and five-part vocals on the chorus, the arrangement breaks into a rap section featuring rapper H2O. Mendes shines as he directs the group while playing a nifty keyboard solo.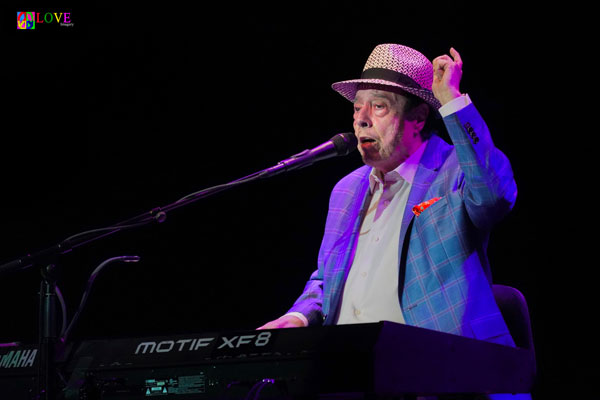 Andre De Santanna follows up with a funky bass solo, the overall sound crisp and clear in this pristine listening environment.
Leporace is the featured vocalist on the beautiful ballad, "O Que Será (So Many Stars)." After Leporace sings with feeling, Mendes plays the melody up and down the keyboard before he segues into a chordal solo. The arrangement builds in intensity as Leporace's vocal returns with passion, the number ending with great audience applause.
A highlight of tonight's performance is an extended medley of "Consolação" and "Berimbau" which fuse the rhythms of Brazil's Carnival with the rhythms of Africa. Sounding like the original Brasil '66 recording, Leporace and Hampton dance as they sing in close harmony in Portuguese before Mayo plays a staccato flute solo.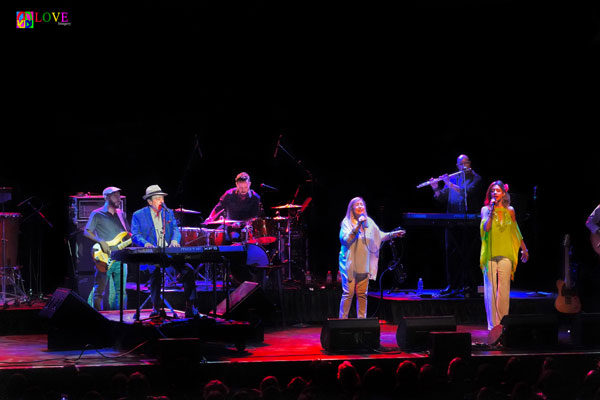 Audience members happily clap along to the complex rhythms of the drums and percussion before Mendes plays a melodic and, then, chordal solo. Passing the spotlight off to the bassist, DeSantanna bends the strings of his instrument as he bops his way through this percussive and funky arrangement.
Gibi is featured on bongos, congas, and a trio of traditional Brazilian percussion instruments. His flutter of percussion builds in dynamics and intensity prior to Costa joining the fray playing mallets on his drum set while the crowd cheers and claps along. Mendes turns to watch as De Santanna adds to the rhythmic gymnastics just prior to Scott Mayo joining in the fun on alto saxophone.
At this point, Gibi magically makes his Brazilian drum talk both high and low at times, squeaking and then growling, as Mendes joins in on keyboard adding a melody to the percussion. Gibi follows up on cowbell until the band returns, at which time he plays the world's greatest tambourine solo, presenting rhythms that morph and cascade while rivaling the sound of expert tap dancing.
The crowd erupts with cheers and applause and Mendes responds by saying, "In 1983, we recorded a song which was a huge hit all over the world," adding "It went to #2 when #1 was Michael Jackson's 'Thriller.'"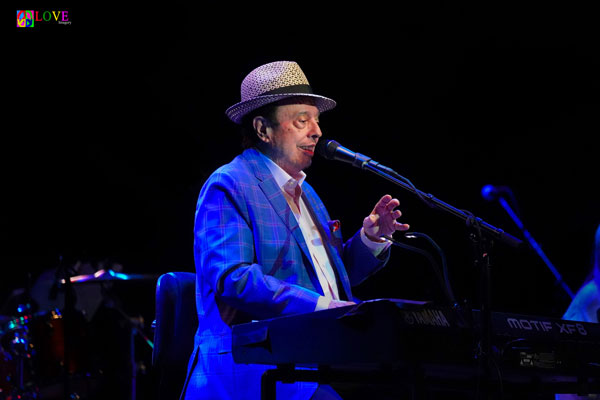 Here, Scott Mayo and Katie Hampton handle the lead vocals on the power ballad, "Never Gonna Let You Go." Audience members sing along on the familiar "I'm never gonna let you go/I'm gonna hold you in my arms forever/Gonna try and make up for all the times/I hurt you so" lyric before Kleber Jorge plays a lyrical electric guitar solo. Vocalizing with emotion, the singers croon to one another before ending arm in arm to large applause.
H20 returns for the audience pleaser, "The Frog." Funky and fun, the vocalists dance to the groove as they sing, the song's happy rhythms compelling audience members to dance in their seats.
The crowd cheers when they recognize the intro to Sérgio Mendes and Brasil '66's 1968 Top Ten hit, "The Fool on the Hill." The female vocalists start off in Portuguese, but switch over to English on the "Well on his way/His head in a cloud/The man of a thousand voices talking perfectly loud" verse before Mayo's sax echoes Mendes' keyboard lines and the audience sways to the song's irresistible rhythm.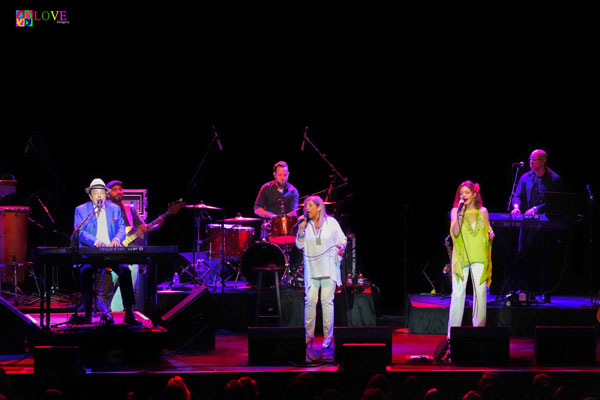 Continuing on, the band plays another Sérgio Mendes and Brasil '66 Top Ten hit from 1968, "The Look of Love." With vocals tight and stylized, the audience can't help but sing along on the song's "I can hardly wait to hold you/Feel my arms around you/How long I have waited" refrain.
Following enthusiastic applause, Mendes introduces "the best band I've ever had" and thanks everyone "for coming out."
As the audience rises, Mendes jokes, "Wow, I think I'm moving to Morristown! I want to do a week or two here in Morristown!"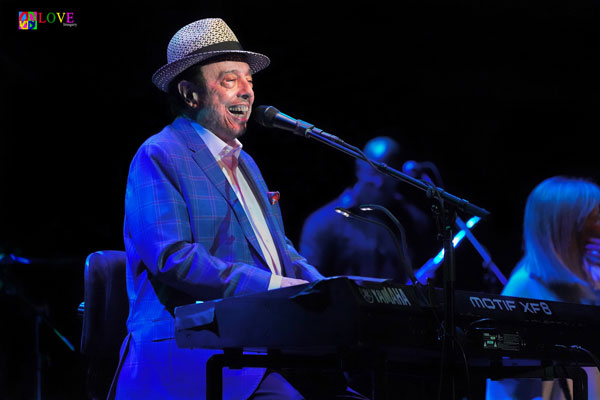 At this point, Mendes and Co. provide the audience with a knock-your-socks-off rendition of "Mas Que Nada" featuring the entire band with the addition of rapper H20.
A party atmosphere pervades the MPAC auditorium as the audience sings along on the "Oriá raiô/Obá obá obá" chorus, smiling and dancing as they stand and sing.
As the members of the crowd wave their hands back and forth to the groove, Scott Mayo plays his sax with his left hand and his keyboard with his right as he becomes a one-man horn section.
After featuring the audience on a round of the refrain, Mendes and his musicians bring the song to a boil with Mendes playing his heart out on the keyboard before blowing a kiss to the audience.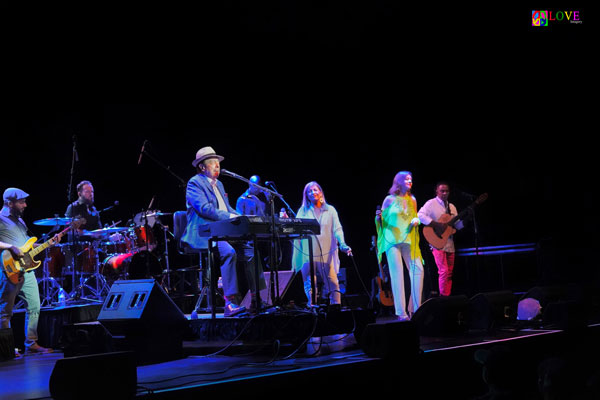 For an encore, Bebel Gilberto returns to the stage and the entire group performs "País Tropical (Tropical Country)." The audience is a sea of rhythm as H20 raps and the happy upbeat music flows over the audience making this Morristown, NJ auditorium feel like Carnival time in Rio.
"Thank you — we love you!" exclaims Mendes as he bows and leaves the stage to the sounds of the jamming band along with hoots, hollers, and cheers from the crowd.
As audience members filter out of the auditorium, we chat with several in attendance tonight who share their thoughts on this evening's concert.
Exclaims Patricia from Morristown, "Sérgio Mendes and his band were amazing! We are originally from Brazil and we miss hearing this type of music, so it's perfect having concerts like this in New Jersey," before acknowledging, "We usually have to go to New York City to enjoy music like this."
Tatiano from Madison agrees adding, "I have the same feeling — Sérgio Mendes brought the music of our home country right here to Morristown."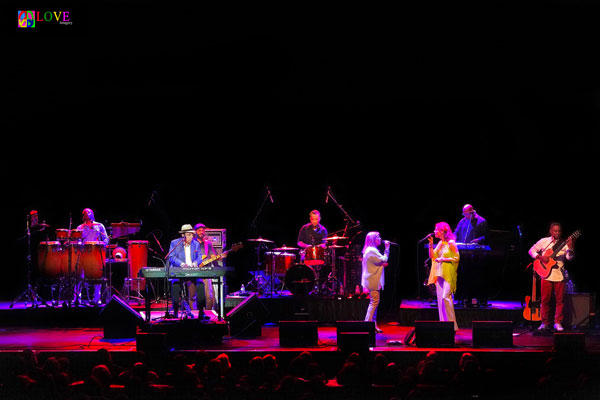 Kaline from Madison remarks, "I grew up hearing this music. It reminds me of home — it feels like Brazil." Adding, "We like to dance, and we loved the energy of this band," Kaline concludes by noting, "And this was an amazing theater in which to hear it."
Carla from Summit concurs commenting, "We always think everything happens in New York City — we just moved here — and we had no idea that New Jersey has all this. This is a beautiful theater!"
Continuing, "I was born after this music was originally recorded, but it was a part of my childhood because my parents played it," Carla explains, "I knew all of Bebel Gilberto's songs. I grew up listening to her family's music — it's so rich."
Carla's husband, Fabio, agrees declaring, "This music is so important! I love Brazilian music. It is unique how people all over the world react to it."
Adds Carla, "And I loved seeing how Sérgio Mendes brought rap to his music — it really brought new oxygen to it!" before confessing, "I couldn't stop moving," and concluding, "I'm so thankful I saw this concert — it was totally WOW!"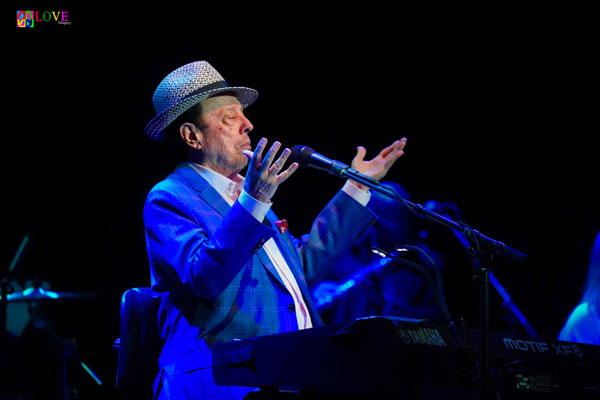 To learn more about Sérgio Mendes, please go to sergiomendesmusic.com. For more on Bebel Gilberto, please click on bebelgilberto.com. To find out about upcoming events at MPAC — including Paul Anka on November 13, Engelbert Humperdinck on November 22, Gladys Knight on November 24, and LeAnn Rimes on December 3 — please go to mayoarts.org.
Photos by Love Imagery
Spotlight Central. Your source for Jersey entertainment news and reviews
Love Imagery Fine Art Photography. all you need. peace/love/flower/power