originally published: 11/05/2019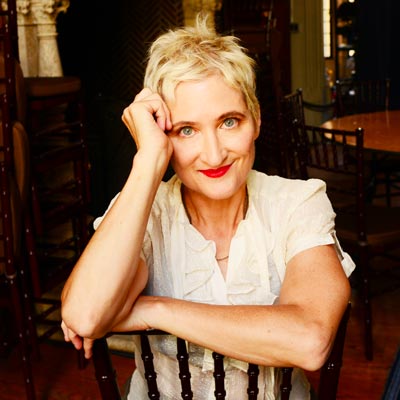 American music icon Jill Sobule joins the ECR Music Group roster of artists with deluxe-edition releases of five albums from her celebrated catalog. These include deluxe re-releases of her acclaimed albums Underdog Victorious (2004), California Years (2009), Dottie's Charms (2014), and her most recent effort, Nostalgia Kills (2018), each with never-before-heard exclusive bonus tracks. In addition, ECR Music Group is re-releasing her collaboration with noted playwright and theatrical director Elise Thoron, Jill Sobule Sings Prozac and the Platypus (2008).
Sobule's work is at once deeply personal and socially conscious, seriously funny and derisively tragic. In a dozen albums spanning three decades of recording, the Denver-born songwriter/guitarist/singer has tackled such topics as the death penalty, anorexia nervosa, shoplifting, reproduction, the French Resistance, adolescent malaise, LGBTQ issues, and the Christian Right.  
Jill Sobule's recording career began in 1990 with the album Things Here Are Different (MCA), produced by Todd Rundgren. Radio took notice thanks to the single's "Too Cool To Fall In Love." Her 1995 self-titled album (Atlantic) brought her mainstream commercial and critical success with two hit singles:  the satirical gem "Supermodel" from the movie Clueless and "I Kissed A Girl" (the original), the first ever openly queer-themed Billboard Top 20 record.
In November 2019 she will be singing a song as herself on an episode of The Simpsons. Sobule is currently working on two projects: an autobiographical show directed by two-time Obie-winner Lisa Petersen, (titled F**k 7th Grade!) which will premiere in May 2020 at Pittsburgh's City Theater, and another concept album, this time a series of short musical portraits of working women, which she expects to complete within the year.
ECR Music Group is one of the world's leading independent music companies with its vibrant roster of celebrated stars, emerging artists, and broad array of distinguished record labels.
---
The article continues after this ad
---
---
Originally founded as Engine Company Records in 2002 by recording artist and producer Blake Morgan, ECR Music Group consists of an interconnected set of businesses aimed at helping its artists and labels realize long-term creative and commercial success. Our company employs a distinct set of resources which includes our recording facility, our full-service recorded music business, worldwide physical and digital distribution, promotion, publishing and licensing, artist development, merchandising, and copious third-party relationships that extend the company's reach even further for our artists and labels.
Uniquely, ECR Music Group achieves these goals while operating under an elemental principle unprecedented in the music world: all of our artists and labels own one-hundred percent of their master recordings.
This is a company that works in partnership with its artists. A company whose labels work in partnership with each other. A company that evokes the early days of the classic record companies: where many artists appear as guests or as backing musicians on each others' albums, often crossing style and genre to do so. This is a company whose staff members are, in many cases, its artists—including the President.
Born from humble beginnings in a one-room makeshift recording studio and office and launched on Morgan's laptop computer, the company has since flourished with this central ideal at its core—even through a time of dramatic industry transition—and grown to become the globally distributed family of artists and labels it is today.
ECR Music Group is a company where the unimaginable is simply the norm: where success is measured as much by the high note as it is by the bottom line.