originally published: 11/05/2019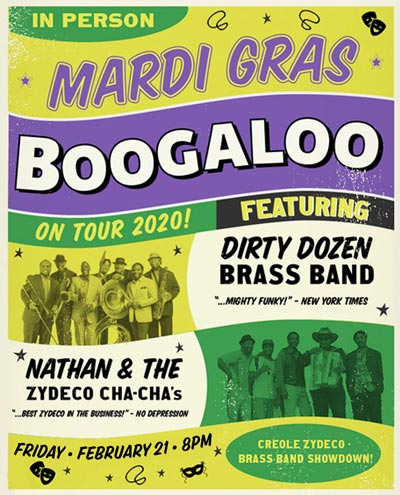 (NEWTON, NJ) -- The Dirty Dozen Brass Band is celebrating over 40 years since their founding in 1977, New Orleans-based Dirty Dozen Brass Band has taken the traditional foundation of brass band music and incorporated it into a blend of genres including Bebop Jazz, Funk and R&B/Soul. This unique sound, described by the band as a 'musical gumbo,' has allowed the Dirty Dozen to tour across 5 continents and more than 30 countries, record 12 studio albums and collaborate with a range of artists from Modest Mouse to Widespread Panic to Norah Jones. Forty-plus years later, the Dirty Dozen Brass Band is a world-famous music machine whose name is synonymous with genre-bending romps and high-octane performances.
The Dirty Dozen Brass Band is teaming up with Nathan and the Zydeco Cha Cha's to bring Mardi Gras Boogaloo 2020 to Newton, NJ on on Friday, February 21st, 2020 at 8:00pm.
Nathan Williams plays zydeco, the fast and furious accordion-driven dance music of the Creole people of South Louisiana, a relatively modern style that emerged after the Second World War. Zydeco is now a familiar sound to many, heard in commercials for mainstream companies such as Burger King and Toyota, and there are pockets of devoted zydeco dancers throughout the world 
The music of Nathan and the Zydeco Cha-Chas is the expression of a remarkable South Louisiana family. Dennis Paul Williams, Nathan's brother, brings his jazz-influenced guitar chops to the band. He's also a well-known painter whose work has been shown throughout the country, and has recently published a collection of his work. The eldest Williams brother, Sid 'El Sid O' Williams, is a Lafayette legend unto himself, and Zydeco would never have survived into the new millennium without him.
Nathan formed The Cha-Chas back in 1985, and since then has brought his unique take on this regional South Louisiana music to all corners of the globe. From Lincoln Center in New York to The Grand Ole Opry in Nashville, Nathan's music has crossed all barriers to speak to the very heart of his audience.
---
The article continues after this ad
---
---
Inducted into the Louisiana Music Hall of Fame in 2005, he was honored last year with the Zydeco Music Association's Lifetime Achievement Award. The Cha-Chas have been voted the top Festival Band in the country and have won the coveted Big Easy award for Best Zydeco Band for several years running.
Nathan and his band have been featured in the New York Times, Essence and People magazines, and on the cover of USA Today. They've appeared in films like In The Electric Mist and The Kingdom of Zydeco, and worked with artists as diverse as Cindy Lauper, Michael Doucet and Buddy Guy.
Mardi Gras Boogaloo 2020 featuring The Dirty Dozen Brass Band and Nathan and the Zydeco Cha Cha's  perform at The Newton Theatre on Friday, February 21st, 2020 at 8:00pm. Tickets can be purchased at The Newton Theatre box office at 219 Spring Street in Newton, NJ; online at www.TheNewtonTheatre.com; or by calling 973-940-NEWT.