originally published: 10/30/2019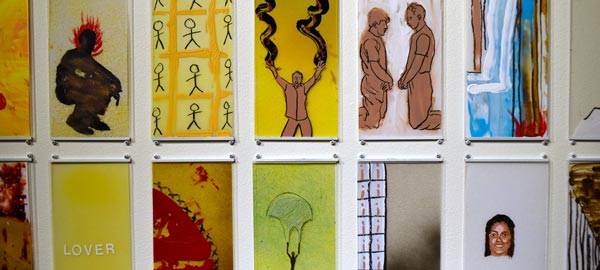 In the words of curator Ryann Casey, "No Cure for Mourning," the exhibition on view through November 12 at Stockton University Art Gallery, " examines the relationship between art-making and the experience of loss.
While an exhibition that focuses on loss and grief is not light fare, the works by the 21 artists make a dramatic and engaging statement. Visual representations such as the ones created by the artists in "No Cure for Mourning" can have a powerful effect – providing new perspectives and encouraging a greater understanding of our human emotions, which are common among us but often kept hidden.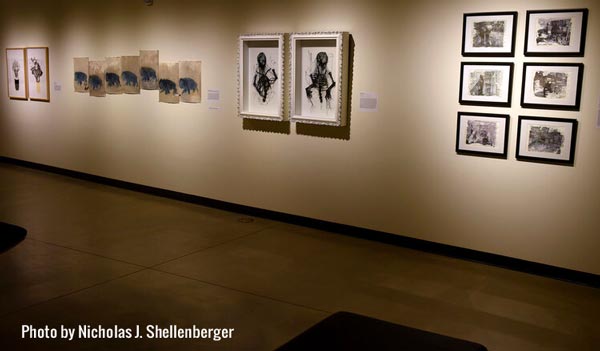 "The range of both the experiences and the mediums highlights the unique yet universal phenomenon of human grief," Casey explained in her curator's statement. "The exhibition also maps the use of art, not just as a healing device or an act of redemption, but as a means of reflection and finding connection."
Casey spent several years working on this exhibition, after the death of a close friend caused her to step back and examine the way she was feeling and what she could do to make sense of it. This journey continued with Casey exploring more widely the means that others use to get through times of intense emotional distress.
"I went to books, to films, to art – to try to figure out how others deal with these experiences," she said.
And, not surprisingly, what she found is that there are as many ways to cope as people who are struggling.
Often, the struggle is personal – a broken heart, an unexpected death, an unwelcome change. But – and this is something I hadn't considered before seeing the exhibition and discussing it with Casey – the anguish is just as frequently brought on by something global, overwhelming, beyond ourselves.
It is the equal acknowledgment of both types of loss and the thoughtful way the works are arranged in the gallery that makes "No Cure for Mourning" such a remarkable exhibit.
As with most art exhibitions, this one strives to showcase each artist's work and to have visual appeal and balance.
But Casey told me there's more to the design than that.
"I chose to display the works this way to expand the concept of grief and loss," Casey said, "and draw attention to the very real sorrow we feel about things that happen both personally and outside ourselves."
These are a few examples.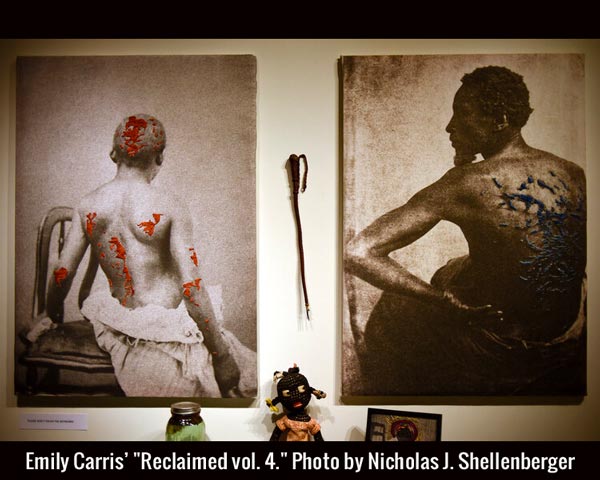 Emily Carris' haunting work "Reclaimed vol. 4" explores the impact of slavery on a single 13-year-old girl and, eventually, as a catalyst for awareness and advocacy. Adjacent is Jess Dugan's video "Letter to My Father," an intensely personal piece that looks at the pain a person feels when estranged from a parent.
Kathleen W. Kennedy's "Thread of Memory" is a 20-foot "bracelet" constructed from more than 500 found and donated silver charms. The piece honors her late grandmother and helped Kennedy find meaning in objects around her and their significance as souvenirs of a lifetime.
Renée Zettle-Sterling's "Necklace in Mourning #10" (part of the "Objects of Mourning" series) uses personal effects, in the tradition of 19th-century mourning jewelry, to address cultural mores that make people respond to death and public mourning as taboo subjects. Through her body of work on this subject, Zettle-Sterling seeks to understand how everyday objects assist in the transition through the process of grief.
Anjali Pinto's "GONE" is a pictorial essay culled from a vast photo archive amassed during her relationship with her husband, who died suddenly at the age of 30. Although Pinto notes that "pain is too soft a word" to describe how she felt, she has been able to explore both the trauma and the beauty of her life as a young widow, using images to represent her husband's presence and his absence.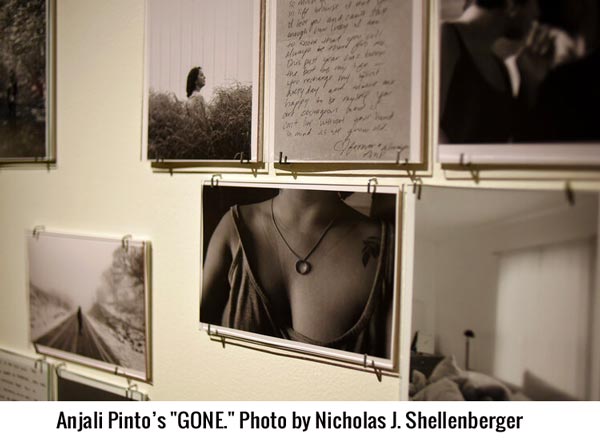 Manju Shandler's "Gesture" uses 180 individual paintings, selected from more than 3,000 she did in the aftermath of the September 11th attacks. The images allowed Shandler "to pay tribute to those I would never meet but whose lives were so close to mine," she explained in her artist statement. For her, it was a way of directing all the feelings of rage, sadness and fear into something proactive.
Lee John Phillips' "The Shed Project" is an ode to his late grandfather, who was Phillips' regular companion when he was a child. His grandfather spent much of his time fixing and building things in the shed outside the house. To illustrate the close relationship he and his grandfather shared, Phillips created intricate pen-and-ink drawings of the objects in the shed.
Because of the strong passions and principles behind the art, viewing these pieces is transporting.   Even those that document a collective experience feel intimate.
Another thing that struck me after hearing about Casey's curatorial process and spending time with the works is how remarkable it is to have this exhibition in South Jersey.
Don't get me wrong, Stockton Art Gallery is well-regarded for presenting first-class programming in its splendid building, which opened in 2012, but it is a bit off the beaten path. In fact, I can confidently wager that few of you readers have taken in an exhibition, lecture, panel discussion or other art-related event in the gallery. I'm here to say that you might consider remedying that situation before "No Cure for Mourning" closes in less than a month.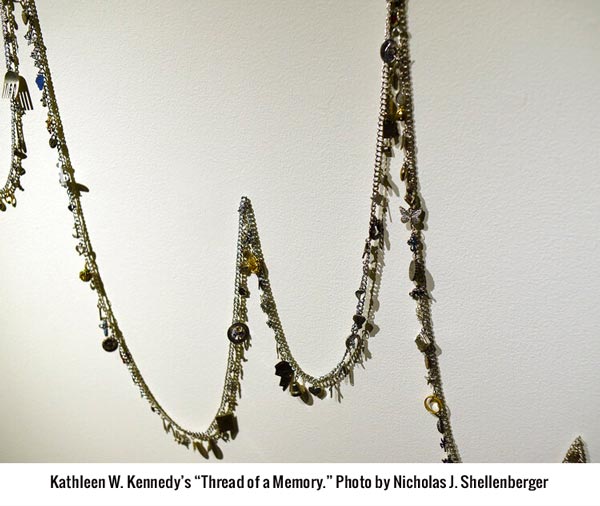 The Art Gallery is sponsored by the Visual Arts faculty, which is part of the Arts and Humanities program. And although the majority of its visitors are Stockton staff and students, the Art Gallery consistently attracts high-quality professional artists for its twice-a-year major exhibitions.
"The gallery is a tremendous resource for students," Gallery Exhibition Coordinator Denise McGarvey said.
Visual arts professors use the gallery exhibitions to complement what their students are doing in the studio and in class. And professors who teach theoretically "non-art" courses find ways to incorporate content from gallery visits into their curriculums.
A less obvious but equally important benefit of having access to the Art Gallery is the stimulating cultural experience it offers.
"For a number of Stockton students, SAG is the first gallery they have ever visited," McGarvey said. "It opens up a new world for them."
The last but oh-so-important things to mention are these – Stockton Art Gallery is open daily to the public Monday through Saturday from 12:00 noon until 7:30 p.m. and Sunday from noon to 4:00 p.m. during the school year — making it possible to do a quick visit before attending a show at the Performing Arts Center next door. Admission is F-R-E-E.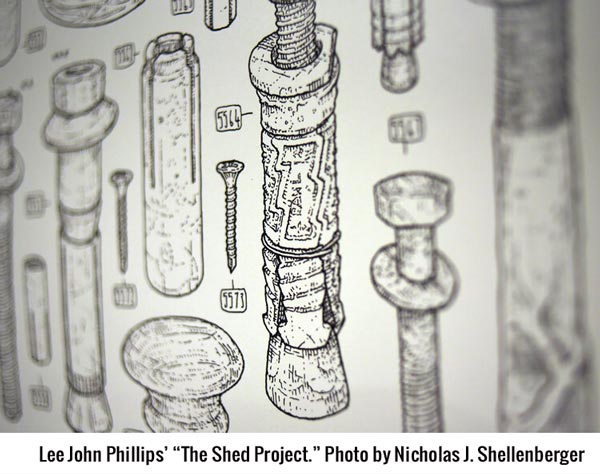 And one more thing: the Art Gallery website features an archive of past exhibitions and a section with a great selection of podcasts. So, if you can't get to the gallery any time soon, how about a virtual visit?
"No Cure for Mourning" is on view through November 12, 2019 at Stockton University Art Gallery (upper), 101 Vera King Farris Drive, Galloway, NJ 08205. There will be a roundtable discussion and artist reception on Thursday, November 7, 2:30 p.m.