By Spotlight Central
originally published: 10/29/2019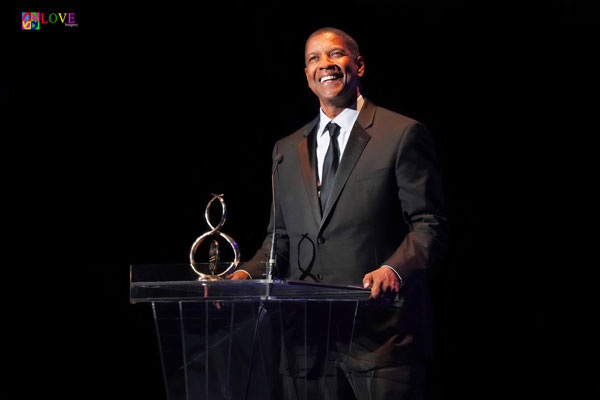 If all the world's a stage, then New Brunswick, NJ is blessed this Saturday, October 19, 2019 evening to have one of its finest actors, Denzel Washington, in town to accept Crossroads Theatre Company's first annual Ossie Davis and Ruby Dee Living Legends Award. Crossroad's star-studded tribute in central New Jersey features several exciting events in Washington's honor including a VIP reception at New Brunswick's Heldrich Hotel and a gala award ceremony across the street at the historic State Theatre New Jersey.
For years, Crossroads Theatre Company has called New Brunswick, NJ's government and theater district its home. Founded in 1978 by Ricardo Khan and Lee Richardson, Crossroads embraces a vision that African-American theater is intended for a broad-based, diverse audience. Producing works that enrich and diversify the representation of African American culture on the American stage, Crossroads is the proud recipient of a 1999 Regional Tony Award.
As we enter the beautiful Heldrich Hotel for tonight's VIP reception, the lobby is bustling with Crossroads Theatre patrons who are arriving for tonight's gala and inaugural presentation. In the ballroom, theater supporters — handsome men in black and white tuxes surrounded by a rainbow of beautifully gowned women in finery of every color — mingle, enjoying hors d'oeuvres and drinks to live music in a festive and light atmosphere.
It is here that we chat with Ricardo Khan, Co-founder and Artistic Director Emeritus of Crossroads, who tells us about the origins of the theater company.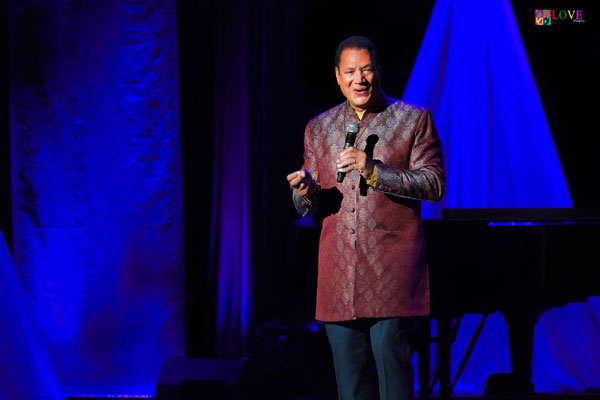 Recalls Kahn, "I went to graduate school at Rutgers in New Brunswick where the university's MFA program gave us an opportunity to do our own thing. As a result, after class, we would work on shows like Romeo and Juliet, which we would rehearse and then perform. Later on, however, we'd go to the basement where we would do other shows with The Paul Robeson Black Arts Ensemble — a student theater group — where we'd rehearse until 2 or 3 in the morning."
---
The article continues after this ad
---
---
"What that experience taught us was how to do our own thing with regards to theater and not wait," Kahn explains, "so when Lee Richardson and I graduated with our our MFAs, we looked around and said, 'What's out there?' and that's when we decided we could do better."
"It wasn't because we wanted to make a huge difference," asserts Kahn, "It was because we were artists who just wanted to do our work. We wanted to present positive images of black people, and we also wanted to show the bridges of understanding between people of all backgrounds in the world — and at the front of all of that was excellence."
Next, we chat with Marshall Jones III, Producing Artistic Director of Crossroads, who tells what the Company is up to this season.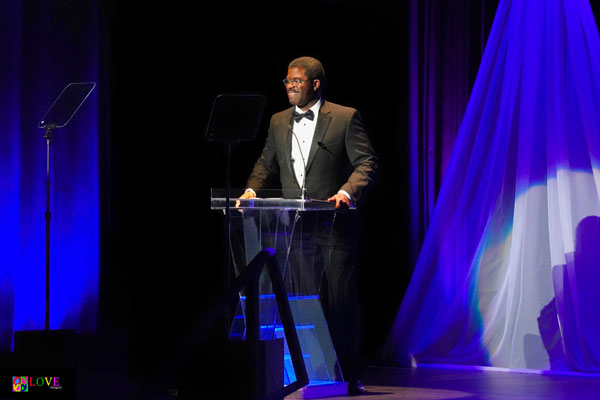 States Jones, "We're really excited about our upcoming production of A Christmas Carol. It's a show that was written by Alan Menken and Lynn Ahrens. Madison Square Garden did it back in the '90s, and since I worked on the show at the time, it has a special place in my heart. I'm honored to be able to bring it here to the New Brunswick community under the lens of Crossroads. It will feature a multi-cultural cast to celebrate this wonderful story that Charles Dickens wrote 200 years ago."
Continues Jones, "In February, we have our 'Genesis Festival of New Plays,' where we'll present two weeks of play readings. One of those plays is called The Fever and it's about the birth of rock and roll. It's the story of Little Willie John and Big Mama Thornton and how they created the songs that white artists such as Elvis Presley recreated before becoming famous."
"We also have a play written by Pia Wilson that was inspired by Serena and Venus Williams, but instead of playing tennis, the main characters will be female boxers," notes Jones before adding, "Since they are readings and not full plays, the actors will have scripts in hand or on music stands, but the audiences will be able to witness the development process of several innovative works of art."
"Finally," explains Jones, "we end the season with a show conceived and directed by our founder, Ricardo Khan, called Freedom Rider. It takes place in 1961, and it's about six different college students who travel from all over the country to go down South to help liberate the lunch counters," before revealing, "Ricardo had a really unique way of creating this show — he commissioned six different authors to write the scripts of the six different characters — so that's something new that audiences will get to experience as well."
Lastly, we chat with actor Courtney B. Vance, who many know from his work in the films, The Hunt for Red October and Hamburger Hill, in addition to television appearances where he portrayed ADA Ron Carver on Law & Order: Criminal Intent and his Emmy-Award performance playing attorney Johnnie Cochran in The People v. O.J. Simpson: American Crime Story.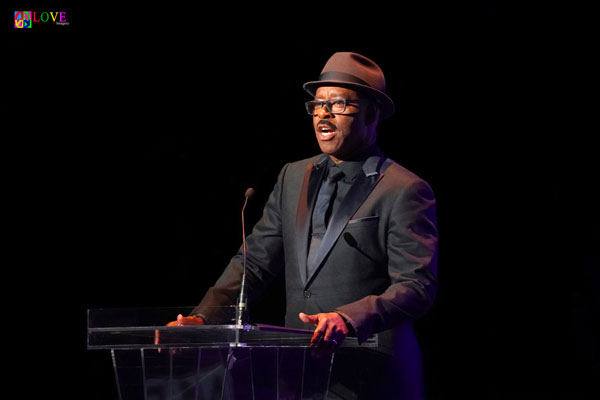 Talking about his long-time friendship with tonight's honoree, Denzel Washington, Vance recalls, "Denzel and I did The Preacher's Wife together back in the day, and he and his wife and me and my wife, Angela Bassett, attend the same church in Los Angeles. We are huge fans, supporters, and friends, and he is iconic in that when he takes on a project we all know it is going to be something that everyone's just got to see. He's not afraid to take risks — he goes where few have gone before."
Recounting, "We went to see him do The Iceman Cometh on the New York stage," Vance asserts, "He didn't have to do that play — it's a four-hour play! Why would he do that? It's because he's an artist, and he has to continue to grow and explore," before concluding, "That's why we celebrate him! We celebrate all he has done for us, with us, and to us — and we will stay in his corner as long as he continues to work."
As the VIP reception at the Heldrich starts to wind down, patrons happily make their way across the street to the State Theatre New Jersey for tonight's gala award ceremony. Inside the historic auditorium, dramatic white draped curtains surrounding the stage are illuminated by royal blue lights which adorn both sides of a large screen that proclaims "A Night with Crossroads Theatre Company honoring Denzel Washington."
Camera lights flash as special guests take their seats. Soft tap dancing can be heard coming from the wings of the grand stage as a dancer warms up for tonight's performance. Light background music sets the mood as the audience readies itself for tonight's star-studded event.
The man of the hour, Denzel Washington, is seated in the front row enjoying a tub of popcorn as he awaits the festivities to begin.
The stage darkens as dancer Omar Edwards takes the stage.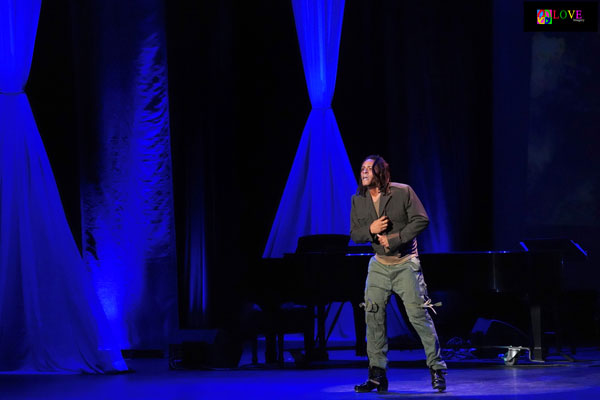 As Edwards begins to dance, images depicting various events in American history flash on the screen behind him — the sea and slave ships, fire, clouds of smoke, the riots of the 1960s, and the March on Washington — to illustrate his creative performance.
In this dramatic scene from Fly — a play written by Trey Ellis and Ricardo Khan — actor Robert Karma Robinson joins Edwards on stage.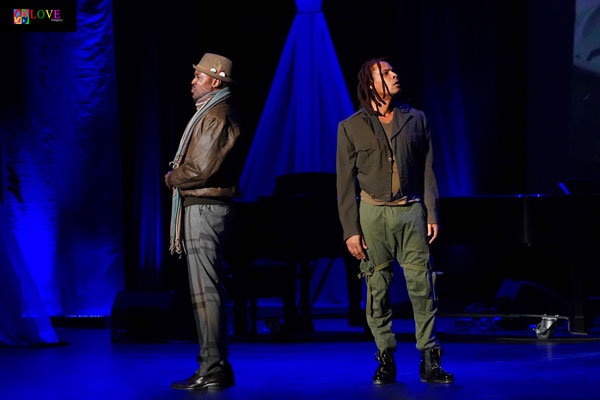 Robinson speaks to the audience about various struggles in American history, ending by declaring, "Today I am walking on air!" as images of President Barack Obama's inauguration fill the screen, and Edwards ends with a final tap.
The audience applauds and three-time Tony nominee and star of TV's In Living Color, David Alan Grier, takes the podium to welcomes the packed house.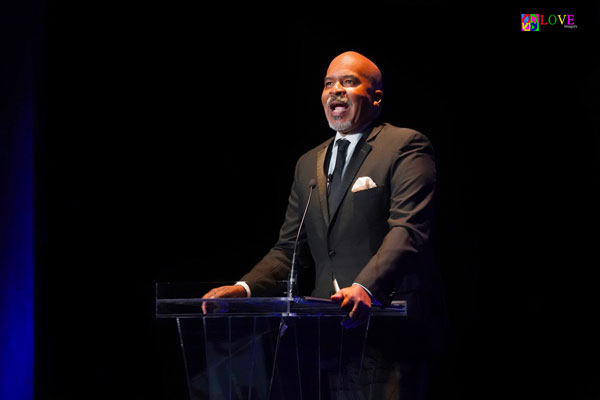 Grier talks about how Crossroads is one of the premier black theater companies in the nation. He also tells stories about his personal relationship with tonight's honoree, Denzel Washington, recalling how they performed together in The Soldier's Play on Broadway. Greir also recalls how he "cried like a baby" when, in 2002, two African-American actors — Halle Berry and Denzel Washington — won Oscars, declaring, "The black theater has given us a rich legacy!"
The crowd cheers and Phylicia Rashad — the Tony Award-winning actress known for her role as Clair Huxtable on television's The Cosby Show — takes to the podium, announcing, "Welcome to the season of Denzel!"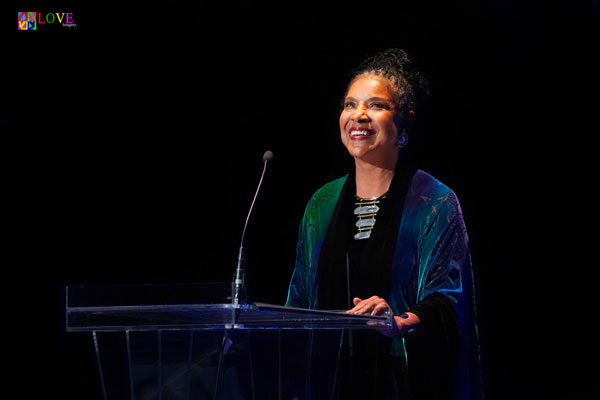 Elegant and poised, Rashad recalls how when she and Denzel were in the play, When Chickens Come Home to Roost, they shared a dressing room which was only separated by a sheet on a string! She also confesses that every night, once she was finished playing her part, she would go into the audience to watch Denzel as he masterfully performed his role.
Both Denzel and the audience appreciate Rashad's tribute which is followed by a musical performance by actress/singer Ashley Tamar Davis.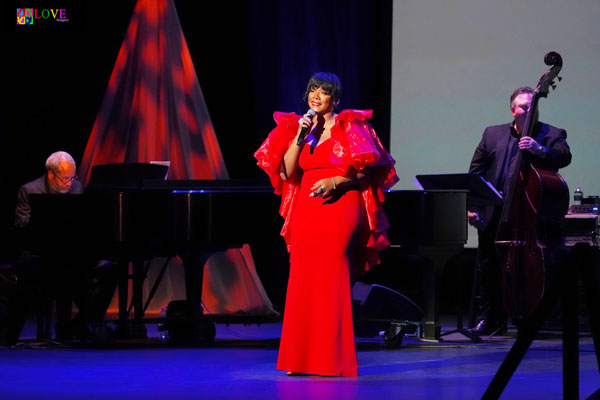 Accompanied by the Nat Adderly, Jr. trio, Davis, in her stunning red gown, performs a sneak preview from The Divine One — a show based on the story of Sarah Vaughn. Crooning, "Someone to Watch Over Me," her rich, resonant alto voice fills the theater as she sings with style and grace. Gesturing as she croons, she turns a phrase with each beautiful vocal line on this emotional ballad, bringing cheers and applause from the appreciative crowd.
The president of the Crossroads Board of Trustees, Anthony Carter, greets the audience.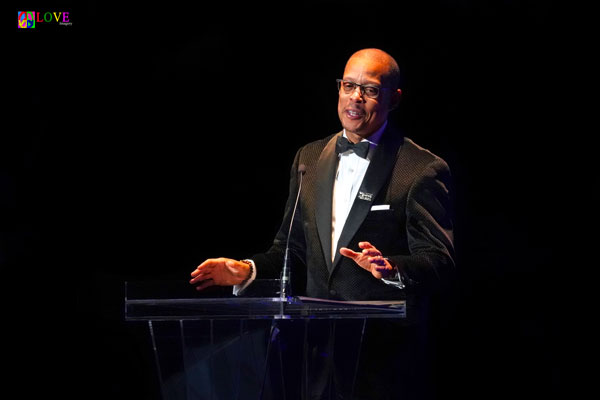 Asking "Is this a great night? Come on, let me hear it!" the audience happily responds to Carter with "It's a great night!"
Carter explains to the audience that the Crossroads Theatre is "making history as we usher in the first Ossie Davis and Ruby Dee award." He asks audience members to turn to the patrons sitting to the right and left of them and thank them for supporting Crossroads Theatre — which they happily do — and then offers a special "thank you" to co-founders Ricardo Khan and Lee Richardson; his wife, Mrs. Carter, and Denzel Washington's wife, Pauletta; in addition to New Brunswick mayor, Jim Cahill, among others, for their enduring support.
Ricardo Khan, cofounder of Crossroads Theatre, takes the stage to talk about Ossie Davis' and Ruby Dee's commitment to excellence in the arts, reminding the crowd that Ruby Dee herself was, at one time, an associate artist at Crossroads Theatre. At this point, Kahn announces the return of Crossroads Theatre's Associate Artists program — a program which he will lead himself — where young aspiring artists will be paired with accomplished artists including actor/author/playwright Denise Nicholas, whom many remember from her work on television's Room 222, in addition to playwright Richard Wesley, author/educator Abena PA Busia, director Leah C. Gardiner, and musician/performer/composer Guy Davis.
After introducing his Crossroads co-founder Lee Richardson who is seated in the audience, Kahn introduces Producing Artistic Director of Crossroads, Marshall Jones, who talks about the Living Legends Award, calling Ruby Dee "exquisite" and Ossie Davis "elegant and incomparable."
Following a film on the actors' lives, Jones introduces the couple's children — son Guy Davis and daughter Hasna Muhammad — who relate stories about their famous parents.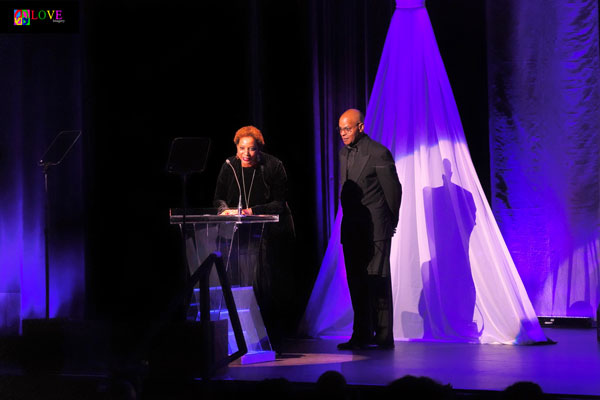 Reveals Muhammad, for example, "I could never see my mother in the roles she played," until watching the famous scene in American Gangster where Ruby Dee slaps Denzel Washington, at which point she recalls, "I thought, 'Oh, there she is!" bringing chuckles from the crowd.
The audience warmly applauds for the children as the stage is set with a table and two chairs. Then, actors Stephen McKinley Henderson and Lynda Gravatt perform a scene from August Wilson's King Hedley II where they reminisce about their younger days and joke about the difficulties of old age.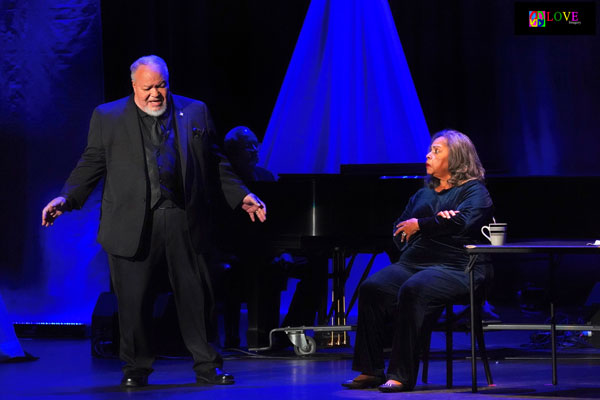 The audience laughs when after he is introduced, Courtney B. Vance, actor and husband of Angela Bassett, deadpans, "You thought Angela was coming out here."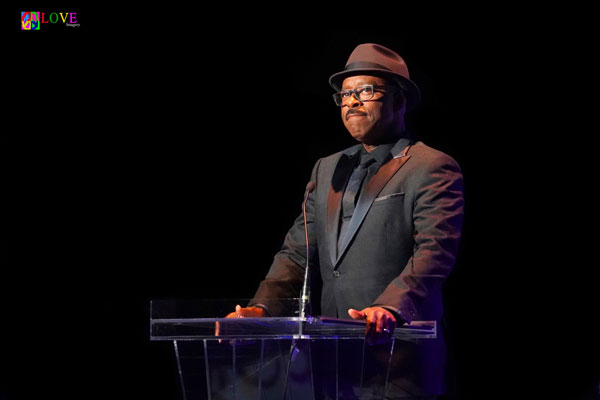 Vance thanks Denzel Washington's wife, Pauletta, for sharing and sacrificing for her husband, a notion which brings avid cheers from the crowd.
Talking about black icons of the '60s and '70s — Diahann Carroll, Flip Wilson, Dick Gregory, Jimmie Walker, Redd Foxx, and Sherman Hemsley, for example — Vance explains that "Denzel did what Sidney Poitier did — he allowed us to dream and fantasize in chocolate!"
Calling Washington the "first modern-day movie star" of color, Vance contends that Denzel "even has his own famous walk," which he proceeds to imitate to the crowd's delight.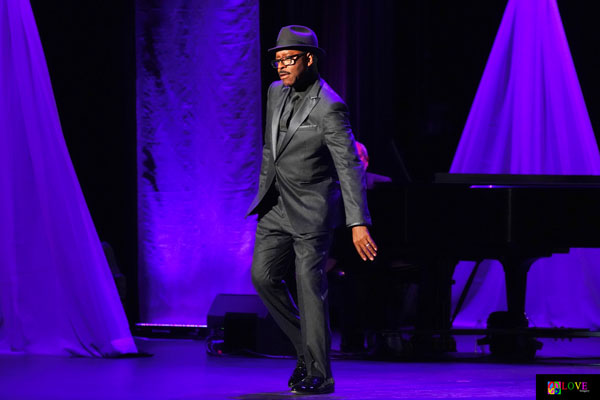 After sharing his experiences appearing in The Preacher's Wife with Denzel and Whitney Houston, Vance reminds the crowd of Denzel's portrayal of Malcolm X, at which point the audience joins him when he quotes one of the film's famous lines, "We didn't land on Plymouth Rock, Plymouth Rock landed on us."
Singer Ashley Tamar Davis returns to performs "The Impossible Dream." Following her performance, murmurs of "Wow" can be heard from the audience.
Then, actor Susan Kelechi Watson, famous for her portrayal of Beth Pearson on TV's This Is Us, follows up with an impassioned speech about Denzel Washington.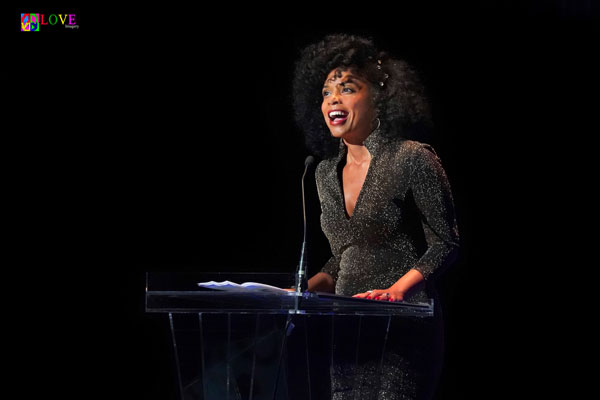 According to Watson, she was afforded the honor of studying Shakespeare at The University of Oxford as a Howard graduate thanks to the aid of Denzel Washington.
Her joy and enthusiasm for Denzel is infectious as she charms the audience with her genuine affection for him and his many accomplishments in her spirited tribute speech.
The President of the Crossroads Board of Trustees, Anthony Carter, returns to the stage to present Denzel Washington with the Ossie Davis and Ruby Dee Living Legends Award.
Regaling the audience with stories of his time at Fordham University where he and Denzel Washington were both studying biology to become MDs, Carter explains, "We both changed directions — I went into journalism and Denzel into theater," before adding, "Fordham gave us both honorary doctorates, but Denzel became a doctor first when he was cast in St. Elsewhere!"
The audience rises for Denzel Washington as he humbly accepts his award. Repeating the word, "Thanks," as he stands and admires the statuette, Washington adds, "I have to say it a lot because I mean it."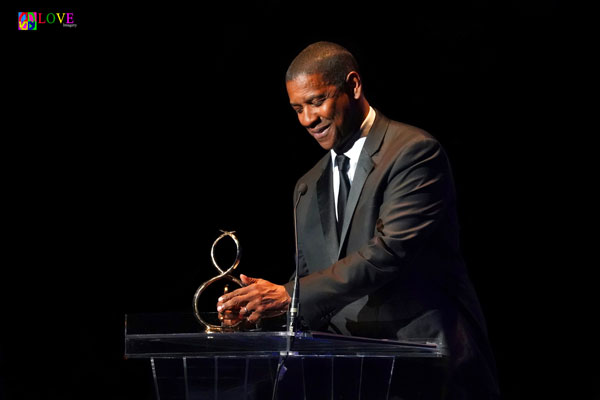 Adding, "I am hopeful and humbled by the possibilities to come," Washington thanks his wife before adding, "Man gives the award, God gives the reward." Here, Denzel reveals that whenever he was nominated for an award, he would always pray — or as he put it, "give God a knee" — but when his son, actor John David Washington, was nominated for a Golden Globe, Denzel confesses, "I went in another room and that's when God said to me, 'Give me a knee!'"
Following enthusiastic cheers and applause, David Alan Grier comes out to introduce singer Gregory Porter to honor Washington in song, but he is prevented from doing so when Denzel comes out to stand next to his friend and the two enjoy a moment together.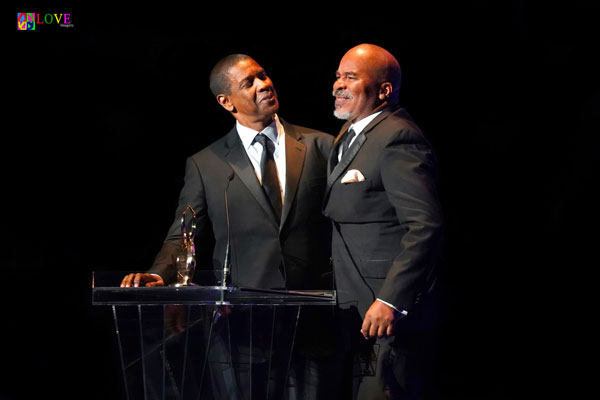 Proclaiming his message in a simple yet beautiful hymn, Gregory Porter sings "He Looked Beyond All My Faults" in his rich baritone voice, expertly accompanied by Albert "Chip" Crawford on the piano.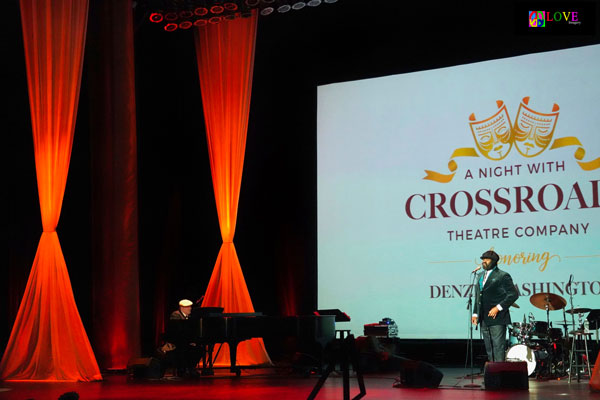 His voice sounding jazzy and full as he croons with soul and conviction, Crawford launches into a rendition of "On My Way to Harlem" before concluding the evening with his interpretation of "When Love Was King," his power and soul bringing enthusiastic cheers from the crowd.
As we make our way out of the theater, a number of things permeate our thoughts about this extraordinary evening devoted to theater.
First, we think about all of the dedicated individuals who make Crossroads Theatre a magnet for excellence in the arts.
Next, we think about all of the people — stars and theater-lovers alike — who came to support Crossroads Theatre Company and honor Denzel Washington on this historic night.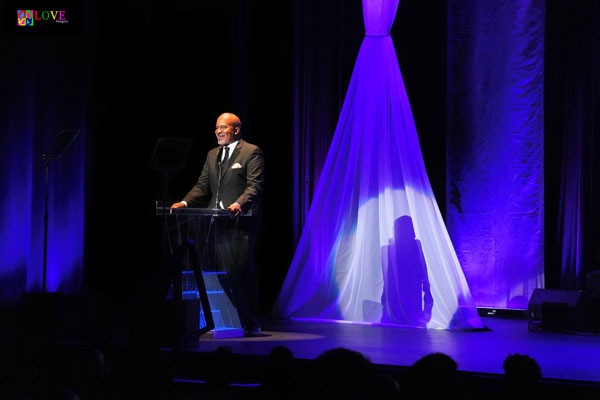 And, lastly, we hear the words of Denzel Washington continue to echo in our minds when he said, "I'm happy and satisfied with where I am and where I'm going. I pray you come with me. I thank you for supporting me. And I pray that I continue to make you proud of me. I promise you, I'll do God's will to my last breath."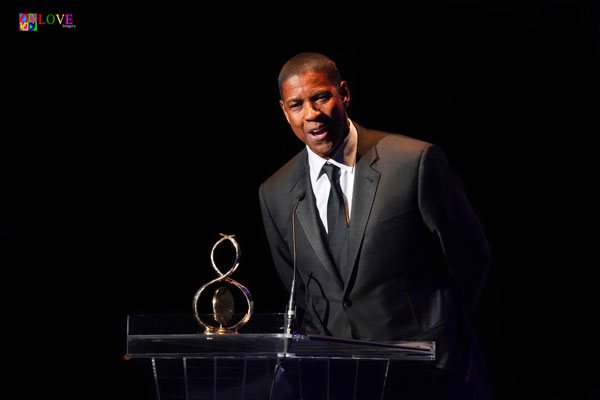 To learn more about Crossroads Theatre Company — including upcoming productions of A Christmas Carol from December 5–15; The "Genesis Festival of New Plays" in February, 2020; and Freedom Rider from April 9–19, 2020 — please go to crossroadstheatrecompany.org.
Photos by Love Imagery
Spotlight Central. Your source for Jersey entertainment news and reviews
Love Imagery Fine Art Photography. all you need. peace/love/flower/power