originally published: 10/25/2019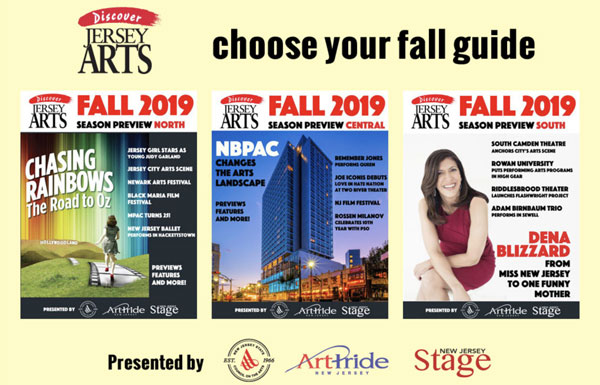 Issue 64 of New Jersey Stage magazine contains an article from each of the three Fall 2019 Season Preview Guides created in partnership with ArtPride NJ and the New Jersey State Council on the Arts.  Guides were created for North Jersey, Central Jersey, and South Jersey - with original content in each.  All three guides are available for free at www.njstage.com/fall. The sample articles include a piece on theatre (Love in Hate Nation), comedy (Dena Blizzard), and music (Adelphi Orchestra).
The first piece is a feature on playwright Joe Iconis who is returning to Two River Theater in Red Bank with Love In Hate Nation - a turbulent rock and roll romance set in a 1960s Juvie Hall.  Iconis was last seen at Two River with Be More Chill, a play that developed a cult-like following and eventually reached Broadway.  Iconis received a Tony Award Nomination for Best Original Score for his work in Be More Chill.  With his latest musical, he wrote the music, lyrics, and the book for the play.
The second piece is an interview with Dena Blizzard, a former Miss New Jersey turned comedian who has had a series of viral videos based on parenting and wine.  The interview talks about Dena's show (One Funny Mother) which has gone from Off-Broadway to tours around the country, how her videos went viral, and how wine became a central part of her brand.
The third piece is on The Adelphi Orchestra and its dedication to young artists. For the past 15 years, the orchestra has sponsored a Young Artist Competition and held concerts featuring these performers throughout New Jersey and New York. On November 1-2, Hikaru Yonezaki (the orchestra's 2019 Young Artist Competition winner) will perform in the orchestra's opening season concert.
One of the goals behind the three guides is to further original arts journalism in the state.  In the past two decades, many newspapers have reduced or eliminated their arts coverage.  These guides included work by some of the most recognizable names in the Jersey arts scene, including Richard Skelly, Brent Johnson, Candance Nicholson, Christopher Howatt, Samuel Levy, Dan Bauer, and Gary Wien.  This project was the first of its kind and New Jersey Stage was proud to be part of it.  We hope you take a moment to check out the guides.  We would love to hear your feedback as well.  Email us at info@newjerseystage.com with your comments.
---