originally published: 10/18/2019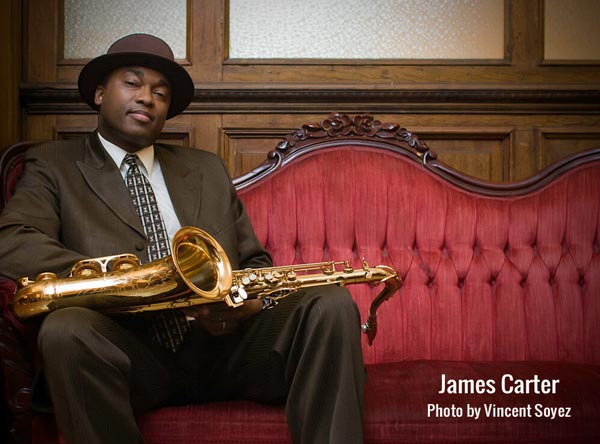 (NEW BRUNSWICK, NJ) -- State Theatre New Jersey presents Blue Note Records 80th Birthday Celebration – The State of Jazz featuring James Carter, James Francies, and Kandace Springs on Wednesday, November 6, 2019 at 8:00pm. Each artist will perform their own original work, and then conclude the show together performing selections from the historic Blue Note catalog. This performance is underwritten by the Gia Maione Prima Foundation, Inc. Tickets range from $19-$59.
Saxophonist James Carter has recorded 18 albums under his own name while appearing on many more with various artists including The Art Ensemble of Chicago, Ginger Baker (Cream), Kathleen Battle, Herbie Hancock, Wynton Marsalis, Madeleine Peyroux, and Marcus Miller, among others. The organ combo reigned for several decades as jazz's meat-and-potatoes mainstay, a populist vehicle for blues-drenched blowing. In the hands of Carter—one of jazz's most sophisticated improvisers—the organ trio is no less meaty and satisfying. But his virtuosic saxophone chops elevate the organ combo to a rarefied realm defined by delectable soul, a gourmet repertoire, and consistently inspired group interplay. Featuring the lithe and muscular keyboard work of Detroit's rising B3 star Gerard Gibbs and the propulsive drum support of Motor City trap master Alex White, the multigenerational James Carter Organ Trio is now in its 17th year. 
22-year-old James Francies is next in the long line of jazz pianists who have characterized the music of Blue Note.  He has recorded and/or performed with Christian McBride, Pat Metheny, Chris Potter, Robert Glasper, and Lauryn Hill. He also performed on Chance The Rapper's hit single "No Problem" which went on to win two Grammy® Awards. In addition, he frequently fills in with The Roots on The Tonight Show Starring Jimmy Fallon. 
Every so often a new singer emerges who's able to assimilate multiple musical touchstones and still come off sounding remarkably fresh and unburdened by the past. Kandace Springs is one of those artists. The 27-year-old, Nashville based singer, songwriter, and pianist counts such stylists as Billy Holiday, Ella Fitzgerald, Nina Simone, Roberta Flack, and Norah Jones as her heroes, but as evidenced by her sparkling Blue Note Records debut—Soul Eyes—mimics none of them.  Springs eventually attracted the attention of Prince, who had heard her makeover of Sam Smiths "Stay With Me." The music icon then invited her to perform with him at Paisly Park for the 30th anniversary of Purple Rain.  She has since appeared on Ghostface Killah's 36 Seasons, Aqualung's 10 Futures, and Black Violin's Stereotypes. Her second full length Blue Note album Indigo was released in September 2018.
State Theatre is located at 15 Livingston Avenue in New Brunswick, New Jersey.
---