originally published: 10/17/2019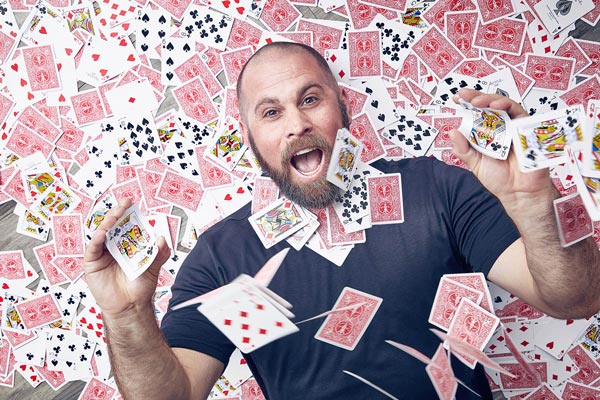 (MORRISTOWN, NJ) -- Former football player and America's Got Talent finalist Jon Dorenbos brings his magic, comedy and inspiration to Mayo Performing Arts Center on Tuesday, November 15 at 7:30pm. Tickets range from $39-$69.
Jon Dorenbos's story is the stuff movies are made of. After losing both parents at the age of 12, Jon spent a year in foster care before moving in with his Aunt Susan.  With the attitude of "Live in Vision, not in Circumstance", Jon rose above all odds to eventually earn two Pro Bowl appearances and a Super Bowl ring in his 14-year NFL career.  Jon was forced to retire from the NFL when the New Orleans Saints diagnosed him with a life-threatening heart condition that required emergency open-heart surgery.  When asked about it, Jon saw the 'magic'. 
"I was traded to New Orleans and my life was saved by a Saint. All of us have experienced hard times in our life.  That's something all of us can relate to. We then make a decision, do we become victims or do we become people of vision?  That decision is what separates us."
Jon placed 3rd on NBC's hit TV show, America's Got Talent, and is a regular on the Ellen DeGeneres Show.  He was honored when asked to compete on America's Got Talent: The Champions Edition, and making it to the finals recognized him as 1 of the top 10 acts in the world.  His book, Life Is Magic, is scheduled to be released in 2019 by Simon & Schuster and Academy Award nominated producer, Mike Tollin, is in the process of making a major motion picture based on Jon's life.
In regard to his magic, Jon humbly says, "I can't levitate in the middle of Times Square or push over a palm tree in Vegas with my finger. But what I can do... is have a good time. My favorite magician and mentor, Ken Sands, is a genius. He would work with me and give me subtle hints trying to help me discover who I was as an artist. And let me tell you, it took me a long time to figure out who I was as a performer. After watching Ken perform for so many years, it finally hit me! I finally figured it out. For me, it's not just about the magic. Magic is a tool to develop a relationship with the audience. It's about inspiring people, having fun and rockin' a crowd."
---
The article continues after this ad
---
---
Mayo Performing Arts Center is located at 100 South Street in Morristown, New Jersey. 
Mayo Performing Arts Center, a 501(c)(3) nonprofit organization, presents a wide range of programs that entertain, enrich, and educate the diverse population of the region and enhance the economic vitality of Northern New Jersey. The 2019-2020 season is made possible, in part, by a grant the New Jersey State Council on the Arts/Department of State, a Partner Agency of the National Endowment for the Arts, as well as support received from the F.M. Kirby Foundation and numerous corporations, foundations and individuals. Mayo Performing Arts Center was named 2016 Outstanding Historic Theatre by the League of Historic American Theatres, and is ranked in the top 50 mid-sized performing arts centers by Pollstar Magazine.