originally published: 10/13/2019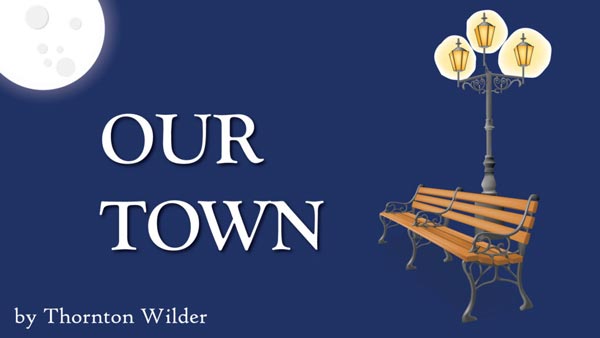 (TOMS RIVER, NJ) -- The Ocean County College Repertory Theatre Company brings Our Town to the Black Box Theatre at the Jay and Linda Grunin Center for the Arts from Friday, October 18, through Sunday, October 27. Described by Edward Albee as "the greatest American play ever written," the Thornton Wilder story follows the small town of Grover's Corners through three acts: "Daily Life," "Love and Marriage," and "Death and Eternity." Narrated by a stage manager, audiences follow the Webb and Gibbs families as their children fall in love, marry, and eventually – in one of the most famous scenes in American theatre – die. 
Directed by Will Salmons, the cast includes: Colin Ward – Dr. Gibbs; Brendan Keffner – Mr. Webb; Lindsey Santos – Mrs. Gibbs; Victoria Lee – Mrs. Webb; Zachary Pich – George Gibbs; Taylor Bongarzone – Emily Webb; Cassidy Terracciano – Rebecca Gibbs; Alex Babuschak – Wally Webb; Gage Hardy – Joe Crowell JR; James Beecroft – Howie Newsome; Javier Fuentes – Professor Willard/Mr. Morgan/Farmer McCarty; Donovan Lee – Simon Stimson/Belligerent Man/Choir; Corrine Test – Mrs. Soames/Lady in the Box/Woman Among the Dead/Choir; Mark Francis – Constable Warren; Thomas Krey – Fred/Baseball Player/Choir/Sam Craig; Mallory Tonra – Lizzy/Choir; Stephany Aimarino – Louise/Choir; Megan MacKay – Ernestine/Choir; and Noah Aviles – Joe Stoddard.
Stage Managers include Darrell Lawrence Willis Sr. and Jackie Smith. Brigitte Byrne is the Wardrobe Mistress.
Performances will take place on Friday, October 18, at 7:30pm; Saturday, October 19, at 8:00pm; Sunday, October 20, at 2:00pm; Thursday, October 24, at 7:30pm; Friday, October 25, at 7:30pm; Saturday, October 26, at 8:00pm; and Sunday, October 27, at 2:00pm. 
Tickets are Adult $15 / Senior or Child $12  General Admission  [Call for Group Rates] The Grunin Center is located on the main campus of Ocean County College, on College Drive in Toms River, New Jersey.  To purchase tickets, contact the Grunin Center at 732-255-0500 or visit grunincenter.org.
---