originally published: 10/11/2019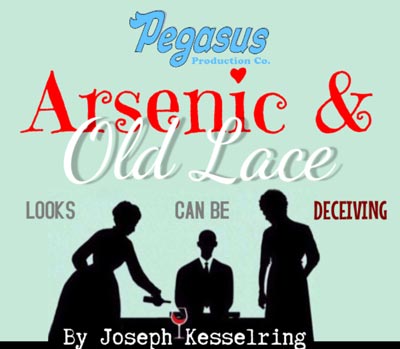 (LINCROFT, NJ) -- Marking the kickoff of their thirty-fourth season, Pegasus Production Company presents Arsenic and Old Lace. Set in 1941 Brooklyn, this classic comedy centers around the Brewster family, namely Mortimer Brewster, his two aunts, and his brothers. Mortimer, the well-known theatre critic, discovers his two aunts have a sinister secret and must balance the chaos of the situation with his recent engagement to his girlfriend, Elaine.
To add to the chaos, Mortimer's two aunts, Abby and Martha, invite old men to enter their home in the interest of renting a room and Mortimer's brother, Teddy, believes he's Teddy Roosevelt. If that wasn't enough, a pair of mysterious men are about to visit and add their own ominous plans to the "normal" lives of the Brewster family. Shockingly, it may be that the aunts are hiding an even larger secret than the new visitors.
Performances of Arsenic and Old Lace will be on November 8, 9, 15, and 16 at 7:00pm; November 14 at 5:00pm; November 10 at 2:00pm at the Henderson Theater on the Christian Brothers Academy campus at 850 Newman Springs Road, in Lincroft, New Jersey. The show on Friday November 15th will be modified to be sensory friendly.
Additionally a large portion of proceeds will be donated to Our Special Place, a charity focused on helping those with special needs. Tickets cost $10 for adults (over 16), $7 for children, and $5 for seniors and CBA students. Tickets can be purchased at cba.booktix.com or at the door.
Pegasus Production Company is a student-run company, led by a Board of Directors consisting entirely of students. Each production features student created sets, costumes, and technical designs.The production is overseen by director and CBA alumnus Marcos Orozco, assistant director Christina Rak, and costumer Therese Heidelberger.
---