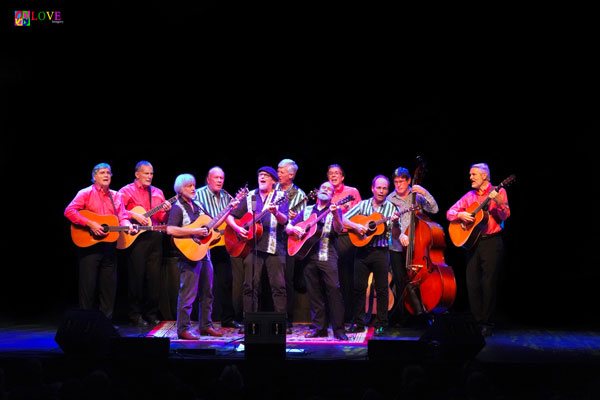 Music lovers are lined up outside Morristown, NJ's MPAC this Sunday, September 22, 2019 evening for an evening of classic folk tunes by The Kingston Trio, The Brothers Four, and The Limeliters.
As we wait outside on the plaza for the doors to open, we chat with Paul Gabrielson, long-time bass player for the The Kingston Trio.
Says Gabrielson, "I've been with The Kingston Trio since 1987, but growing up, I knew all of their music. My family had LPs of groups like The New Christie Minstrels, The Weavers, and The Kingston Trio, and we would sing all of their songs," adding, "After that, I got into jazz, but I got a job playing with the Trio because so many folk groups liked hiring jazz musicians."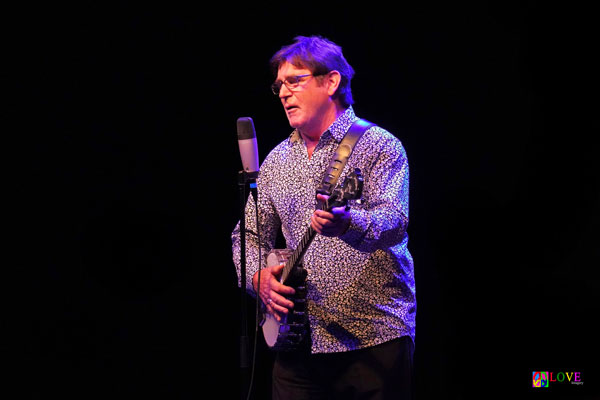 When asked what it's been like performing with The Kingston Trio for over three decades, Gabrielson replies, "It's fun! They've had so many hits — one of my favorites being 'Across the Wide Missouri,' — but I also like 'Scotch and Soda,' where I get to play a bass solo," concluding, "Whenever I work with The Kingston Trio, I do my best to support them musically, so it's been an interesting evolution."
The MPAC doors open and inside the lobby, we get a chance to chat with the three current Kingston Trio vocalists: Don Marovich, Mike Marvin, and Tim Gorelangton.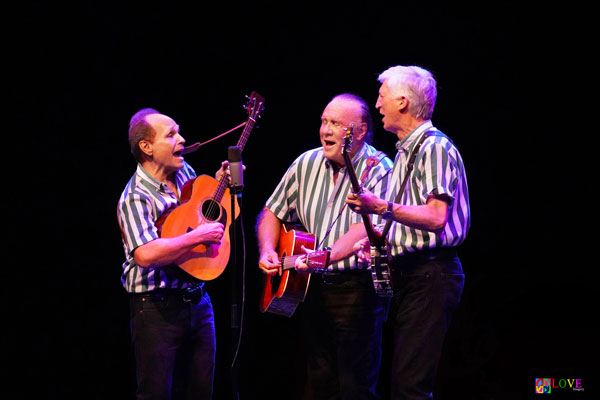 ---
The article continues after this ad
---
---
Explains lead vocalist and guitarist Mike Marvin, "The three original members of The Kingston Trio were Dave Guard, Bob Shane, and Nick Reynolds. Nick Reynolds became like a foster father to me in the early 1960s when The Kingston Trio was at the height of their popularity," noting, "Until The Beatles came along, they were the biggest group in the world."
Recalling, "One of my favorite memories of that time took place in 1963 when The Kingston Trio was recording their Time to Think album," Marvin explains, "Nick taught me how to choose songs for the group by listening to them on little three-inch reel-to-reel tapes. One day he asked me to listen to several tunes, and I told him that 'Hobo's Lullaby' was my favorite. He taught me the chords and I started to play it and, before long, he started playing it as a lullaby for his kids. I'm proud to say that 'Hobo's Lullaby' went on to become Nick's favorite Kingston Trio song, and we still play it in our shows today."
Banjo player and baritone singer Tim Gorelangton tells us, "I was raised during the time of the folk boom on all of The Kingston Trio songs. Later on, Mike Marvin and I were both musicians playing in ski bars, and one night we sat down and played four sets of Kingston Trio songs. We had a lot of fun, and eventually, Mike asked me to become a part of The Kingston Trio."
Tenor Don Marovich is the newest member of the Trio. States Marovich, "I've been with the group for a year now, acknowledging, "To be a member of this pristine vocal group is an honor." Explaining, "I've been singing harmonies my whole life," Marovich reveals, "We work so hard on the blend. Some songs we sing 'breathy' and, sometimes, we use no vibrato, and its when we hit those notes just right that we get that special Kingston Trio sound."
The lobby lights blink, and we make our way inside the gorgeous MPAC auditorium where tonight's first folk group takes the stage — The Limeliters — featuring current members Andy Corwin on bass and vocals, Steve Brooks on vocals and guitar, and Daniel Boling on guitar and high tenor.
Opening with the hilarious "Generic Uptempo Folk Song," The Limeliters stand around a single microphone and delight the packed house as they sing, 'This is our uptempo folk song/The one we use to start the show/Our up-tempo folk song/The kind every folk singer ought to know/The kind that sets your toes a tapping and makes you want to sing along/It's the one we stole from the Kingston Trio/Generic up tempo folk song!"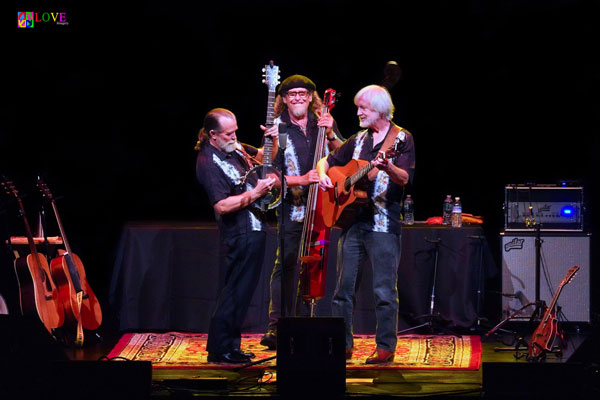 The crowd responds with joyful cheers and whistles, at which point Corwin introduces the group members and the musicians launch into "There's a Meetin' Here Tonight," a number which features upbeat strumming and strong vocal harmonies.
Corwin explains to the crowd that although The Limeliters were on The Ed Sullivan Show and Hootenanny, they never had a hit song. According to Corwin, "The group recorded several songs they thought would be hits" — "If I Had a Hammer" and "Turn, Turn, Turn" among them — "but this one song was written for the group by Gene Raskin who took a Russian melody and put new words to it."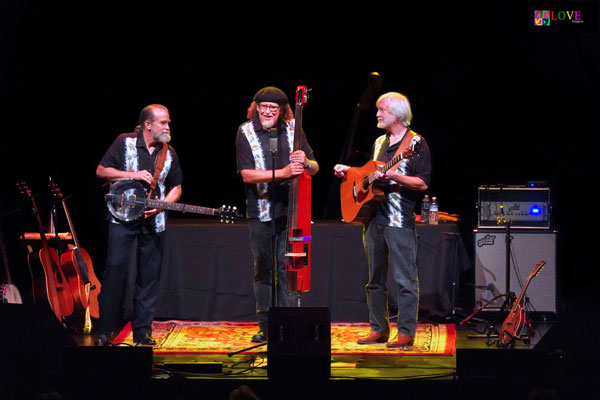 Here, The Limeliters perform a song which went on to become a worldwide hit for singer Mary Hopkin and her producer, Paul McCartney — "Those Were the Days." The crowd happily sings and claps along on the well-known, "Those were the days my friend/We thought they'd never end/We'd sing and dance forever and a day" chorus.
Following the group's hilarious rendition of a soft drink jingle sung by the original Limeliters, Corwin explains how the television show, Breaking Bad, included a Limeliters' song which went viral on the internet. Here, Danny Boling's pure and sweet voice is featured on "Take My True Love By Her Hand."
The trio follows up with their take on "the midlife crisis" — the humorous number, "The 40 Year Old Waltz."
Andy Corwin is featured singing in both Yiddish and English on "Zhankoye," a tune which has audience members tapping their toes and responding with avid applause.
The group's powerful harmonies are again featured on Lee Hayes' "Lonesome Traveler," before the trio concludes their portion of tonight's concert with their rendition of Phil Ochs' "The Power and the Glory." Singing with passion and conviction, "Her power shall rest on the strength of her freedom/Her glory shall rest on us all," The Limeliters lift audience members to their feet in appreciation.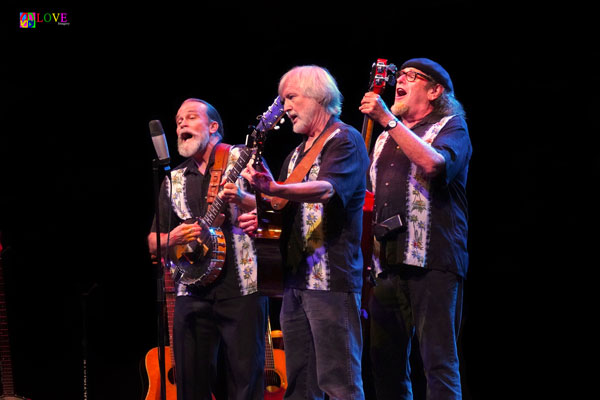 After a brief set change, The Brothers Four — bassist Bob Flick, guitarists Mike McCoy and Karl Olson, and guitarist/banjoist Mark Pierson — take the stage in their matching red shirts.
With voices ringing out strong and clear as they sing into four individual microphones, the quartet opens with "I Hear America Singing," accompanied by twangy banjo, acoustic guitars, and bass.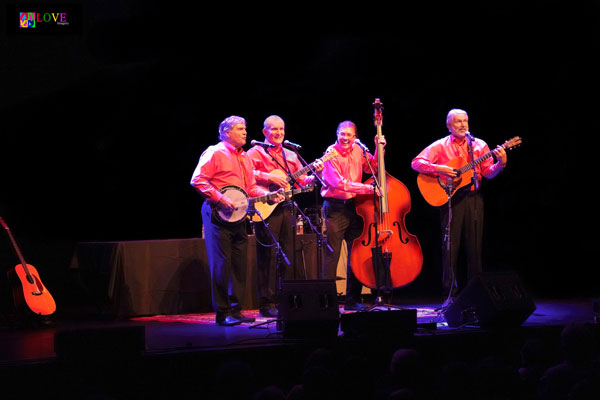 Founding member Bob Flick welcomes the crowd announcing, "These are songs we all grew up with — thank you for supporting folk music. If you want to sing along, that's what this music is all about!"
The quartet launches into a medley of four traditional Jamaican songs starting with "Yellow Bird," where lush harmonies waft over the audience as the lively strains of strumming strings accompany the voices ever so softly and sweetly.
The audience happily sings along on an upbeat rendition of "Sloop John B," and continues to join in on "Marianne" singing the catchy "All day/All night/Marianne" refrain.
The melody ends with "Jamaica Farewell" where audience members happily participate on this gentle calypso number complete with a vocal descant sung by high tenor Mark Pierson.
Flick exclaims, "You guys sound great!" before introducing the members of the group.
Guitars strum in unison on "The Green Leaves of Summer" while vocals float above in sweet harmony.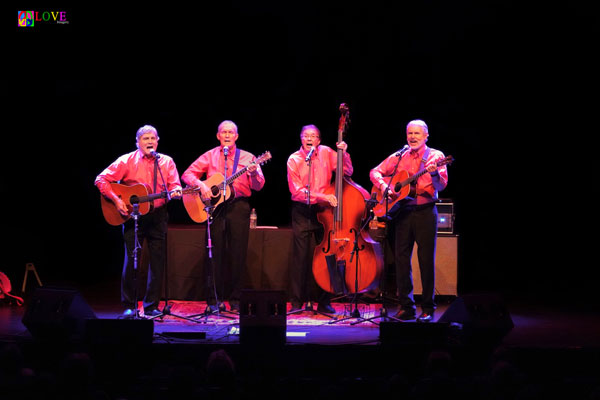 Then, the group launches into the delightful "Tie Me Kangaroo Down, Sport," where each vocalist sings a different verse individually before all four musicians sing their respective verses simultaneously.
The crowd cheers and the Brothers follow up with a lovely and poignant rendition of a tune from The Fantastiks, "Try to Remember," where they perfectly blend their smooth voices on this musical highlight.
The crowd applauds when they recognize "Green Fields." Sung with feeling and emotion, the gorgeous harmonies — lush and low — bring audience members to their feet.
The quartet concludes their set with a medley of train songs including "City of New Orleans," "Blue Water Line, "The Wabash Cannonball," "This Train," and "Rock Island Line."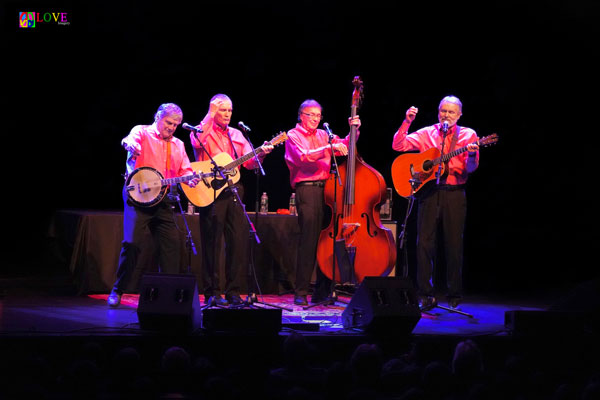 The crowd stands and cheers for this classic American quartet.
Following intermission, bassist Paul Gabrielson takes the stage to greet the audience.
He introduces the current members of the Kingston Trio — Mike Marvin, Tim Gorelangton, and Don Marovich — who open with "Hard Travelin.'"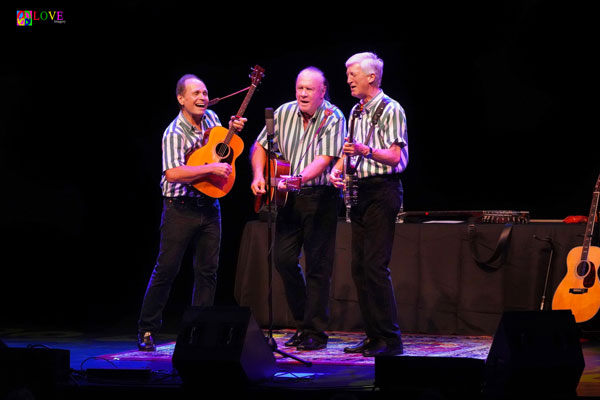 Singing together on a single microphone, "I been doin' some hard travelin'/I thought you know/I been doin' some hard travelin'/Way down the road," the trio trades lead vocals on the verses to energetic strumming.
Following enthusiastic applause, Marvin exclaims, "Welcome to our living room and our time machine!"
Here, the musicians segue into "Greenback Dollar," the low rumbling strings creating a rhythmic folk accompaniment for the group's rousing vocal performance.
They follow up with a delightful rendition of "Ah Woe Ah Me," a calypso song about a boy who wants to marry a girl, but is warned by his father, "That girl is your sister, but your mama don't know!" The song has the audience giggling — and then belly laughing — at its surprising conclusion.
Following "Tijuana Jail" — where the crowd sings along on the lively "Well, here we are/In the Tijuana Jail" chorus — Marvin announces to the audience, "You're a good group!" and the trio launches into "Hobo's Lullaby."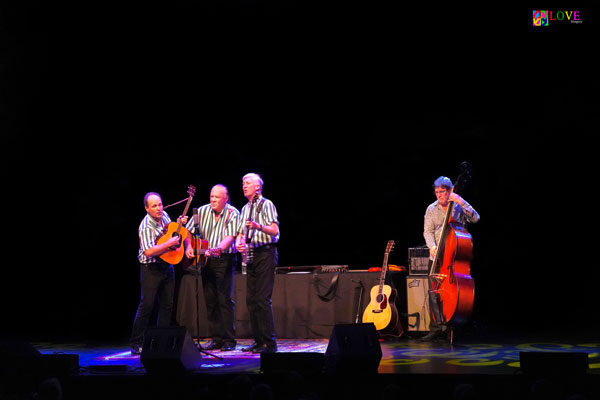 Three-part harmony rings clear as the voices are softly accompanied by bass and guitars. Gorelangton teaches the audience the words of the chorus and has them sing along on the easy-going "Go to sleep, you weary hobo/Watch the towns go drifting by/Can't you hear the rails a-singin'/That's the hobo's lullaby" refrain while voices blend.
The crowd responds with warm applause and Marvin introduces a Pete Seeger song which The Kingston Trio recorded. The audience earnestly sings along on "Where Have All The Flowers Gone?" decreasing the dynamics to pianissimo on the final verse.
Gorelangton's rich baritone is featured on another Pete Seeger composition, "Reverend Mr. Black," a story song which features the well-known, "You got to walk that lonesome valley/You got to walk it by yourself/Nobody else can walk it for you/You got to walk it by yourself" refrain. The audience sings along, cheering and applauding at the end, after which Marvin declares, "Pete would be proud of you!"
After dedicating "The Sinking of the Reuben James" to all of the Navy veterans in the house, the trio performs "A Worried Man," where Marvin handles the lead and the crowd joins in on the happy-go-lucky "It takes a worried man/To sing a worried song" refrain.
Marovich says, "Are we having fun yet?" before confessing, "I've never been in New Jersey before — I'm excited!"
Here, the group launches into a new song the trio recently recorded. Entitled "Armstrong," this poignant story song juxtaposes earthly scenes with visions of Neil Armstrong's inspirational moonwalk.
Mike Marvin takes center stage and his voice and guitar skills are featured on "Scotch and Soda" as he's accompanied by Paul Gabrielson who shines on a bluesy, jazzy bass solo.
Then, the entire group returns for a Kingston Trio selection which, as Marvin explains, "won a Grammy in 1958" — "Tom Dooley."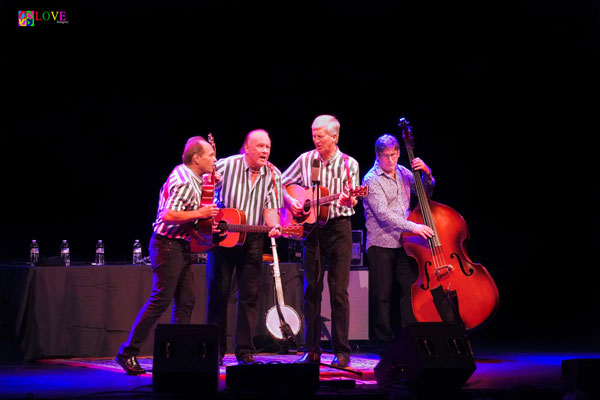 The crowd sings along on the catchy "Hang down your head, Tom Dooley/Hang down your head and cry/Hang down your head, Tom Dooley/Poor boy, you're bound to die" chorus.
Marovich handles the lead on the audience-pleasing "The MTA Song." Singing "Well, let me tell you of the story of a man named Charlie/On a tragic and fateful day/He put ten cents in his pocket, kissed his wife and family/Went to ride on the MTA," Marovich and Co. tell the tale of a Boston man who, following a subway fare increase, couldn't afford to exit the train.
The audience cheers for this nostalgic performance and the trio concludes its set with the fast-picking and upbeat "I'm Going Home" where they say goodbye to the crowd crooning, "Well, no matter where I wandered/I know I'll always find a welcome/At the end of every journey/There'll be friendly people waiting."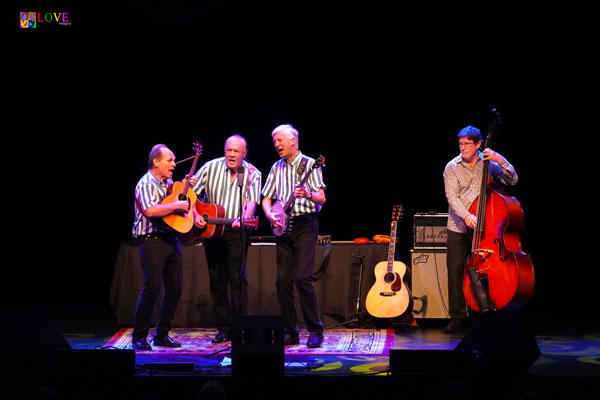 Following a hearty standing ovation, The Limeliters and The Brothers Four join The Kingston Trio on stage for an encore of three classic folk songs — "500 Miles," "Michael Row the Boat Ashore" and "This Land Is Your Land" — inspiring audience members to stand while they sing along and cheer at the end.
As music lovers make their way out of the MPAC auditorium, we chat with several in the crowd who share their opinions of tonight's concert with us.
Recalls Marlene from West Orange, "I was a Limeliter groupie before groupies were even a thing! I saw them in Cape Cod in 1961 with the original members, and have probably have seen them 15 times since — if they were playing anywhere in the area, we'd go!"
When asked about tonight's performance, Marlene remarks, "It was very nostalgic — it brought me back to a time when I was younger than my oldest grandchild is now."
Doris from Whippany agrees adding, "For me, this music brought back memories of growing up in Hoboken. These are all songs that I know, like, and sing — I love this kind of music!" before adding, "And I especially enjoyed hearing it here at MPAC. I've been coming to this theater for over 25 years," explaining, "It's a special place for me — I used to bring my daughter to see movies here when she was young."
Edna from Scotch Plains declares, "The Brothers Four were tremendous! I know all of their songs. They are such wonderful singers — all of them — I could have listened all night."
Whereas Rosemary from Morristown contends, "It was so enjoyable. I clearly remember all of The Brothers Four music from my youth," Christine from Chatham acknowledges, "Even though I didn't know this music before coming tonight, I found the show extremely entertaining."
Dave from Hastings-on-Hudson remarks, "'Wabash Cannonball' was my favorite song tonight," leaving his wife, Beverly, to lament, "I wish the values of folk music were still prevalent today."
Whereas Deb from City Island, NY exclaims, "This show was wonderful — all of the performers were just delightful," David from South Plainfield remarks, "These songs brought me back to my college days in the mid-1960s — I remember them from watching Hootenanny on TV — and I especially enjoyed the guitars."
Ira from Belle Mead contends, "The Kingston Trio's recreation of so many classic folk songs was amazing, but the entire show was great. It's always nice to see surprises and, for me, The Limeliters were a real surprise — I really enjoyed their music along with their comedy." His wife, Beverly, agrees adding, "The combination of all three groups was wonderful — this is my kind of music."
In addition to audience members sharing their reactions to tonight's show, we also get a chance to chat with several artists who share their thoughts about this evening's experience from a performer's perspective.
Declares Andy Corwin of The Limeliters, "Tonight was just delightful! This pairing with The Brothers Four and The Kingston Trio was just heavenly, and so much fun," before noting, "And this theater is magnificent — it's a real treat to perform in such a beautiful place where the music sounds so great — in front of a wonderful audience."
Lastly, we catch up with Don Marovich from The Kingston Trio who reveals, "To see the light in the people's eyes tonight was just magical," prior to concluding, "Folk music is a national treasure — we love performing it — and it's such a joyful experience to know that what you're doing is good for people!"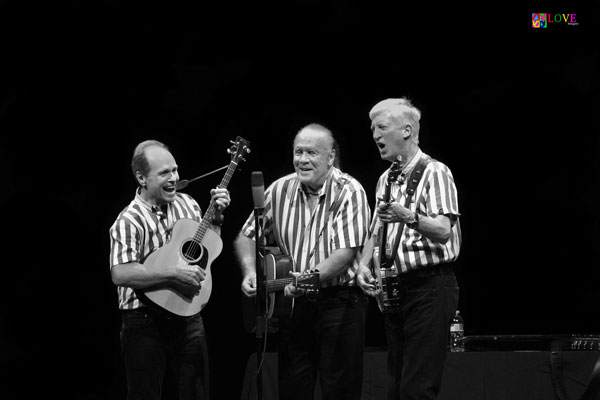 For further information on The Kingston Trio, please go to officialkingstontrio.org. To find out more about The Brothers Four, click on brothersfour.com. To learn more about The Limeliters, check out limeliters.com. Lastly, to find out about upcoming events at MPAC — including America on October 10, The Man in Black: A Tribute to Johnny Cash on October 24, and Vince Gill on November 2 — please go to mayoarts.org.
Photos by Love Imagery
Spotlight Central. Your source for Jersey entertainment news and reviews
Love Imagery Fine Art Photography. all you need. peace/love/flower/power