By Sanford Josephson
originally published: 10/02/2019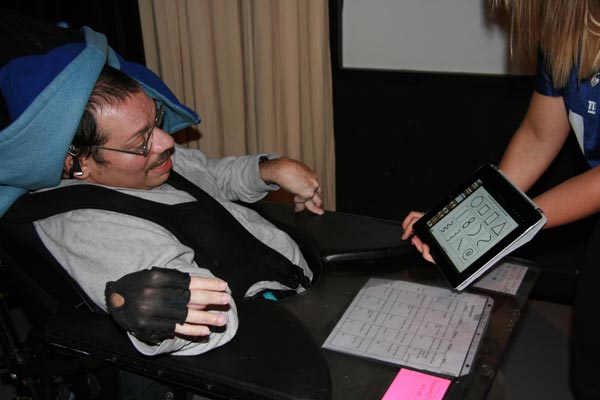 Josh Handler has always loved music, and one of his favorite songs is Debbie Gibson's "Lost In Your Eyes", from her 1989 Atlantic album, Electric Youth. To Handler, the song has special meaning. Written in 1987 when Gibson was 17 years old, the song's lyrics describe a first, adolescent love. To Handler, though, the song, "shows a lot of caring, that it doesn't matter if you're different, you're still great."
That has significance to Handler, a 54-year-old resident of Frelinghuysen, NJ, who has cerebral palsy. Handler lives in a community residence operated by the Matheny Medical and Educational Center, a special hospital and educational facility in Peapack, NJ, for children and adults with medically complex developmental disabilities. He first became a resident at Matheny's main campus just before his second birthday. In 1993, when Handler was 28, he began participating in a new Matheny program called Arts Access, designed to offer individuals with disabilities an opportunity to fully express themselves in the creative arts by working with professional artists who serve as their facilitators. The program's beginnings were in the visual arts, but it has grown to include other disciplines such as dance, drama, and writing.
Handler established himself as a successful visual artist during the program's early years, creating many paintings and digital art pieces. Now, however, he is expanding into the world of dance, and that's why Debbie Gibson's "Lost In Your Eyes" is so important to him. He has choreographed a dance to the song, and it will performed on Saturday, November 2, at Full Circle 2019, the annual celebration of the Arts Access Program.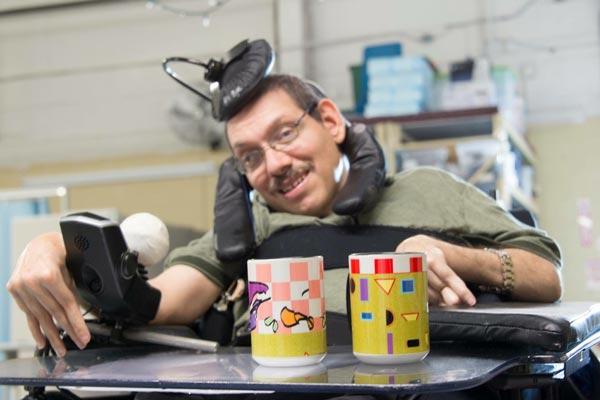 He began working on the dance five years ago. It is performed by three female dancers, one of whom is in a wheelchair. According to Heather Williams, Arts Access Performing Arts Coordinator, Handler "uses big sweeping patterns and intricate arm movement. Josh is very musical and used the song to inspire the tone of the movement." Handler describes it this way: "I wanted to give the song a new spin. There's a lot of movement in it," but, he emphasizes, "it has nothing to do with Debbie's music video of the song. This is my dance to her music. I've had it in my head for a long time that I wanted to do this."
In addition to the dance, one of Handler's digital art pieces, "Flying High" will be exhibited at Full Circle. It depicts several different colored objects -- some resembling parachutes -- falling through the air. The original shapes of the objects are consistent with what Arts Access Facilitator Keith Garletts explains as Handler's artistic philosophy. "He goes to great lengths to ensure that his squares don't look like typical squares, and his triangles aren't your usual triangles. He likes to leave a bit of mystery for his fans in his work. He wants the viewer to leave his work with one question on their lips: 'What was he thinking?'"
---
The article continues after this ad
---
---
Handler confirms that he tries to make his paintings, "unique and interesting. Some people think I'm mysterious because my art is unique for what I do." He points out that "Fruit Salad", a digital painting of his that's on a mug, really "doesn't look like fruit salad." Again, it's several different colored objects in various shapes and sizes.
Proud of the fact that he has been "a pioneer of the program since it started," Handler sometimes paints by using his own hands. Other times, he utilizes the Arts Access facilitation process, directing facilitators as to which colors, shapes, and other elements he would like to use in the painting. "When the program started," he recalls, " I thought, 'This is a joke'. Once they introduced it to me, though, it broadened my horizons. As the years went on, I got more confident. It has really helped me. I love doing it. It makes me feel good."
Seven years ago, Handler received the Indomitable Spirit Award from Arthur & Friends, a program of the Northwest New Jersey Community Action Partnership (NORWESCAP). Arthur & Friends, based in Newton, provides meaningful community employment and training opportunities for individuals with disabilities. He was selected for the honor by his peers, said Wendie Blanchard, Program Director, "because he has the most 'can do' attitude we've ever seen. There is nothing he won't try."
Handler's visual art has been exhibited at several venues outside Matheny including the Grounds for Sculpture in Hamilton, NJ; the Wharton, NJ, Public Library; and the Visiting Nurse Association of the Somerset Hills in Basking Ridge, NJ
Full Circle 2019 Art Without Limits will be held from 3:00pm-6:00p.m. on Saturday, November 2 at The Robert Schonhorn Arts Center on the Matheny campus at 65 Highland Ave. in Peapack. There will be a contemporary fine art exhibit at 3:00pm, followed by a stage performance at 3:45 p.m. and a reception featuring gourmet food tastings at 5:00pm. Admission is $50. Tickets may be ordered by emailing pcats@matheny.org or calling (908) 234-0011, ext. 1260. To register online, click here.
Sponsors include: National Endowment for the Arts, First Energy Foundation, New Jersey State Council on the Arts, and Discover Jersey Arts.