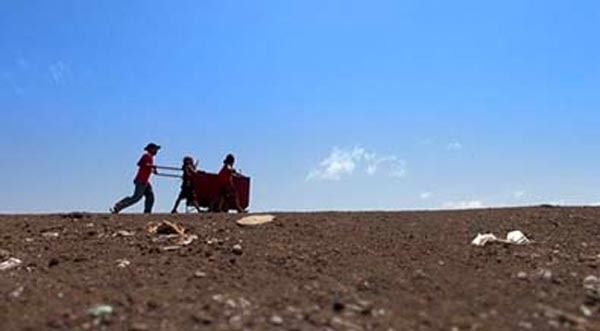 Michael Dominic's incredible documentary Clean Hands NJ Premieres at the New Jersey Film Festival on Friday, October 4, 2019!
Here is my interview with Clean Hands Director Michael:

Nigrin:  Your incredibly moving and poignant documentary Clean Hands chronicles the story of the Lopez family as they try to overcome extreme poverty and deprivation in Nicaragua.  Please tell us more about your film and how you came to make it? 

Dominic: I was a photojournalist and I was on assignment in Nicaragua for European newspaper and I visited the garbage dump, La Chureca. I knew immediately that I wanted to tell the story about the people that lived and worked in this place, even though I didn't know exactly what the story would be at the time. By the end of that trip I made the decision to return a few weeks later and start shooting.

 

Nigrin:  Your film took 7 years to make. Was it difficult to stick with the film for so long? How did you secure the funding for it?

Dominic: It actually took eight years to complete. I shot over the course of seven years. It was difficult to stick with it. There were times that I thought I wouldn't be able to get it finished. That's partly because I never secured funding. I funded it myself. I had savings and some family heirlooms to sell. That's how I got it done.

Nigrin:  Were there many obstacles shooting in Nicaragua?

Dominic: I found Nicaragua to be warm and welcoming for the most part. Of course in any place where there is extreme poverty there is always danger.

Nigrin:  Your film is amazingly shot. The cinematography is so beautiful. Tell us more about the look of the film and how it came about. 

Dominic: That's a good question. It's not one that I can really explain. I don't like when filmmakers or photographers talk about "trying to make art" in situations like these. I shoot things as I see them. 

 

Nigrin:  Your film has won a ton of awards at other Festivals? What has been the reaction to your film by Festival audiences so far?

Dominic: Yeah, we've won awards at seven out of thirteen competitive festivals so far. I was just happy that people didn't throw popcorn at the screen. The audience reaction has been great. People really seem to love and understand the film. I can't ask for more than that.

Clean Hands trailer: https://vimeo.com/284962411 
Here is more information on this screening:
Rebuilding History: Three Miles Across The Hudson – Adam J. Boyer and Eric Keneifel (New Brunswick, New Jersey)  Sixty years ago the historic Tappan Zee Bridge was built across the Hudson River to connect New York City to Westchester County.  As the bridge began to deteriorate, the highly skilled craftsmen of the Carpenters Union gave their all to ensure that the new bridge they were constructing would stand for generations for come. This documentary celebrates the work of these proud union members. We learn about their determination to get the bridge completed, and the pride that they took in building a colossal and glorious structure. 2019; 40 min Q+A Session with Producer/Directors Adam J. Boyer and Eric Keneifel!
---
The article continues after this ad
---
---
Clean Hands – Michael Dominic (Queens, New York)  Shot over the course of seven years (2011-2018) in Nicaragua, Clean Hands is a poignant, feature-length documentary  which chronicles the story of the Lopez family, and the difficult path this family takes to overcome extreme poverty and deprivation.  The film begins in the shadow of Central America's largest garbage dump. This is the only life, and only world, this family has ever known. Through fortuitous circumstances, a foundation hears of their plight and comes to their aid.  As the family adjusts to the opportunity of a new home, more complications arise, making their promising new future uncertain. 2019; 98 min. Q+A Session with Director Michael Dominic!
Friday, October 4, 2019 at 7:00 PM
 in Voorhees Hall #105/Rutgers University, 71 Hamilton Street, New Brunswick, New Jersey



$14= Advance; $12=General; $10=Students+Seniors

Information: (848) 932-8482; www.njfilmfest.com