originally published: 09/26/2019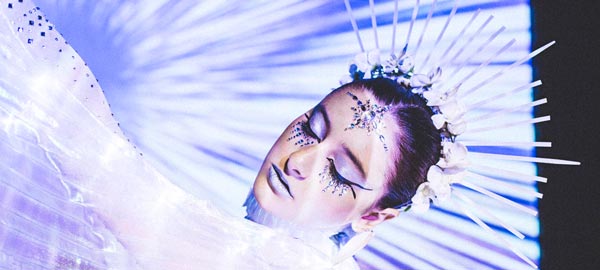 As an icebreaker in a recent meeting at work, we were asked to name our favorite thing about fall. One of my colleagues said his favorite thing was that there's always a ton of new and exciting performances taking place, because so many performing arts organizations are just starting new seasons.
Once I got over not coming up with that great answer myself, I realized how much that answer resonated with me. There's something really exciting about this time of year, anticipating a whole new slate of performance calendars.
Luckily, there's a whole lot of great performance options available already, so you don't have to wait in anticipation very long. And for those of you who, like me, want to attend something right away – like this weekend – one really unique offering is the multimedia dance work "Persephone" by Elizabeth White Creative at the Middletown Arts Center this Saturday and Sunday, September 28 and 29. This is the first official production of Elizabeth White Creative (EWC) as Resident Company at Middletown Arts Center.
I know what you're thinking: How can Persephone be considered "really unique"? The myth of Persephone and her abduction by Hades is literally THOUSANDS of years old, and has been told countless times in a range of genres. – If you need the short, short version: Hades, god of the underworld, abducts Persephone, whom he loves. Persephone's mother is Demeter, goddess of agriculture and the harvest, and she is so distraught while searching for her beloved daughter that things cease to grow on Earth. Persephone is eventually allowed to go home, but Hades tricks her, and she's forced to spend a few months every year in the underworld.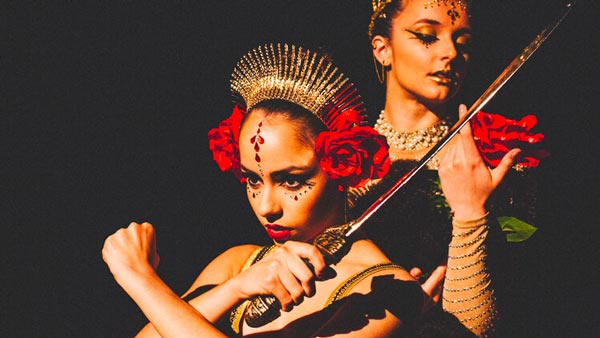 This presentation of "Persephone" also incorporates the tale of Orpheus and Eurydice. Again, there's too much to explain, so let me sum up: Orpheus and Euridyce love each other, but then she dies. Orpheus goes to the Underworld to get her back and is told that he can lead her out, but only if he does not turn back to look at her until they are topside. But, you guessed it: He loses faith right at the end, and looks back to make sure she's there. And so, she has to stay dead.
OK, so back to where we were – How can a dance version of these classic myths possibly be unique? Because we've already seen some cool takes on these before, like the Mark Morris "Orfeo" at The Metropolitan Opera that used dance so eloquently, and Ricky Ian Gordon's "Orpheus & Euridice" opera that took place in a swimming pool.
This "Persephone" from Elizabeth White Creative is an immersive, multimedia dance theatre production. This contemporary dance piece is merged with modern technology, in the form of synchronized soundscapes and dynamic projection-mapped environments to tell a story of story of abduction, transformation, transcendence and ultimate liberation.
But besides the technological component of "Persephone," there's something else that I find really fascinating about this retelling. "Persephone" centers around a unique intersection of two traditional Greek myths: Persephone and Hades and Orpheus and Eurydice. It reimagines the fall of young goddess Persephone, and the grueling obstacles she must face in order to harness her ultimate fate of transforming the heart of the underworld.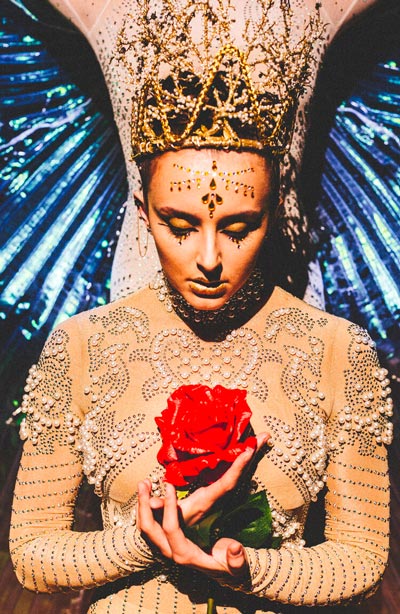 Do you see the difference here in how that story is described, as opposed to the traditional version I summarized above? Here, Persephone is the actor – in traditional tellings, she is acted UPON. And that makes a huge difference – not only in telling the story from her perspective, but in making the female character an active agent in the story, rather than as a passive object.
And this is something that always fascinates me: How one artist can take a story that is well-known and has been treated zillions of times, and shift it in such a way that is so refreshingly contemporary, speaking to our times, and yet doesn't lose sight of the source material – including the baggage that may accompany it for audiences today.
Yes, there are infinite story ideas that are yet to be written, but there are also infinite ways to tell stories that already exist.
The creator of "Persephone," Elizabeth White, is the founder of EWC (Elizabeth White Creative), an immersive multimedia dance theater company at the intersection of contemporary ballet, visual arts and interactive technology. White trained in dance at The Ailey School and obtaining a bachelor's degree in visual arts from Fordham University at Lincoln Center. (And because this coincidence is too good to go unremarked upon, I also have a degree in visual arts from Fordham Lincoln Center. Go Rams!) After Ailey and Fordham, White earned a Master of Professional Studies from NYU Tisch's Interactive Telecommunications Program, also known as the Center for the Recently Possible. And all this combination of White's experience and interest in dance, art and technology comes together in her work, such as "Persephone." 
Located near the train station, the Middletown Arts Center opened its doors in March 2007. Dedicated to bringing quality arts programming and events to New Jersey, the Middletown Arts Center is a flexible recreation space that features a range of artistic and cultural activities from performances to classes, camps and exhibitions.
The Details
The Middletown Arts Center and Elizabeth White Creative present Persephone on Saturday, September 28 at 7:00 p.m. and Sunday, September 29 at 3:00 p.m. The performances take place at Middletown Arts Center, 36 Church Street in Middletown. Tickets are $30. For more information, visit middletownarts.org.