originally published: 09/24/2019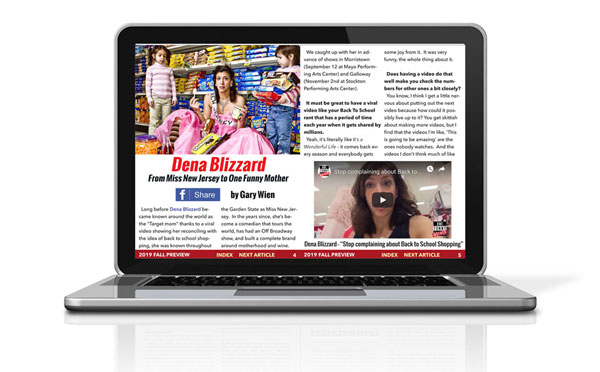 The crew at New Jersey Stage had a busy summer.  In addition to producing magazines from May through September and publishing more than 900 stories on our website, we produced three Fall 2019 Season Preview Guides in partnership with ArtPride New Jersey and the New Jersey State Council on the Arts. There are guides for North Jersey, Central Jersey, and South Jersey with unique regional content in each. Designed like our monthly magazine, all three guides are available for free at www.njstage.com/fall
This was an opportunity for New Jersey Stage to further its committment to the arts on a statewide level.  It was also a chance to show how the digital medium can keep arts coverage alive, and showcase the stories in more creative ways than print newspapers.
Digital guides and the monthly magazine by New Jersey Stage offer a chance for the arts to be seen and experienced in ways print media cannot match.  Each guide includes videos of music, theatre, comedy, and dance performances; photo slideshows of art exhibits; trailers of films; and more.  Users can read the guides on any PC, tablet, or smartphone without the need to zoom in.  Best of all, the guides are never out of print, can easily be shared across social media, and are always just a click away from anywhere in the world.
 "Many arts organizations still think of newspapers as the place to be, but more people read the news today on websites than in print," said Gary Wien, publisher of New Jersey Stage.  "If they have not already begun working with digital, arts organization should look at the advantages the digital medium offers.  In this case, change may actually be a good thing."
More than 40 arts organizations purchased advertising in the guides making the project a success out of the gate.  One of the benefits of digital is being able to offer advertising at a lower rate since the cost of production is much less than with print.
---
The article continues after this ad
---
---
The guides included original features by seven arts journalists:  Candace Nicholson, Chris Howatt, Richard Skelly, Samuel Levy, Dan Bauer, Brent Johnson, and Gary Wien of New Jersey Stage.
"We were proud to be able to pay the writers for their work," added Wien.  "Arts journalists have been hit hard by the reduction in newspaper coverage.  Since arts organizations tend to have limited budgets for promotion, it is often difficult for outlets to make enough revenue to pay writers.  New Jersey Stage itself is run by volunteers for this very reason.  Projects like this offer an opportunity to keep original arts journalism alive."
---
Here's a look inside each guide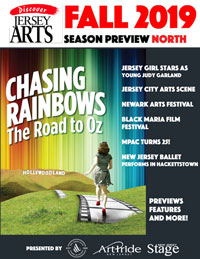 North Jersey Guide
Features include Chasing Rainbows: The Road to Oz at Paper Mill Playhouse;
Black Maria Film Festival;
Adelphi Orchestra and its dedication to young artists;
Mayo Performing Arts Center (MPAC) turns 25;
Preview of the Newark Arts Festival;
New Jersey Ballet at Centenary Stage Company;
and a look at the Jersey City art scene with features on Art Fair 14C and the Jersey City Art & Studio Tour.
---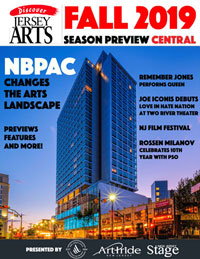 Central Jersey Guide 
Features include New Brunswick Performing Arts Center (NBPAC) changes the landscape;
Tony nominated playwright Joe Iconis returns to Two River Theater with Love In Hate Nation;
Remember Jones talks about his Yas Queen show;
Rossen Milanov celebrates 10 years of leading the Princeton Symphony Orchestra;
a podcast conversation with Emily Mann of McCarter Theatre on Gloria: A Life;
New Jersey Film Festival;
Dance meets film meets virtual reality when Bridgman|Packer Dance comes to Monmouth University;
artist Susu Pianchupattana talks about "Inseparable" at the Monmouth Museum;
and Lewis Center for the Arts: Incubator of New Works.
---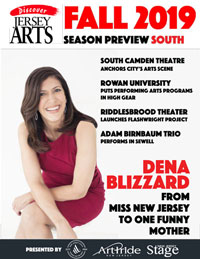 South Jersey Guide 
Dena Blizzard: From Miss New Jersey to One Funny Mother;
Rowan University puts its arts programming in high gear;
South Camden Theatre anchors the city's emerging arts scene;
a look at Adam Birnbaum who performs classical music through a jazz prism;
Riddlesbrood Touring Theater launches the Flashwright Project;
and adults with disabilities discover unlimited artistic talent.