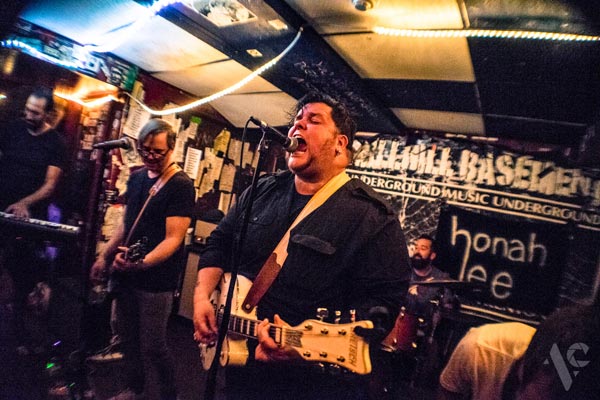 The Cryptkeeper Five premiere their new single, a cover of The Sonics' "Strychnine," this week at New Jersey Stage and its Penguin Rocks show "Radio Jersey." PHOTO BY ANTHONY VITO COSENTINO
Earlier this week on ThePenguinRocks.com's "Radio Jersey" show, Trenton-based The Cryptkeeper Five premiered their new single, a cover of punk prototype The Sonic's 1965 classic "Strychnine," made famous 15 years later by The Cramps. The YouTube track premieres below.
But first a big shout to one of my favorite Jersey bands, a Makin Waves Dirty Dozen act and co-winners of the 2018 Makin Waves Songwriter of the Year Award with pals in The Vansaders. More vital than ever after 22 years slugging it out in the scene, TCK5 have lot going on, which front man Johnny Ott chats about on behalf of band mates: co-founding guitarist Jimmy Harrington Jr., bassist Mikey Groch, drummer Brian Mazzarini and keyboardist Buzzy.
The band will play a hot, hot show with Hub City Stompers and The Toasters on Sept. 21 at Neshaminy Creek Brewing in Croydon, Pa. On Sept. 27, after years of playing the old Asbury Lanes, they'll make their debut at the renovated Lanes opening for celebrated punk bands Strung Out and The Casualties. They'll also play Oct. 18 at Snub Fest in D.C., Halloween night at The Sparrow in North Charleston, S.C., and two early November dates at The Fest in Florida before heading back home to play Philly's The TUSK with The Big Bad.
The Cryptkeeper Five have been around a long time in various incarnations. What is the current lineup and what do you enjoy most about playing with them?
Jimmy Ray, who's been around since day one, on guitar; Mikey Groch on bass; Brian Mazzarini on drums and Buzzy on keys. I like everything about playing with these guys. As a singer-songwriter, I wholeheartedly can say I couldn't ask for a more talented group of guys to work with. They're also my best friends.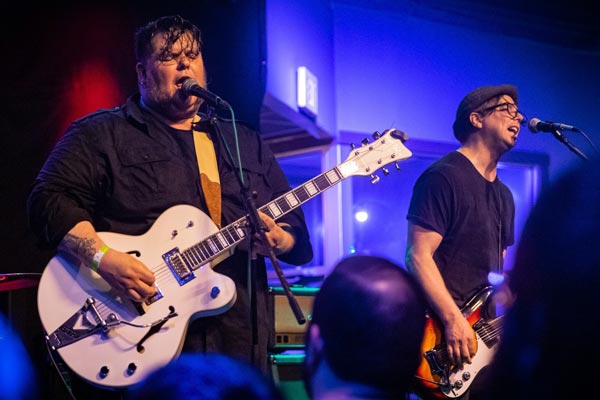 Johnny Ott, left, and Jimmy Harrington Jr., right, are the co-founders of The Cryptkeeper Five and the band's only original members. PHOTO BY ERIC BLAIR

The only other original member of the band is your longtime friend Jimmy Harrington. How did you guys meet and what has kept you buds on and off the stage for so long?
Hah! I met Jimmy, probably, when we were 9 or 10. We were just kids that crossed paths in the neighborhood. We became good friends around 13 in middle school. There weren't many kids into punk or metal at our school, so I think we kinda gravitated towards each other. We started playing in a band around 16. We've never not played in a band together since. We're brothers at this point. I can't imagine my life without him in it.

You've had a good year with touring, singles, a video and splattered vinyl. You have two more singles coming out in as many months. Both are covers. What are they, why did you want to cover them, when will they be released, and how will you promote them?
'Strychnine' by The Sonics is the next TCK5 single coming out. I think on Spotify on Sept. 23. I've always loved the song. I've been a big Cramps fan since I was a teenager, which led me to The Sonics' version, and once I heard theirs, I knew TCK5 had to do a version.
The video was for '10,000 Keys,' which chronicles the release of punk rock in the face of family dysfunction. What inspired that song and video and how does it make you feel to play it live?
Haha! I guess always wanted to set my father on fire. Just kidding. The song and video are sort of autobiographical. Growing up in my household wasn't the easiest, but in all honesty, as I get older, I know it could have been a whole lot worse. I LOVE playing it live.

Tell me about that splattered vinyl of your latest LP, 'Stronghold,' and how folks can get their hands on it.
Our friends at Say-10 Records released it. I'm not sure how many splattered versions are left, but their also selling a limited white version as well. It has a different last song then the one we self-released. We changed out 'Two-Headed Boy,' originally by Neutral Milk Hotel, with a cover of Arcade Fire's 'Wake Up.' You can still get copies at Say-10.com.

'Stronghold' is one of my all-time favorite LPs by a Jersey band. When and how do you plan to follow that up and how is the process going?
We plan on starting a new album by early 2020. Not sure exactly when, but we're pretty excited. I think it's going to be pretty great.
How has Sean Glonek of SRG Studios and many fellow Trenton bands been an influence on you and TCK5 over the years and what does he bring to the Cryptkeeper table that wouldn't be there without him?
I completely trust Sean's opinion. He just understands our band. His perspective of the songs is invaluable. He's completely straight forward and direct with us. If something sucks, he has absolutely no problem with letting us know it ... no dancing around it, a simple, 'That sucks, That's why we're leaving it out!' He's usually right. We need someone like that!

Your Neshaminy Creek show with Hub City Stompers and The Toasters looks great. It reminds me of the Makin Waves show we did last summer at Asbury Park Brewery with HCS, Molly Rhythm, Experiment 34 and Chalk & the Beige Americans. How and why are TCK5/HCS shows must-see super fun?
Hub City Stompers are great! I think we're pretty great. Two great bands on a bill is better than just one.

The other band I've loved pairing you with are Asbury-based The Vansaders with whom you play frequently and recently toured. Why is there a special relationship between the two bands and what do you like most about The Vansaders?
The Vansaders are not only an amazing band, they're also amazing guys: fun, sweet guys. I feel we're cut from the same cloth. We're both a little bit punk, a little bit rock 'n' roll, a tiny bit country. Our little tour we did with them was one of the easiest, most light-hearted times we've spent away from home. I can't wait to do more with them in 2020.

You've played the old Lanes a bunch of times, but is the Sept. 27 show the first time you've played the new Lanes? If so, how and why is that a special gig?
This will be our first time. It should be a great show. We're supporting two fairly celebrated punk bands, Strung Out and The Casualties. We're pretty excited.

What are you looking forward most about playing The Fest and have you ever played it before?
It's our first time. We're really excited though. I'm honestly not sure what I'm most excited about. I'm just excited.

What else will be going on with TCK5 the rest of the year and into next?
Demoing, hopefully shooting another video (maybe two). A small tour around Fest. A Thanksgiving Eve Millhill show. A Christmas Millhill show. Recording a new album. Whatever else gets thrown our way between now and then. It's fairly busy. Even when I feel we're not, we are.
How are The Mighty John Caseys, your duo with your nephew, Joey, doing? What plans do you have with that?
It's good. I love it. I want to record soon.

Joey is your manager. What does he and DIMM Entertainment do for the band that you couldn't do yourselves?
DIMM are great. Joey and Matt have done a lot for us. A lot of doors have been opened for TCK5 over the past two years. Say-10. Fest. They have our backs.

Is there anything I didn't ask on which you would like to comment?
Nope. Thanks Bob. Your support has been greatly appreciated.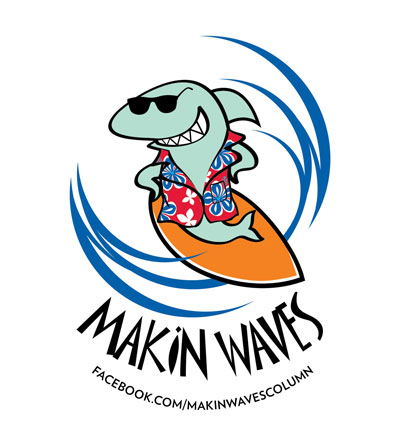 Bob Makin is the reporter for MyCentralJersey.com/entertainment and a former managing editor of The Aquarian Weekly, which launched this column in 1988. Contact him at makinwaves64@yahoo.com. And like Makin Waves at www.facebook.com/makinwavescolumn.