originally published: 09/14/2019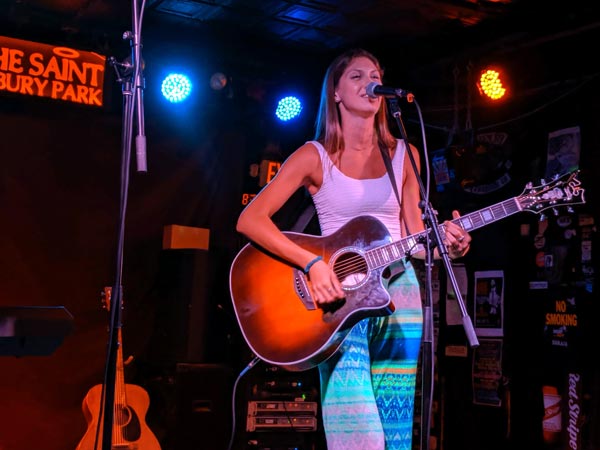 East Brunswick born and raised singer-songwriter, Kathleen Elle, is a semi-finalist in the Opening Act Competition to be the opener of the We Can Survive Concert at the Hollywood Bowl on October 19th. The concert will be headlined by Taylor Swift, the Jonas Brothers, Lizzo, Billie Eilish, and others. The semi-finals end September 19th at 8:00pm. To vote for her, click here.
Kathleen needs to come in first in her group to advance to the finals. Supporters can vote once daily for free through FaceBook, or can purchase votes by donating to MusiCares, a charity that provides critical assistance for musicians in time of need.
Kathleen gained recognition in the past from Seventeen Magazine, Hollister, Campus MovieFest, and the National YoungArts Foundation for her songwriting skills, and making a difference with her anti-bullying song "Don't Let Them In." She has performed recently at the Disability Allies BBQ, for Girl Scout Troops, and local schools spreading the message of inclusivity through music.
A lyric in Kathleen Elle's new single and album, "Brainwaves," is also the rule that has guided Kathleen's music career. Kathleen suddenly discovered her music talent in high school when on a whim she took an extracurricular music writing course. Armed with only basic piano lessons, but a love and admiration for songs that make a difference in someone's life (like Carole King's "You've Got a Friend," or Lady Gaga's "Born This Way") she set out to write meaningful music. As a member of her high school anti-bullying team, Kathleen noticed that all the programs spoke to bullies to stop bullying, or bystanders to stand up, but none addressed the victim directly with a message to not change for bullies; find people who accept you; and don't let bullies' hurtful words into your heart.
Kathleen wrote "Don't Let Them In," and after uploading the song to Youtube, she began to receive messages from many bullying victims around the world that the song empowered them to deal with the trauma of bullying. One 17 year old girl, Keira from the Philippines, told her that she found the song while attempting suicide for the 2nd time due to chronic bullying and it "saved her life." After years of trying to change herself to be accepted by bullies, Keira said it was "Don't Let Them In" that made her realize that her bullies were never going to like her no matter what she did, so she should just stop trying to please them, and find friends who accept her as she is. Keira did find friends and went on to college and a career. She and Kathleen still keep in touch today! "Don't Let Them In" won Seventeen Magazine's 2013 Mean Stinks Contest, and went on to win additional awards from Abercrombie & Fitch/ Hollister (2015), Lincoln Center Global Exchange (2015) and ElfenWorks Campus MovieFest (2016). The song was featured in Abercrombie & Fitch's Anti-bullying campaign video alongside EchoSmith.
When at the crossroad of college or trying to make it as a singer/songwriter, Kathleen followed her heart and her desire to learn all aspects of music. She auditioned and gain acceptance to the prestigious Mason Gross School of the Arts at Rutgers University, where she is currently completing a dual degree in Classical Music Composition and Music Education. While there, she used her limited free time to tour elementary and middle schools to perform "Don't Let Them In" and mentor the kids against bullying and being a victim. At Mason Gross, Kathleen gained a deeper understanding of theory, production, and orchestration, all of which aided her in self-producing her first full length album of all original music. Brainwaves, the title track, will be the first single due to release in early February. Elle could "not be prouder to share Brainwaves with you all! I am excited to show everyone how I've grown as an artist, and share the stories I've wanted to share for a few years."
Kathleen Elle's influences include, Taylor Swift, Tori Kelly, Colbie Caillat, Jason Mraz, Ed Sheeran, and John Mayer. In fact, Taylor Swift inspired her to start playing guitar at age 10, and start writing songs at 14.
To vote for her and help her move on to the semi-finals, click here.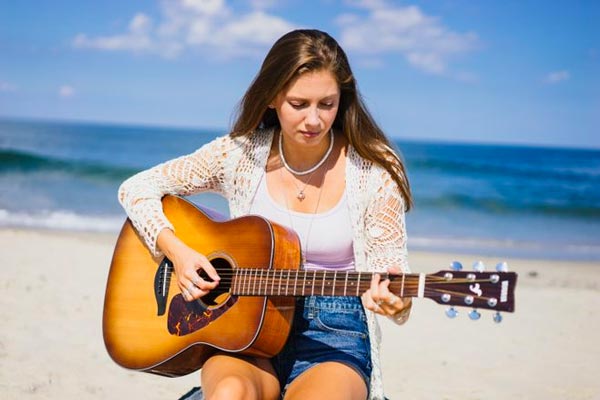 ---