originally published: 09/12/2019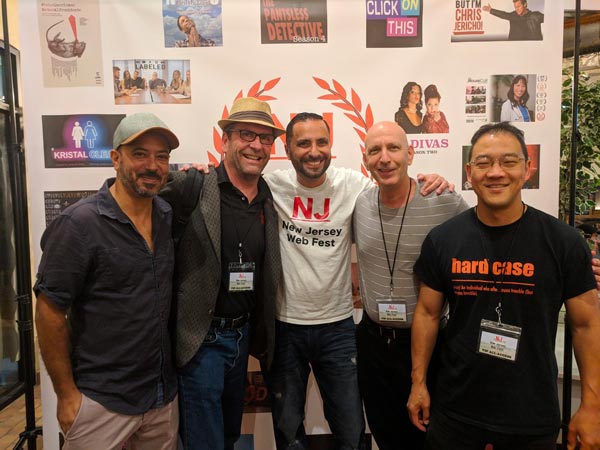 (MONTCLAIR, NJ) -- The New Jersey Web Festival (NJ WebFest) will return to New Jersey on September 20-22, 2019.  The festival brings international digital media to New Jersey, joining the ranks of Los Angeles; Seoul, Korea; Marseille, France; Melbourne, Australia; and other global markets that host webfests annually. The three-day festival will include a series of workshops hosted by prominent writers, actors, and industry leaders, including an Actors Workshop by Richard Kline, who played the iconic role of Larry Dallas on classic sitcom Three's Company.  The festival will also present more than 140 screenings of shows and music videos from all over the world.
Notable entries from the 145 official selections are Anya Marina: Indie-pendent Woman, guest starring Grey's Anatomy star Kate Walsh; All Talk, guest starring Jason Mewes of "Jay and Silent Bob" fame; The Jersey Connection, starring Peter Greene, legendary star of Pulp Fiction, The Mask, and other Hollywood hits;  and Labeled, starring and produced by Bethany Watson, formerly of The Elvis Duran Show.
A closing award ceremony and reception will be held at The Manor in West Orange, New Jersey on the evening of Sunday, September 22. A total 50 total awards will be presented at the highly-acclaimed gala, including "Direct Selection" awards, in which shows will be sent to New Jersey's partner festivals, such as Seoul Webfest, Melbourne Webfest, New Zealand Webfest, and others.  Additionally, a $500 cash prize will be awarded to the winner of the festival's pitch contest, titled "The 500-Dollar Dash."
In its first year, the NJ WebFest became one of the "Top-100 Best Reviewed Festivals" in the world, based on filmmaker reviews on Film Freeway, an online submission portal that hosts 10,000 festivals globally.
Scroll down for the complete festival schedule.
---
The article continues after this ad
---
---
Friday, September 20, 2019
1.     Opening Welcome Ceremony, Clairidge Theater, 486 Bloomfield Avenue, Montclair, 10:00AM
2.     Screenings at Clairidge Theater beginning at 11:20AM
3.     Opening Day After-Party, Montclair Social Club, 499 Bloomfield Avenue, Montclair, 9:30pm
Saturday, September 21, 2019
1.     Workshops, 505 Bloomfield Avenue, Montclair, NJ (Montclair Film Festival), 9:30AM:  Richard Kline, the iconic Larry Dallas on classic TV show Three's Company will provide an interactive acting workshop and Q&A; Dan Pasternack, Producer and TV exec, who worked with ITV and Adult Swim, among others, will counsel filmmakers on Best Practices to pitch their show. Pasternack worked with EP Lorne Michaels shepherding the breakout Portlandia from web-series to Emmy, Peabody and Writer's Guild Award winning television sensation.
2.     Screenings at Clairidge Theater, 486 Bloomfield Avenue, Montclair, 12:45PM
3.     Day Two After-Party at Montclair Social Club, 9:30pm
Sunday, September 22, 2019
1.     500-Dollar Dash, an "elevator pitch" contest, with the winner receiving $500.
505 Bloomfield Avenue, Montclair, NJ (Montclair Film Festival), 9:30AM
2.     Panel:  The Impact of the Web Festival Circuit on the Entertainment Industry, with representatives from some of the greatest festivals in the world:  Miami Webfest, Bilbao Spain Webfest, Seoul Webfest, and Baltimore Webfest.
3.     Interactive Industry Workshop, mooderated by veteran actor Anthony Gallo (The Irishman, Men in Black 3, Boardwalk Empire, Chuck)
4.     Screenings at Clairidge Theater, 486 Bloomfield Avenue, Montclair, 12:45PM
5.     Red Carpet Awards Gala, at The Manor, 111 Prospect Avenue, West Orange, 7pm: dining, unlimited drinks, DJ, entertainment, and the presentation of 50 awards.
Award-winning web series creator Neem Basha, an alumnus of several web and film festivals as creator of web series Neem's Themes, founded the New Jersey Web Festival after seeing the emergence of webfests worldwide.
"After my show Neem's Themes was selected to take part in – and won awards at – several web festivals around the world, I made relationships with the festival directors and learned a lot about what it takes to run a festival," said Neem Basha, NJ WebFest founder and director.  "I realized that, with over 60 web festivals throughout the US and the world, New Jersey was conspicuously missing from the web festival map.  Hundreds of international shows submitted, global festivals have partnered with us, and the buzz online in the web series community is palpable. Folks were ready for a New Jersey WebFest."
"We at the Seoul Webfest and Asia Web Awards strongly support our Jersey partners," said Young Man Kang, founder of the Seoul Webfest. "As the director of the only web series festival in Asia, and a long-time filmmaker, I can see that the NJ WebFest has quickly made its mark among festivals, and will continue to grow bigger and better."
Kang will be present at the festival representing Seoul, and founders of Bilbao Spain's webfest, Miami's webfest, and Baltimore's webfest will also be on-hand.
All filmmakers received a complimentary VIP pass to attend all the events.  Supporters and fans can purchase tickets until September 19, 2019 at bit.ly/njwebfest2019-tix.