originally published: 09/11/2019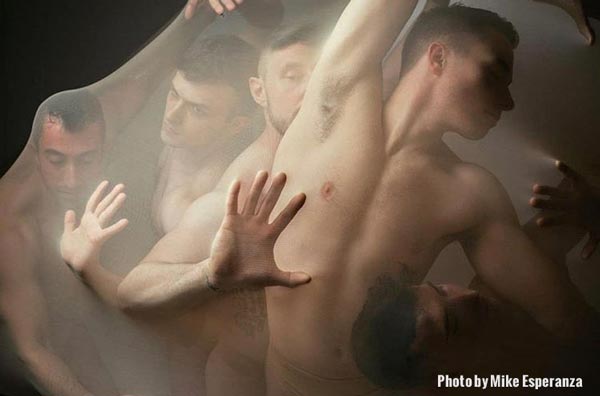 (HIGHLAND PARK, NJ) -- 10 Hairy Legs, the male repertory dance company, continues national touring and adds débuts in its home state during its eighth season of performances and educational programming, following a summer of festival appearances as Guest Artists for Musical Theatre and Dance at The Kentucky Governor's School for the Arts and Cameo Artists for The Public Theater's Public Works new production of HERCULES at Central Park's Delacorte Theater.
National Débuts and Deepened Engagements
The season begins with a first in-depth residency and public performance at SUNY Potsdam, followed by return to Skidmore College. Other Upstate New York and New England engagements include Union College, The Hudson Valley Dance Festival in Historic Catskill Point, the company's 4th engagement at Kaatsbaan Cultural Park for Dance in Tivoli, our 7th immersion at Bowdoin College and PATHS in Maine, and 10HL Boston debut at Dance Complex as part of its Winter Wonder Festival of Dance December. In January we will hold showcases during the APAP Conference January 11 & 12 at City Center Studios, travel to the University of New Hampshire followed by a return to the Heartland at University of Nebraska Omaha, Creighton U., Wichita State, Missouri Valley College, and University of Central Oklahoma.
The UCO engagement concludes with a public performance at Broadway Tonight in Edmond. Director Greg White noted, "We are absolutely thrilled to have 10 HAIRY LEGS on our 2019–20 Broadway Tonight series here at the University of Central Oklahoma. 10HL set a piece on our university student company (Kaleidoscope Dancers) last season, and the group so inspired our students and faculty, that we brought them back by popular demand. 10HL will set a new piece on our students that will debut on their upcoming Broadway Tonight concert. We are so excited to share 10HL and the exceptional work they've done with our students with our community!"
Missouri State University in Springfield will host us for an in-depth, weeklong residency in February, concluding our winter tour.
---
The article continues after this ad
---
---
In May The Kentucky Center in Louisville presents us with a full evening of repertory works that includes live musical accompaniment by A/TONAL performing Steve Reich's New York Counterpoint, the score to 10HL's 2017 Commissioned work by Megan Williams entitled Quadrivium. "The Kentucky Center is thrilled to present 10HL as an emerging dance company adding to an assortment of offerings in the presenting season. 10HL, even with its wide spectrum of repertory, can speak directly to socially relevant themes through a diverse landscape of choreographers and composers. We are also excited to collaborate 10HL and Louisville's own contemporary classical ensemble A/TONAL to infuse live music into the company's Louisville debut." — Dan Forte, Vice President of Programming, The Kentucky Center.
2020 New York Season
10HL returns to New York Live Arts June 24–27 featuring two World Premieres.
Touring repertory will include 2019 Commissions by Larry Keigwin (Cruise Control) and Adam Barruch (Heist), 2018 Commission by Yin Yue (So It Goes), Stephen Petronio's iconic duet Bud set to Rufus Wainwright's Oh What a World and Al Blackstone's 2017 Commission Brian, in addition to Quadrivium.
New Jersey Débuts
10HL appears as guest artist at the inaugural Asbury Park Dance Festival on Saturday, September 14 at 7:00 pm. The evening's proceeds benefit ArtsEdNJ.
10HL partners with The Morris Museum for "Trouble Will Find Me: Remixed" for three events November 21–23. Based on choreographer Doug Elkins' 2014 work for the company, the piece is site-specific, happening in the museum's Main Gallery with its new exhibition Aerosol: Graffiti/Street Art/New Jersey/Now as the backdrop as the "audience" and dancers commingle and respond to the ever-changing sound track.
10HL has been commissioned by Ocean County College in Toms River to create a work to the music of Louis Prima that will have its World Premiere on April 18, 2020 at the Jay & Linda Grunin Center for the Performing Arts as part of Opening Festivities for the school's newly expanded performing arts facilities. Director of Cultural Affairs Mark Wilson noted, "The Jay and Linda Grunin Center for the Arts at Ocean County College is proud to collaborate with 10 Hairy Legs on a new project in conjunction with the opening of our new Gia Maione Prima Studio Theater. Randy James' company, one the preeminent dance troupes in the world, will bring to life through dance the music of Louis Prima, Jr. and Gia Maione Prima in this exciting new piece."
Specific information about engagements can be found on our web site 10HL.org.
About 10 Hairy Legs
10 Hairy Legs, a male repertory company, provides a lens to experience the broad spectrum of dance. Widely acclaimed for its aggressive commissioning of new works and curation of master works, we have served more than 85,000 patrons, students, artists and educators since our founding in 2012, nationally and internationally. Commissions: Adam Barruch, Al Blackstone, Julie Bour, Doug Elkins, Larry Keigwin, Raja Feather Kelly, Tiffany Mills, Nicholas Sciscione, Doug Varone, Manuel Vignoulle, Megan Williams and Yin Yue. Broadcasts have included NJTV's State of the Arts, The Meredith Vieira Show and Nick Cannon's Red Nose Dancathon. Dance Education is an important part of our mission and we provide a wide range of programs for all ages exemplifying the many facets of maleness expressed through dance to more than 2,500 students and educators each year.
"… by far, the best American male modern dancers one could have the good fortune of seeing these days … gotta hand it to them: 10 Hairy Legs shows what modern dance should be …" — Demetrius Klein, Palm Beach Daily News
Our work features musicians/composers Tigger Benford, Sarah Biber, Jane Chung, Lachlan Glen, Kyle Olson, Robert Maggio, Roarke Menzies, Ofer Pelz, Bryan Strimpel, Michael Wall, Dorian Wallace and Peter Whitehead; designers Abraham Cruz, Oana Botez, Cindy Capraro, Sarah Dixon, Benjamin Heller, Jason Flamos, John Lasiter, Naomi Luppescu, Mary Kokie McNaugher, Dennis O'Leary-Gullo, Lauren Parrish, Amanda Ringger, Eric Mark Rodrigues, Amanda Shafran, Ken Tabatchnik, Olivier Theyskens, Asa Thornton and Tuce Yasak. In addition to their work with 10 Hairy Legs, our company members are currently featured artists with The Bang Group, Stephen Petronio Company and Zvi Dance, among others.
Leadership funding for the company has been provided by The Geraldine R. Dodge, Frank & Lydia Bergen, Blanche and Irving Laurie, The O'Donnell Green Music & Dance, Fan Fox & Leslie R. Samuels, Mertz Gilmore, Magyar Bank and Hyde & Watson Foundations; The Harkness Foundation for Dance, Johnson & Johnson, American Dance Abroad's Rapid Response, Middlesex County Arts & History, New Music USA, The New Jersey State Council on the Arts/Dept. of State, receiving a Citation of Excellence in 2018 and 2019, the generous contributors to the Rita & Philip Levy New Works Fund, The Constance Poster Trust for New Choreography and the 10HL Choreographic Initiative.