originally published: 09/11/2019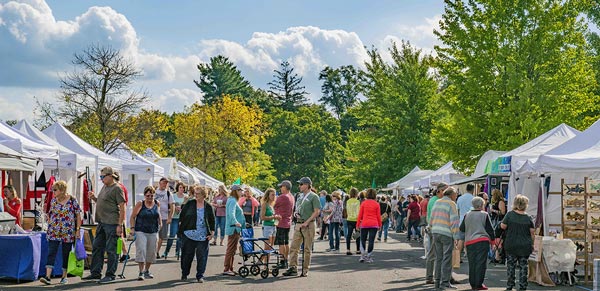 (NEW HOPE, PA) -- With 180 artisans from around the country and a museum curator at the helm of the widely-celebrated juried festival, the New Hope Arts & Crafts Festival committee, award-winning artists, volunteers and overall townspeople enthusiastically prepare for their largest arts & crafts festival yet on Saturday, September 28 and Sunday, September 29, 2019.  The Festival is a rain or shine event & is taking place on the grounds of the New Hope Solebury High School, 182 West Bridge Street, New Hope, PA.
In addition to the festival offering various live entertainment, children's activities, and a food court, visitors to the area can experience unique boutiques, bistros, galleries and more, all nestled amongst one of the most scenic locations on the Delaware River during this arts celebration within one of Pennsylvania's most prized, artistic & historic towns.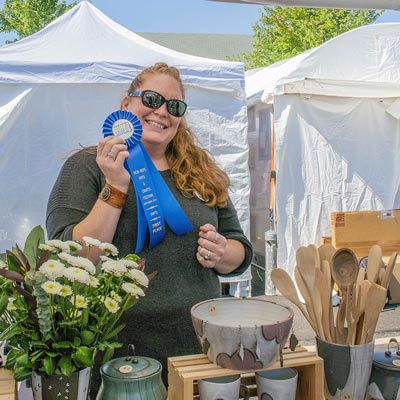 The visual arts presented at the festival consist of premier artists and craftspeople from around the country who specialize in oil painting, pastels, watercolors, drawing, etching, mixed media, black & white and color photography, soft and hard sculpture, wood turning and rustic furniture, pottery and glassware, wearable art including leather and fabric handbags and handspun or felted clothing, jewelry including hand-blown glass beadwork as well as precious and semi-precious metals and stones.  Music and entertainment will be provided by acoustic musicians Andrew Lobby, Lara Grant, Elinore Leonards, Faye Adinda, A.C. Mitchell, with State Street Tribal dancers with director, Paula Phillips, and DJ Brian Soto.  The Festival will also offer an outdoor, variety-filled food court area with something for every "palette", including food trucks and tents filled with delicious & colorful eating options such as shrimp, Angus burgers, gyros, jerk chicken, kielbasa & kraut, funnel cakes, gourmet grilled cheese, fried Oreos, kettle corn and more!   
2019 returning, award-winning artists will include last year's Best of Show: Photographer Jim Spillane, 1st place 2018 Crafts Winner: ceramic artist Caelin McDaniel, 1st place 2018 Jewelry Winner: LeAnne Marquis, 1st place 2018 Mixed Media Winner: Pysanky artist Basia Andrusko, along with past years' Best of Show winners, Arts Oil and Pastel artist: Bob Richey, and Photographer, Steven Daniel.  Past 1st Prize winners include Photographer: Ruth Taylor, Painter: Phillip Singer, Fiber artist: Kathy Dinsmore, Glass artist: Tari Zarka, and Jewelry artist: Monique Perry,  all amongst the other jury-selected artisans, exhibiting unique, various art forms that are sure to inspire.  In charge of judges who will award nearly $4000 in prizes is freelance writer and curator, Louise Feder, former assistant curator, James A. Michener Art Museum. 
A special Family Activity area will be offered at the Festival-run Activity Booth inspiring children to create and join in the arts.  In the same area, but more secluded will be an area for nursing mothers and baby changing, while art projects, bubble-blowing, sidewalk chalk, and hula hoops keep the rest of the kids busy.  Families with children are welcome and encouraged to join in on the creative fun!
---
The article continues after this ad
---
---
Year after year, many popular local artists participate in the festival, in addition to visiting talents from all over Pennsylvania and New Jersey, and as far away as Florida, South Carolina, West Virginia, Connecticut, Maryland, and up-state New York.  The two-day event is rain or shine and admission is $1 per person, and there will be a free trolley to/from South Main St at the historic Parry Mansion.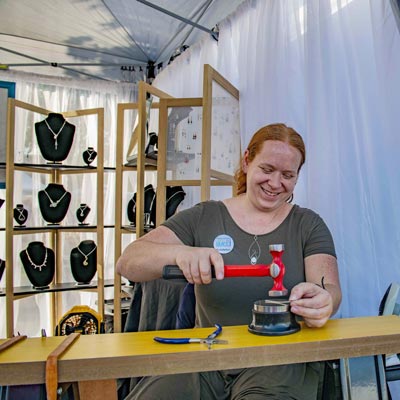 Situated along the banks of the Delaware River, the quaint village of New Hope provides the perfect getaway destination for all ages and interests. This sophisticated yet relaxed country town in scenic Bucks County, Pennsylvania offers unique and eclectic shopping, live music and theatre, historic train and horse-drawn carriage rides, museums, art galleries and antiques shops, fine restaurants and casual fare, plus romantic bed & breakfasts and family-friendly hotels — all within one square-mile.  The New Hope Arts & Crafts Festival thanks Penn Community Bank, formerly First Federal, proud Sponsor for 13 years, Linda Rowe, Stephanie Nagy, and Sharon Flanagan, Organizers, and Presenter:  The Greater New Hope Chamber of Commerce.
The Festival will run from 10:00am – 6:00pm on Saturday and 10:00am – 4:00pm on Sunday – Rain or Shine, Outdoors at the New Hope Solebury High School, Located at 182 West Bridge Street, New Hope, PA.
PHOTOS BY KRISTINA GIBB