originally published: 09/10/2019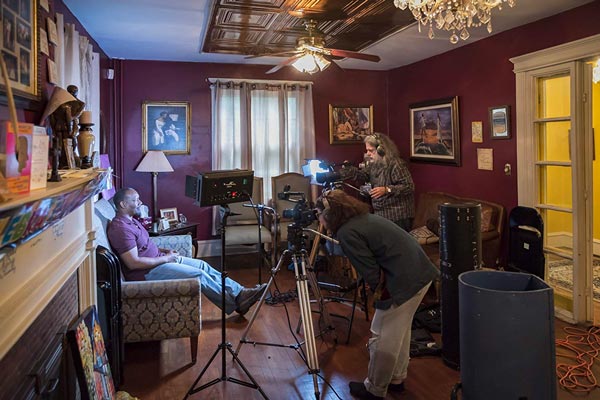 (NEW BRUNSWICK, NJ) -- The documentary film Two Trentons: An American City Speaks tells the story of a city through the words of its citizens, who speak passionately about the progress of a community renewing itself even as a tragedy strikes at the heart of its rebirth. "Two Trentons" is an official selection of the 2019 New Jersey Film Festival, and will have its premiere at the Festival on Sunday, September 15 at 7:00pm.
This frank, unique and revealing film portrays the drive and spirit of hope in the people working to bring vitality and safety to their city. It describes clearly the social and economic forces that have driven its decline and those that are shaping its future. We meet the activists, businesspeople, artists, musicians, planners and politicians dedicated to improving their city and see the challenges and setbacks they face along the way.
Two Trentons is a story relevant to all American cities, presenting an ultimately hopeful view of how people working together can shape a community's future.
For more on the film, check out the feature article in NJ Stage Magazine Issue 62.
Director, co-producer and editor Brad Mays is an award-winning independent film maker and stage director. His works include the feature films The Watermelon and Road Rage. He is an accomplished documentary film producer and director whose credits include The Audacity of Democracy, Aiden's Butterflies and SING*ularity. Brad lives and works in central New Jersey.
---
The article continues after this ad
---
---
Producer Dr. Joe Hulihan is Chair of the Board of Trustees of Mercer Street Friends, a nonprofit community service agency in Trenton, NJ. He is resolutely committed to helping people in the city improve their health and well-being. An MD trained in neuroscience and health policy, Dr. Hulihan also pursues research and advocacy work in the areas of mental health and criminal justice. 
Executive Producer Yaniko Palis is a producer, director and screenwriter with over 30 years of experience in film, television and live productions. He has been involved in numerous projects including the feature films White House Down, The Sum of All Fears, and Gothica as well as television programs in the U.S. and Canada. Yaniko lives and works in New York City.
The New Jersey Film Festival is organized by the Rutgers Film Co-op/New Jersey Media Arts Center. Founded in 1982, the Center draws thousands of viewers from throughout New Jersey. It is dedicated to the noncommercial exhibition of independent, classic, international, and experimental films and videos. Now in its 38th year, the New Jersey Film Festival is held in New Brunswick, NJ on the campus of Rutgers University.