originally published: 09/10/2019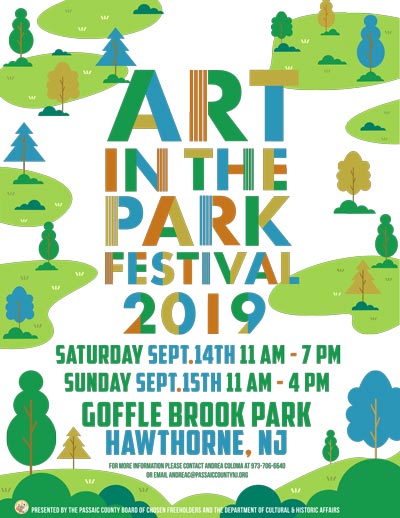 (HAWTHORNE, NJ) --  The County of Passaic's Board of Chosen Freeholders will host the third annual Art in the Park festival on September 14-15 at Goffle Park in Hawthorne. Scheduled highlights of the two-day gathering include a catalog of art presentations available for viewing and purchasing, arts and crafts activities for all ages, artisanal food and craft vendors, performances, poetry recitations, and a full lineup of live music and entertainment. Admission is free.
Art in the Park will also feature partnerships with the Montclair Art Museum, Paterson Arts Reforming Communities, and Ghost Hawk Brewing Company – Passaic County's first craft brewery – with an on-site beer garden.
"We look forward to organizing this art festival every year, and it is especially exciting this year since we have just re-opened the John W. Rea House as the Passaic County Arts Center," Freeholder Director John Bartlett said. "The festival is a wonderful opportunity for artists to share their talents with the community, and for everyone to unwind in the scenic park, indulge in local food and drink options, and appreciate various forms of art."
The festival will be held just outside of the newly-restored Passaic County Arts Center at the John W. Rea House. It will be held on Saturday, September 14 from 11:00am to 7:00pm and on Sunday, September 15 from 11:00am to 4:00pmAttendees are encouraged to explore the art center's current "The Fate of Gypsy" exhibition, complete with indoor and outdoor displays.  Goffle Brook Park is located at 675 Goffle Road in Hawthorne, New Jersey.
The 2019 Art in the Park festival is presented by the Passaic County Board of Chosen Freeholders and organized by the Department of Cultural & Historic Affairs. For more information, click here.
---