originally published: 09/10/2019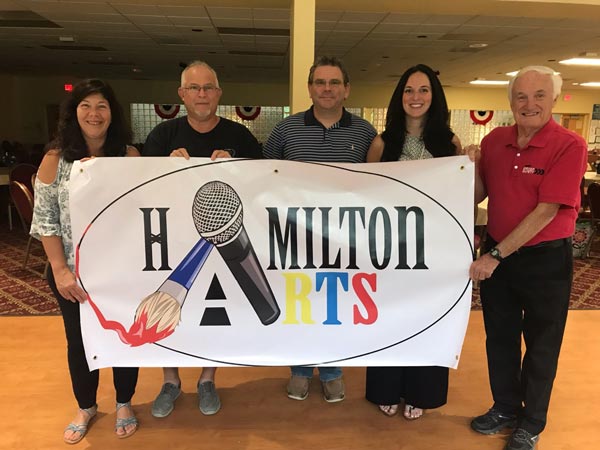 (HAMILTON TOWNSHIP, NJ) - Hamilton Township's newly reformed "Arts Commission" will be hosting a public meet and greet/art display on October 9, 2019 at the Hamilton Township Library located at 1 Justice Samuel A Alito Way from 6:00pm to 8:00pm. The meet and greet is open to all  who have an interest, questions, curiosities or enjoy visual arts displays; light refreshments will be provided by Eet Gud Bakery.
The current six person commission is chaired by Ellen Renee and co-chaired by Danielle Tan with Councilwoman Iliana Schirmer serving as liaison to the town council. Members include local artists Thomas Kelly and Megan Uhaze along with musicians Ray Murphy and Danny Coleman; Diane Brett serves as secretary to the commission.
"The excitement is building," says Ellen Renee. "This newly reformed commission will promote the performing and cultural arts in Hamilton Township; offering activities in our community and beyond to enrich our residents lives. There are many artists of all kinds who are creating great works; we will support them and provide wider recognition of the arts while we strive to cultivate all of the art forms in the youth of our town."
Co-chair Tan, an employee of the Hamilton Township Department of Education echoed those sentiments.
"I joined the commission because I wanted to open up more opportunities in the arts for the kids of Hamilton. Also, we as a commission want to create an environment that enriches the lives of the citizens of Hamilton through arts and culture."
---
The article continues after this ad
---
---
Members of the commission were recommended, vetted then chosen and each brings a certain skill to the table. Chairwoman Ellen Renee has a background in Broadway Theater and a vocal instructor/coach, Kelly is an artist and a regular contributor to "The Hamilton Post." Uhaze is an artist who is employed by Grounds For Sculpture, Murphy is retired and a vocalist with "Brothers In Harmony," a large a Capella ensemble and Coleman is a local musician, entertainment journalist and the host of "Rock On Radio."
Although very experienced, Ellen Renee says that the commission welcomes ideas and suggestions from the residents and outsiders alike; "We would love to hear from our talented musicians and artists with suggestions as to what we can add to enhance the commission and the lives of our citizens here in Hamilton."
To discover more about the Hamiilton Arts Commission, please visit them online at  or e-mail them.