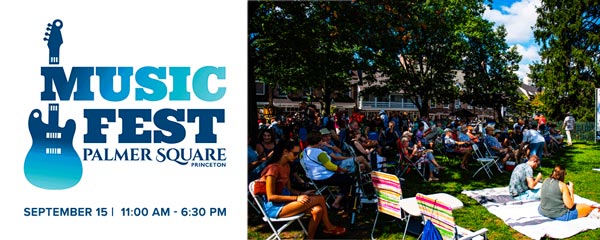 (PRINCETON, NJ) -- Music Fest 2019 will take place On the Green at Palmer Square in Princeton on Sunday, September 15 from 11:00am to 6:30pm.  The Main Stage features a performance by JB Rocks, a Frank Sinatra Tribute, Best of New Jersey Mix with Some Assembly Required, and a Bruce Springsteen Tribute with the B-Street Band.  The Side Stage includes a Paul Simon Tribute with ALEO-music, and a Bon Jovi Tribute with Slippery When Wet.  Admission is free.
11:00am: JB Rocks - To start off the 2nd Annual Music Fest, JB Rocks will be serenading the streets with with some acoustic strolling tunes! JB Rocks is a duo out of NJ performing from Florida to Boston and covering a wide range of styles and artists featuring solid guitar work and rich vocals. These two guys deliver a ton of sound for a duo and cover artists such as: Prince, Simon & Garfunkel, Jason Mraz, Cage The Elephant, Pearl Jam, Show Tunes from Hamilton, Earth Wind and Fire, the Goo Goo Dolls, the Turtles, Carly Simon and much more! It's Not Unusual (yes – they also cover Tom Jones!) for JB Rocks to have the crowd singing along. It's all about good music and having fun!
Main Stage: 12:00pm – 1:00pm - Frank Sinatra Tribute with Jerry Pearce & Swingadelic. With a nod to our jazz roots, Swingadelic will be opening the show on the Main Stage playing Frank Sinatra's greatest hits. Joining them on vocals is winner of Hoboken's 2017 "Sinatra Idol" contest and lifelong resident of New Jersey, Jerry Pearce. May 20th 2019 marks the 21st Anniversary of the first gig for Swingadelic. Since 1998 they have performed over 1350 jobs including concerts, dances, weddings, casinos, private parties and corporate events. For the last seven years the band has been holding court every Monday night at Swing 46, a dinner/dance venue on NYC's Restaurant Row, 46th Street between 8th and 9th Avenues.
Main Stage: 2:15pm – 3:45pm - Best of New Jersey Mix with Some Assembly Required. A local favorite, the band is made up of Matt Babice, Chay Jenkins, Taylor Reed, Frank Thewes, Mike DQ, Uncle Bill (Gramps). Catch them during their mid-day set featuring an eclectic mix of Jersey's best including the Fugees, Spin Doctors, Blues Travelers, Fountains of Wayne, Whitney Houston and many more. SAR prides themselves on providing a unique "not your average cover band" experience, where you'll never know what song is coming next, so don't forget your dancing shoes!
Main Stage: 5:00pm – 6:30pm - Bruce Springsteen Tribute with the B-Street Band. The festival headliner will be honoring "the Boss" on the main stage for our final performance of the night. Since 1980, they have played over 6,000 shows around the country and has shared the stage with several members of the E Street band. The B Street Band has played many national venues, opening for Bruce Springsteen concerts and even paying tribute to him at the Rock and Roll Hall of Fame exhibit, "The Life and Music of Bruce Springsteen." You won't want to miss them as the main event!
---
The article continues after this ad
---
---
Side Stage: 1:15pm – 2:00pm - Paul Simon Tribute with ALEO-music, a collective of quality musicians, audio/video artists, designers, listeners, etc, who have settled in the Hoboken/Jersey City area to hone and express their craft, both as individuals and as a community. Let the sounds of Paul Simon wash over you during this afternoon set!
Side Stage: 4:00pm – 4:45pm - Bon Jovi Tribute with Slippery When Wet. Raised on the same mean streets and reared in many of the same bars and nightclubs as Jon and the band, these experienced rockers bring the same energy, enthusiasm, and New Jersey attitude to the stage as the early Bon Jovi, circa 1986! This group of seasoned veterans will be rocking the house on the side stage singing JBJ's biggest songs!
Pack a chair or a blanket and settle in for day of eclectic, non-stop music, food, drink and good times! Enjoy a rockin' Sunday outside eating, drinking and taking in all the town has to offer!
On the Green at Palmer Square is located at 40 Nassau Street in Princeton, New Jersey.