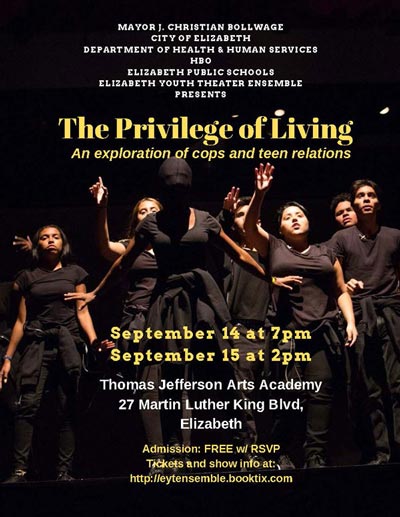 (ELIZABETH, NJ) -- The Elizabeth Youth Theater Ensemble (EYTE), The Office of Youth, and HBO's Corporate Social Responsibility division, will present The Privilege of Living developed as a part of EYTE's Walking the Beat residency: an on-going arts-in-education residency with students from the Thomas Jefferson Arts Academy, in partnership with the local police department. The residency takes place from July 1 – September 15 and there will be two community presentations on Saturday and Sunday, September 14-15, 2019, 7:00pm and 2:00pm at the Thomas Jefferson Arts Academy in Elizabeth, NJ.
Inspired by EYTE teaching artist and community activist, Lillian Ribeiro, the program is designed to reinforce positive interactions between students (grades 9-12) and a diverse cohort of police officers, ultimately creating a bonding experience amongst participants which will affect future interactions within the community at large. Participants work together to create original written pieces and performances about their neighborhood and what their role can be in contributing to community building. EYTE is planning to expand their reach and will use this program model and curriculum in other cities across the United States.
"Four years ago, we at the Elizabeth Youth Theater Ensemble, took a stab at an idea to bring police officers and students together in response to all of the unnecessary violence happening across the country," says EYTE Executive & Artistic Director Theo Perkins. "Our cops/kids program has expanded to Los Angeles in partnership with the Fountain Theatre and this month, we present the work in our home city, Elizabeth, NJ!"
Produced and Directed by Theo Perkins, each workshop is facilitated by EYTE Curriculum Director Angela Kariotis. "We are witnessing deteriorating communication between people who live and serve within the community. We're here to offer one method, the arts, where we can see, hear and hold space for each other," says Kariotis.
Individual giving and in-kind partnerships have allowed EYTE to sustain its mission while providing quality artistic and community engagements. Please visit the Walking the Beat GoFundMe page to learn how you can help. EYTE is a 501(c) (3) non-profit organization and all donations are tax deductible. EYTE Facebook Page. The program is made possible with support by Mayor J. Christian Bollwage, and the Elizabeth Police Director Earl Graves. Tickets are available for purchase online.
---
The article continues after this ad
---
---
The Elizabeth Youth Theater Ensemble's mission and purpose is centered in the voices of young artists to gain confidence and skill in the resilience for developing theater as a powerful place of community building and social justice. EYTE was founded in 2004 due to the urgent need to expose the city's youth to contemporary theater, film and its integration with current technology. Since its founding, EYTE has been supported by the City of Elizabeth, Elizabeth Board of Education, and most recently, HBO's Corporate Social Responsibility unit, allowing students exposure to many of HBO's Arts Education programs.
Theo Perkins (Executive & Artistic Director) - Executive/Artistic Director, was a 2015 honoree for Community Arts and Entertainment by the Union County Urban League Young Professionals. Theo's producing credits include "Hands to the Sky" (African Movie Academy Award nomination), "Train(ed)," "Damn Wonderful," and the new web series "HTMAST." Theo is a 2016 NBCU Star Project Finalist. His television credits include guest star appearances on "Lie to Me" (Fox), Raising the Bar" (TNT), and "N.C.I.S" (CBS). Broadway: "Joseph and the Amazing Technicolored Dreamcoat." Recent theater: "The Golden Dragon" (Boston Court;) "Fences" (International City Theatre), and "The Brothers Size" (Fountain Theatre). He has earned a BA from Morehouse College and a MFA Acting from UCLA's TFT; GC -Executive Arts Leadership Program at the University of Southern California.
Angela Kariotis (Curriculum Director & Program Facilitator ) - Called "a lithe and vital writer-performer" by The Star-Ledger, Angela Kariotis "possesses the raw energy to light up a small city" heralds The Chicago Reader. But it's her sly and engaging use of language that makes her work memorable in dynamic performances that are serious and seriously funny. Angela has brought her unique performance style across America and beyond to venues such as The University of California- Los Angeles, Contact Theater in Manchester, UK, Legion Arts in Iowa, the Off-Center in Austin, TX, the New Jersey Performing Arts Center, and the Hip Hop Theater Festival in New York City. She is winner of the New Jersey State Council on the Arts Playwriting Fellowship, Tennessee Williams Theater Fellowship, and National Performance Network Creation Fund Award. With its deft balance of narrative, critique, and movement, as well as Angela's visceral and fluid performance, her work has connected with audiences across the U.S.