By Spotlight Central
originally published: 09/09/2019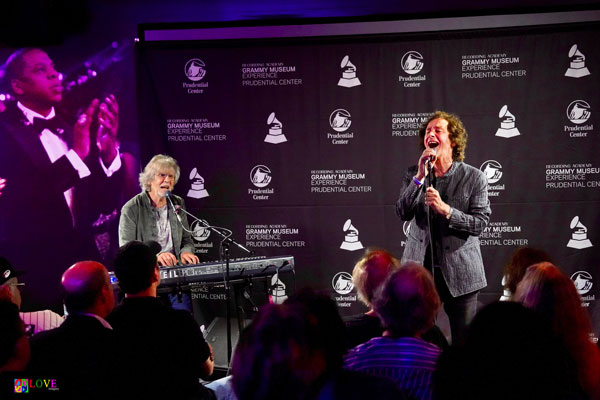 Even though it's drizzling and drab outside Newark, NJ's GRAMMY Museum Experience Prudential Center this Wednesday August 28, 2019 evening, music fans are excitedly lining up to take part in tonight's once-in-a-lifetime event — An Evening With…. The Zombies!
The GRAMMY Museum's An Evening With… educational series provides intimate, moderated conversations with iconic recording artists about their history, creative process, and current and future projects. The programs do not only include a conversation with the artist, but an audience Q&A session, and an exclusive live performance by the artist as well.
Past An Evening With… events at the Prudential Center have included Earth, Wind and Fire's Philip Bailey, and a similar series — The GRAMMY Museum's Spotlight Series — has offered comparable programs with Bobby Bandiera, former guitarist for Bon Jovi and Southside Johnny and the Asbury Jukes, and Brandy Clark, a recording artist and songwriter whose compositions have been recorded by such performers as Sheryl Crow, The Band Perry, LeAnn Rimes, Reba McEntire, and many more.
Upcoming An Evening With… performances include An Evening With… Angélique Kidjo — recently called "Africa's premier diva" by Time Magazine — which takes place on Tuesday, September 10, 2019.
The GRAMMY Experience doors open and the crowd makes its way into the museum where white lights proclaim "New Jersey Legends," a permanent exhibit which honors GRAMMY winners who hail from the Garden State. Items on display include the white beaded dress that Newark native Whitney Houston wore to the 1994 GRAMMY Awards, in addition to a tuxedo and captain's hat owned by Red Bank's own William James "Count" Basie. Memorabilia from such additional New Jersey artists as Dionne Warwick, Wyclef Jean, Les Paul, Bruce Springsteen, Frank Sinatra, Bon Jovi, and Queen Latifah are also on display.
---
The article continues after this ad
---
---
Next, music fans are treated to a timely traveling exhibit entitled Woodstock: Fifty Years Down the Road, a collection of over 40 original photographs shot through the lens of festival photographer Henry Diltz. Featuring images of such iconic Woodstock performers as Arlo Guthrie, John Sebastian, Crosby, Stills and Nash, Jefferson Airplane, Richie Havens, Joan Baez, Janis Joplin, and Jimi Hendrix, the exhibit runs until October 6, 2019.
Lastly, music lovers take their seats inside the intimate GRAMMY Museum Experience performance space for tonight's main event — a conversation and performance by two of the founding members of the influential English rock band The Zombies — Colin Blunstone and Rod Argent.
Mark Conklin — Artist Relations and Programming director for The GRAMMY Museum Experience — welcomes the audience to tonight's event.
Conklin explains to the sold-out crowd that after a conversation with The Zombies, music lovers in the crowd will have an opportunity to ask questions in a Q&A session, and that will be followed by a live performance by the musicians.
The crowd cheers when Conklin introduces 2019 Rock and Roll Hall of Fame Inductees Rod Argent and Colin Blunstone of the Zombies.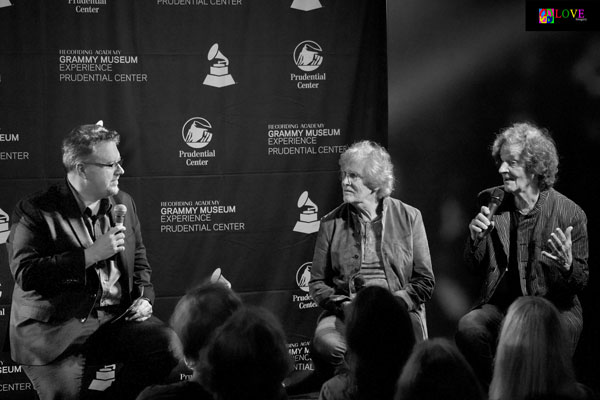 Opening up the conversation by asking the pair what it was like to inducted into the Hall of Fame 50 years to the day when the group's song "Time of the Season" topped the charts, Zombie lead vocalist Colin Blunstone replies, "When we were nominated four out of five times in the last few years and not inducted, we thought we would never make it, so it was a fabulous feeling when we were inducted!"
Blunstone's bandmate, songwriter/keyboardist Rod Argent, agrees adding, "We are one of the few vintage bands that still gets excited by continuing to create — and because we do still create new material, we've been taken more seriously in the last five years."
When asked what the induction ceremony — which took place on March 29, 2019 at Brooklyn, NY's Barclays Center — was like, Blunstone simply replies, "Dreamlike."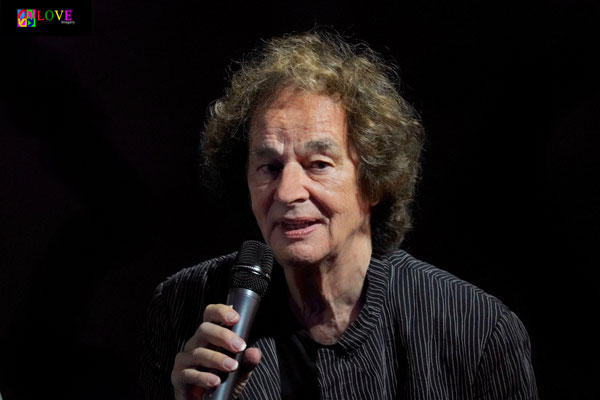 Continuing, "The good and great of the music business were all there; it was almost overwhelming," Blunstone explains, "We were playing to 17,000 people and being televised — now, we're a gigging band; we play all the time — but for something like that, it was an incredibly exciting evening."
Remarks Argent, "Sometimes, it's difficult to believe that other musicians like what you're doing, but that was special because your peer group voted for you."
When Conklin adds, "It was well-deserved — and a long time coming," the audience enthusiastically applauds.
Conklin asks the pair about their latest album — their excellent 2015 effort, Still Got That Hunger, inquiring about what the recording process was like.
Recalls Blunstone, "With this album, we had to tell our producer that we wanted to go back to the way we recorded in the '60s," before Argent discloses, "We had to convince him."
"There was no click track," explains Blunstone. "We played live and we sang live — the only thing we added later were the vocal harmonies."
"We wanted to do a live recording and thought we would only be replacing the solos," notes Argent, "but we didn't have to — we just did some touching up. We loved the feeling of everyone 'locking on' to what everyone else was doing — and we had a ball doing it."
Acknowledges Blunstone, "I like the energy when everyone is performing together. It really focuses your mind," before Argent notes, "I feel the records we made in the '60s had a much better structure. You had to make things absolutely right until you found something that really worked."
Conklin also asks Argent and Blunstone about the origins of their band, The Zombies, a group which they created in 1962 when they were both still teenagers.
Recalls Argent, "When I was in school, I heard my cousin, Jim Rodford's, band and I knew I needed to get into a band. Soon after, I wandered into a classroom and I heard a guy playing folk music on a guitar, and I asked him if he wanted to be in a band. I also listened to a group of drummers in the marching band and asked the one who kept the best time if he wanted to be in a band. Lastly, I asked my friend who just finished building his own bass if he'd like to be in a band, and he agreed, asking if his friend who played guitar could join, too. Within two weeks, we all met, and that was the band that gelled; we entered a competition and even beat my cousin Jim's band and ended up getting a recording contract."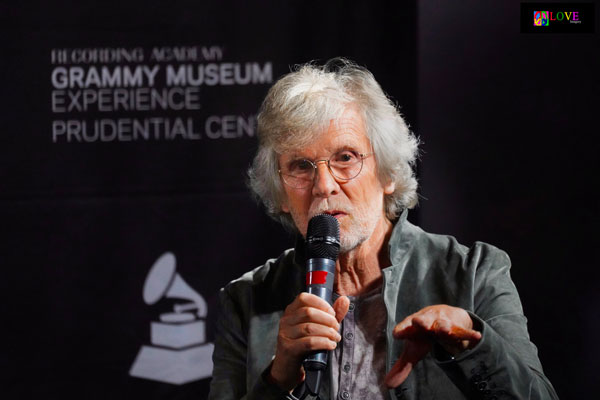 Conklin asks if any members of the audience have questions for The Zombies.
One attendee inquires how The Zombies initially got their name.
Responds Blunstone, "Originally, there were five people in the band — and four of them ended up staying. Before the fifth member — who was studying to be a doctor — left, he came up with the name. Before that we were called The Mustangs and, also, The Sundowners," noting, "You have to understand that back in those days, there was no zombie culture. I didn't know what a zombie was — and I'm not sure I still do today."
Argent chimes in with a story from the early days of the group when he discloses, "One time, I met Manfred Mann, and he said to me, "I love your record — but you've got to change that name!"
The audience chuckles and another attendee asks the pair, "How do you feel when another artist does one of your songs?"
Argent responds by noting, "It depends," before discussing Santana's rendition of his original composition,"She's Not There," saying, "That was the song that brought back his career. It knocked me out; it's a fabulous version. Hidden within the song is a Latin feeling, and he heard it and really brought it out."
Conklin thanks the members of the audience for their questions and, following a very short set-up period, introduces Blunstone and Argent to the crowd where they launch into a live performance of three Zombies' songs.
The pair opens with The Zombies' 1969 smash, "Time of the Season," a song from their influential 1968 album, Odessey and Oracle. As Argent plays the keyboard, Blunstone claps and "ahs" before the duo sings in crisp, clear harmony and impresses the audience in this up-close-and personal setting.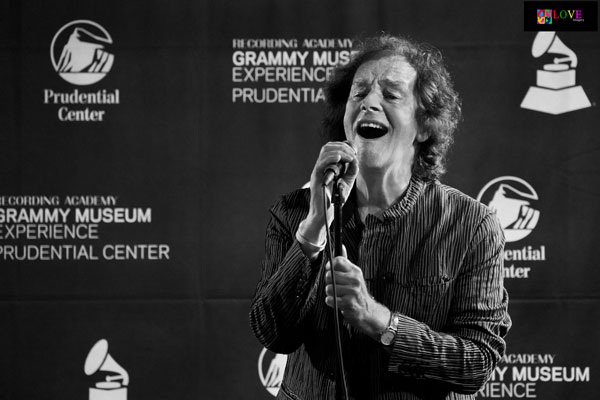 The appreciative crowd responds with avid applause and cheers.
Next up is a newer piece, "Edge of the Rainbow" from the group's Still Got That Hunger album. Blunstone's voice sails on this bluesy number as he's supported by Argent's background vocals and first-rate keyboard accompaniment skills.
Following enthusiastic cheers and applause, the duo performs The Zombies' first-ever recording — their 1962 Top 5 hit, "She's Not There." Blunstone's vocal is clear and strong as he croons, "But it's too late to say you're sorry/How would I know, why should I care?/Please don't bother trying to find her/She's not there." Argent's keyboard rocks as his intricate vocal harmony line supports Blunstone's iconic solid lead vocal.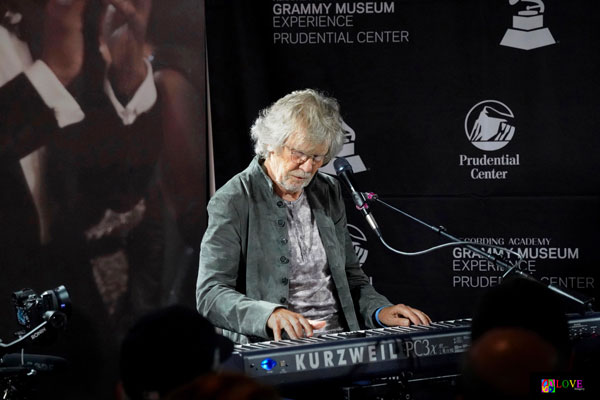 The music sounds timeless and alive in this intimate concert space, inspiring audience members to leap to their feet for The Zombies.
As music lovers take leave of the performance area and make their way over to enjoy other aspects of the GRAMMY Museum Experience, we take a moment to chat with director Mark Conklin, who tells us, "The An Evening With… series began here in Newark in June, and we have more events planned in the coming months" estimating that, going forward, there will be "two to three events each month."
Revealing that, here, in the GRAMMY Museum Experience live performance space, "there are seats for 80–100 people," Conklin suggests that it's possible that "some future events may be held a few blocks away at Newark's New Jersey Performing Arts Center" when demand from music lovers is at its peak.
We also chat with several program attendees who share their opinions of tonight's An Evening With… The Zombies conversation, Q&A, and concert event.
Comments Jorge from Jersey City, "This was a really great way to see The Zombies. It was held in a very intimate setting, and it was really interesting — for example, I had no idea that 'The Zombies' wasn't the group's original name."
Recalling, "I grew up listening to The Zombies on vinyl" — noting, "the records have a different crispness to them," in comparison to CDs or music streaming — Jorge reveals, "I even brought my 10-year old son, Joel, to this program, acknowledging, "He likes The Zombies music, too."
Comments Joel, "It was very cool," before Jorge concludes, "It really was a great family experience!"
James from Springfield remarks, "This was really a terrific program. It was educational, and it was also impressive to be so close to them!"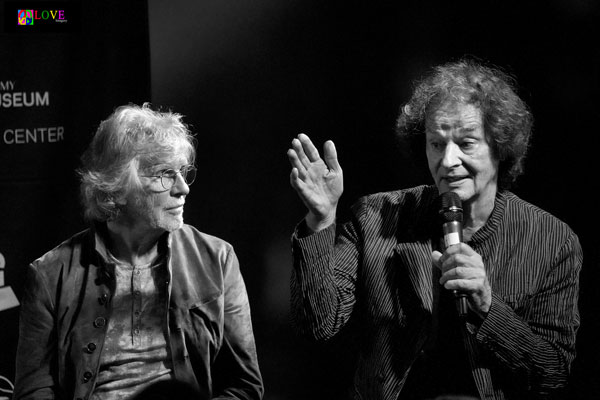 Joe from East Brunswick calls tonight's program by The Zombies, "Excellent." Explaining, "This format is a great way to experience the performers," Joe recalls, "I've been a fan of the band ever since I was a kid growing up." Commenting, "The interview portion was excellent," Joe adds, "And it was nice how they concluded it with a personal performance at the end."
Lastly, we chat with Sue from East Brunswick who calls An Evening With… The Zombies program tonight "Fantastic!"
Acknowledging, "Oh, yes, I'm a Zombies' fan!" Sue notes, "It really adds something special when you get to see these artists as people and not just as performers," before concluding, "And it's especially nice to see — up close and personal, no less — that they truly enjoy what they do!"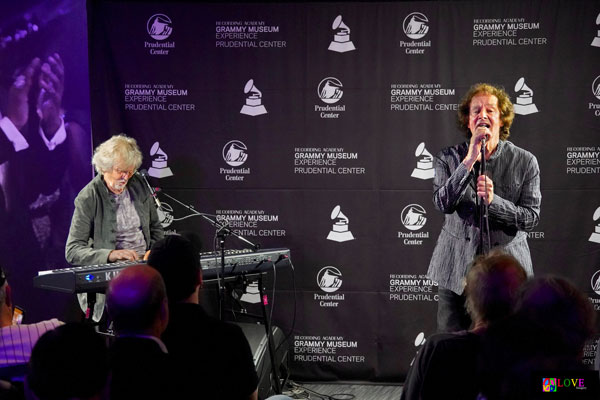 To find out more about The Zombies, please go to thezombiesmusic.com. For information on future events at Newark, NJ's GRAMMY Museum Experience Prudential Center — including An Evening With… Angélique Kidjo on September 10, 2019 and Woodstock: Fifty Years Down the Road, which runs until October 6, 2019 — please click on grammymuseumexp.org.
Photos by Love Imagery
Spotlight Central. Your source for Jersey entertainment news and reviews
Love Imagery Fine Art Photography. all you need. peace/love/flower/power