originally published: 09/01/2019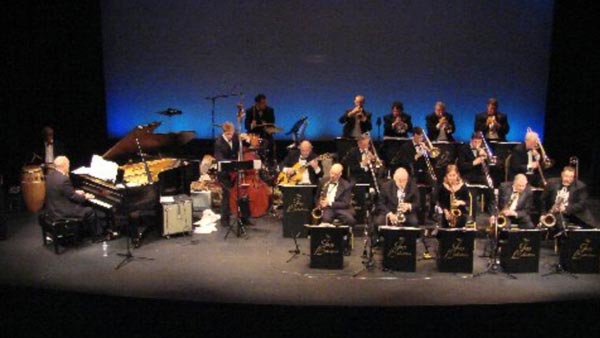 (TOMS RIVER, NJ) -- The Jazz Lobsters Big Band is coming out swinging! See the some of the finest musicians in the tri-state area as the Jazz Lobsters visit the main stage at the Jay and Linda Grunin Center for the Arts on Sunday, September 15 at 3:00pm. The show is part of the Grunin Center's Jazz on a Sunday Afternoon series. 
The Jazz Lobsters Big Band features the timeless music of Count Basie, Frank Sinatra, Benny Goodman, and Quincy Jones, as well as hip new arrangements – everything from 40s swing to hot Latin and salsa. 
Led by keyboardist and arranger James "King Salmon" Lafferty, the full-tilt big band is comprised of five saxes, four trumpets, four trombones, and the kickin' Lobster rhythm section. Hear the vocal stylings of the fantabulous Tony Corrao, the swinging Carrie Jackson, and velvet-toned Michael Andrews. Leading the Lobster sax section on alto and clarinet is "Mrs. Lobster" – Audrey Welber-Lafferty – who can really tear up Goodman's "Sing Sing Sing." Featured soloists include Matt Janiszewski, tenor; James Stewart, baritone sax and flute; Adam Machaskee, trombone, and Steve Varner, bass.
Tickets: Adults $24 / Seniors $20. * Jazz Club Subscription Eligible *
The Grunin Center is located on the OCC Main Campus, College Drive, Toms River, NJ.
---