originally published: 09/01/2019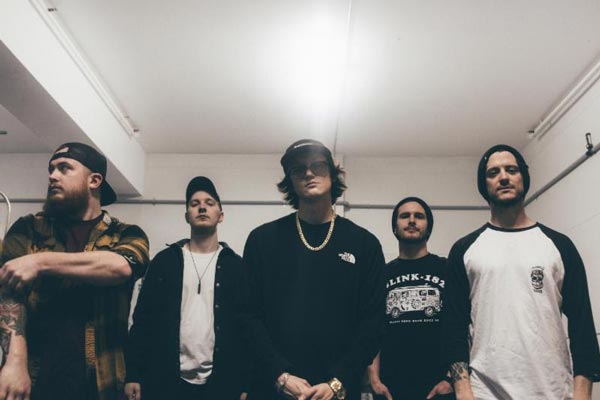 (EDMONTON, AB) -- Canadian quintet Calling All Captains has announced an upcoming co-headline tour with Summer Wars. The run kicks off in Lansing on October 20th, following a performance at Blackout Fest on October 19th. 
Earlier this year Calling All Captains released Nothing Grows Here, their Equal Vision Records. The EP features hit singles "Chasing Ghosts" and "Disconnected," and can be streamed now on Spotify and Apple Music. Fans can also purchase it online here.  Starting out in a small basement in St. Albert, lined with flags and posters of their favourite bands, Calling All Captains have been working tirelessly to grow their art since they formed in February of 2014. To date, the band has released three EP's - A Way With Words (2014), Disconnect (2016), and their latest,
The band has also set up and executed several self-funded tours to support them, fearlessly cutting their teeth to earn every inch of traction. "This is what we love, and this is what we want to do. So, we make it happen" shares bassist Nick Malychuk. After a brief break in 2017 and some lineup changes, Captains came back stronger and more determined than ever, steadfast in their resolve to continue writing and growing as people, and as artists.
From their single "Nerve" amassing 500,000 plays on Spotify as an unsigned band, to touring across Canada and the UK and landing a spot on the 2015 Vans Warped Tour, the band's relentless work ethic and reputation for their high energy shows have been a testament to their explosive growth. Calling All Captains have gone on to share the stage alongside acts like Silverstein, Seaway, Boston Manor, Broadside, Like Pacific and Rarity, and more.
With new music out now and even more shows on the way for this year, fans can expect big things.
---
The article continues after this ad
---
---
Calling All Captains is Luc Gauthier (vocals), Brad Bremner (guitar), Connor Dawkins (guitar), Nick Malychuk (bass), and Tim Wilson (drums).
---
Upcoming Shows:
10/19 - Brantford, ON @ Blackout Fest
10/20 - Lansing, MI @ Mac's Bar
10/22 - Chicago, IL @ The WC Social Club
10/23 - Minneapolis, MN @ The Garage
10/24 - Fargo, ND @ Th Aquarium
10/26 - Calgary, AB @ Broken City
10/27 - Edmonton, AB @ Temple
10/30 - Seattle, WA @ The Crocodile (Back Bar)
10/31 - Portland, OR @ The Waypost
11/2 - Los Angeles, CA @ The Hi Hat
11/3 - Phoenix, AZ @ Pub Rock
11/5 - Denton, TX @ J&J Pizza
11/6 - Austin, TX @ 512 Thompson
11/9 - Columbia, SC @ New Brookland Tavern
11/10 - Garner, NC @ Kaboom Art Gallery