originally published: 08/29/2019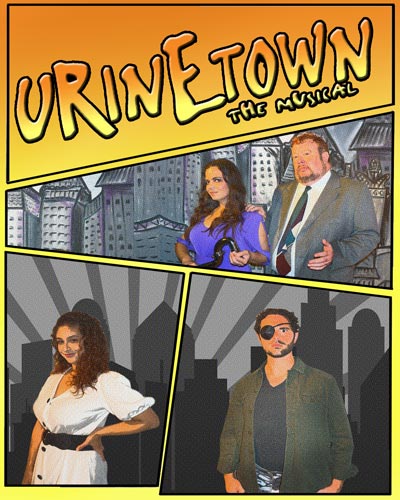 (HILLSBOROUGH, NJ) -- Somerset Valley Players will present Urinetown from September 6-22. First things first for audiences when it comes to Urinetown and it's the name.  Director and choreographer Genevieve Estanislau acknowledges it's something she hears often. "The script itself constantly pokes fun of the title throughout the show.  Despite the potty language in the title, the show doesn't use profanity and is incredibly smart and witty."
Urinetown premiered on Broadway in 2001 and won praise as a sidesplitting satire of big business, greed, and musicals themselves.  The plot tells the uproarious tale of a city where a water shortage has resulted in private restrooms becoming pay-to-go public toilets.  When the residents find a leader in their midst, they stand up for themselves and their right to go their own way. 
"The premise of the show came from a European trip, where the writers, Mark Hollmann and Greg Kotis, found themselves paying to use restrooms.  They took their experience to comic extremes and added wonderfully archetypal characters, resulting in non-stop laughs."
Urinetown has had a loyal cult following as well as commercial success. "The show is accessible to all types of audiences," explains Estanislau. "Mainstream audiences enjoy the clever and relevant cautionary tale as told by hilarious characters.  Die-hard theatre enthusiasts love the in-show parodies of classic American musicals."
Estanislau's vision for creating Urinetown's crazy universe is to set it in a "Gotham-like" city.  "I'm a huge fan of late 70s-early 90s action/adventure movies," she states.  "The aesthetic we're using is very 'comic-book-esque' and fits the show perfectly.  We have a tremendous creative team who's having fun bringing this madcap world to life." 
---
The article continues after this ad
---
---
Produced by Todd R. Bennington, musical direction by Anthony 'Coop' Competello, and stage managed by Rob Langer, Urinetown runs September 6-22 at the Somerset Valley Players theater on 689 Amwell Road (Route 514) in Hillsborough. Friday and Saturday performances begin at 8:00pm.  Sunday matinees start at 2:00pm. The theater is air conditioned, barrier free and wheelchair accessible.