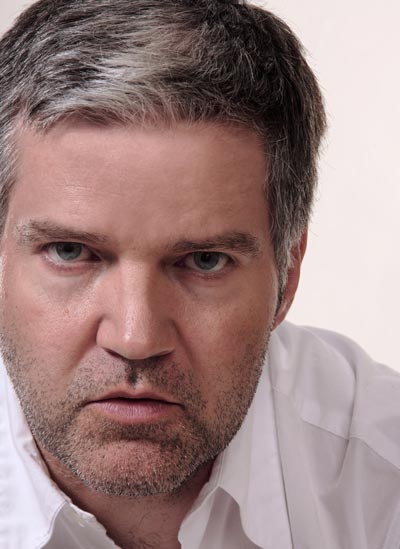 (MONTCLAIR, NJ) -- Outpost in the Burbs presents Lloyd Cole on September 13th in its fall season-opener.  The concert will take place at 8:00pm (doors are at 7:30pm) at the First Congregational Church, 40 S. Fullerton Avenue.  This show will showcase songs new and old. His brand new album Guesswork was released on July 26, 2019. 
Since the instant success of his 1984 debut Rattlesnakes with his first band The Commotions, Lloyd Cole has continued to reinvent his career chapter after chapter. Born in Buxton, England, the songwriter formed the band while at Glasgow University, which he eventually left in pursuit of his glittering highly articulate music in the 1980s post-punk landscape. After two more albums and much touring, Cole moved to New York and released the first of many solo records, all with a healthy spirit of reinvention.
The late 90's found Cole pulled in multiple directions, which resulted in the formation of a new band, The Negatives, including Commotions guitarist Neil Clark and songwriter Jill Sobule among others. With this new outfit, Cole expanded his oeuvre, featuring many guest collaborations on The Negatives self-titled debut (2000), as well as incorporating many covers into their touring repertoire. Undoubtedly, this would not only serve to broaden their palette, but also reflected back onto the strength of Cole's own songs. Ever in many directions, Cole released two additional albums in 2001: the final incarnation of a long-awaited 1996 solo album etc as well as an album of instrumental synthesizer music Plastic and Wood, somehow alongside all of the touring.
Since then, Cole has continued to expand his format: touring constantly, making albums of various stripe including live concert recordings, reuniting with the Commotions for a 20th anniversary tour & re-release, as well as releasing archival collections of earlier heard & unheard music. A highlight among them, Cole dug into the realm of modular synthesizers for an instrumental collaboration with Austrian musician Hans Joachim Roedelius, who created an unsolicited remix of Plastic and Wood back in 2002. Their duo record Selected Studies came out in 2013 to resounding acclaim. His most recent original work, Standards, finds Cole continuing his exploration of the vocal song form, which The Independent, No Depression, American Songwriter have unanimously praised as his best work yet.
As well, UMG has reissued Lloyd Cole and the Commotions Collected Recordings 1983 -1989 and Lloyd Cole in New York 1988 - 1996, and Bureau B has released a collection of Cole's unheard solo electronic experiments from the making Selected Studies called 1D - Electronics 2012-2014.
---
The article continues after this ad
---
---
Tickets can be purchased at Watchung Booksellers, 54 Fairfield Street, Montclair (973-744-7177), via a SASE sent to Outpost in the Burbs, 40 S. Fullerton Avenue, or online at TicketLeap. 
Outpost in the Burbs is an all-volunteer nonprofit outreach organization in Montclair dedicated to building community through music, community service, and cultural events.  For over 30 years, the Outpost has presented more than 450 concerts by internationally known artists such as Judy Collins, Roger McGuinn,, Jorma Kaukonen, Jimmy Webb, Richie Havens, J.D. Souther, The Jayhawks, Nick Lowe,  and Dar Williams.  In addition to promoting and staffing concerts, Outpost volunteers have donated many hours of their time through programs affiliated with Habitat for Humanity, Toys for Tots, the Human Needs Food Pantry of Montclair, the Community Food Bank of N.J., Dress for Success, MESH (Montclair Emergency Services for the Homeless),  and a soup kitchen run by Outpost volunteers in Orange, NJ.