originally published: 08/20/2019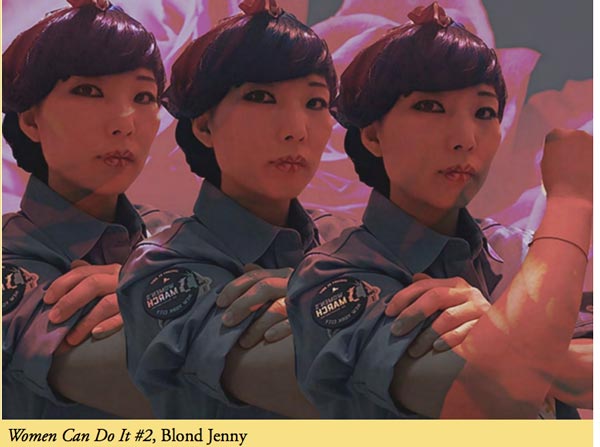 (JERSEY CITY, NJ) -- The Hudson County Community College (HCCC) Department of Cultural Affairs begins its Fall 2019 season with "Pow(h)er" -- an all-women, contemporary exhibition honors the women's equality movement. The exhibition also marks the beginning of the College's year-long programming celebrating the Women's Suffrage movement and 100th anniversary of the passage of the 19th amendment, which guarantees and protects women's constitutional right to vote.  It is on display now through Tuesday, September 24, 2019, in the College's Dineen Hull Gallery.
"Pow(h)er" is curated by HCCC Director of Cultural Affairs Michelle Vitale and Jersey City resident and curator Kristin J. DeAngelis. The exhibition showcases 13 fierce female artists of New Jersey. It illuminates the extraordinary creativity of the participating artists whose works focus on women's issues including immigration, fertility, LGBT, the body, and more. The artists include Caroline Burton and Jan Huling, both of whom recently exhibited at the Montclair Art Museum; Trix Rosen, whose photography was featured at MOMA in 2018; Ekaterina Abramova, Pam Cooper, Jodie Fink, Blond Jenny, Donna Kessinger, Lucy Rovetto, Theda Sandiford, Leslie Sheryll, Zoë Sua Kay, and Judy Wukitsch.
The "Pow(h)er" exhibition is on display in the College's Dineen Hull Gallery, 71 Sip Avenue in Jersey City, NJ.  The Gallery will participate in JC Fridays, Jersey City's citywide celebration of the arts, on September 6 from 11:00am to 5:00pm. On Friday, September 24 at noon, there will be a 50-minute yoga session with Jamie Wilson Murray of Mindful Play Yoga. The closing reception for the exhibition from 4:00pm to 7:00pm that evening will feature a performance by HCCC Professor and vibraphonist Eldad Tarmu and his jazz ensemble. Light refreshments will be served. There is no charge for admission to the exhibition or any of the accompanying events. Photo identification must be shown when entering the HCCC campus.
Additional programs celebrating the centennial of the Women's Suffrage movement are planned in partnership with the Jersey City Public Schools, Jersey City Office of Cultural Affairs, and Mindful Play Yoga. 
The HCCC Department of Cultural Affairs welcomes Hudson County community members, organizations, businesses, and school groups to enjoy our cultural programs at the College. Groups of 6 to 30 visitors are invited to a FREE 45-minute tour of our current fall exhibition in the Dineen Hull Gallery. To schedule a tour, contact Michelle Vitale at mvitale@hccc.com or call 201-360-4182. 
---
The article continues after this ad
---
---
The HCCC Dineen Hull Gallery Summer Hours (now through September 4) are Monday through Thursday, 11:00am to 5:00pm; closed Friday, Saturday, Sunday and Labor Day. Fall Gallery Hours (after September 4) are Monday through Saturday, 11:00am to 5:00pm; Tuesday, 11:00am – 8:00pm; closed Sunday and holidays.