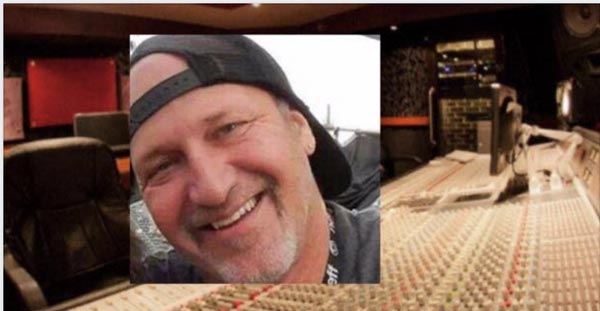 (ASBURY PARK, NJ) -- David Royce Aron, who was born and raised in Asbury Park, died on March 11, 2019. His career included being a successful American recording engineer, live and studio mixer, record producer, and musician under the name Dave Dizzle. His life will be celebrated on Tuesday, August 27, 2019 from 7:00pm to 10:00pm at the Wonder Bar in Asbury Park where the DJ will spin Dave's discography as everyone celebrates his wonderful life and family.
Dave was the most illustrious graduate of Asbury Park High School, Blue Bishop class of 1982, where he played football and was the pride of his classmates. He was a prolific musician in Asbury Park excelling in clarinet, saxophone and bass.  He could always be found down the beach in the heady car days of the Asbury Park circuit.  
At the age of 22, Dave took over recordings at Sun Studios in Memphis Tennessee, The Birth Place of Rock n Roll, where he made recordings for acts such as U2, then later went to the famed Larrabee Sound Studios where he recorded for other great acts such as Prince. Dave later formed Hollywood Way Studios in Burbank, California.  
During his career, he crossed paths and recorded many other great acts such as Sublime, Moe and Bobby Brown, but Dave's biggest success is as the legend he became in the Hip Hop recording industry.  Some of the famed acts he mixed and recorded are: Snoop Dogg, Tupac Shakur, The Notorious B.I.G., Nate Dogg, Dr. Dre, T.I., Wu-Tang Clan, Lil' Kim and many more. 
Dave's discography shows he also did mixing and recording for the acclaimed Death Row Records.  The album All Eyez on Me, often considered the most important Hip Hop album ever released that Dave engineered for Tupac, has been certified "Diamond" by the Recording Industry Association of America.  
---
The article continues after this ad
---
---
Dave developed a particularly close relationship with Snoop Dogg, who he ran sound for in live concerts all over the world.
While the world will forever celebrate the star "Dave Dizzle," here in Asbury Park we are going to celebrate our friend, our brother, our Blue Bishop, the person that will always be our local boy, David Royce Aron.
The Wonder Bar is located at 1213 Ocean Avenue in Asbury Park, New Jersey.