originally published: 08/14/2019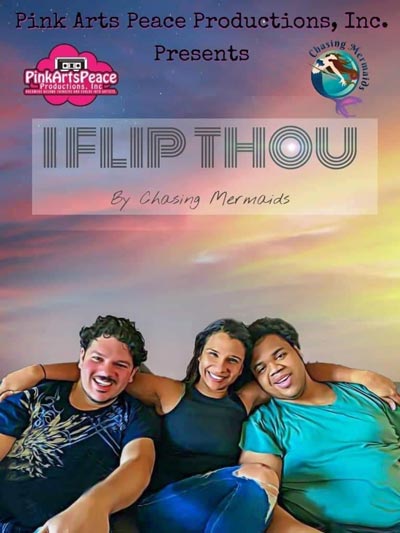 (LYNDHURST, NJ) -- Pink Arts Peace Productions, Inc. Presents the release of "I Flip Thou" - the debut single by Chasing Mermaids - on Friday, August 30 at Mickey's Bar & Grille in Lyndhurst. Showtime is 9:00pm.
"I Flip Thou" will be played by Chasing Mermaids, a band comprised of composer/songwriter DJM and rappers/lyricists Big Mike the Emcee, Paradox, and Sunny D on the Mic.
Paradox says, "I love expressing myself through music in a way that is both positive and also real. Music is a relief, a passion, and also one of the most powerful art forms there is. I wrote my verse to 'I Flip Though' as part of a collaboration of artists looking to Express themselves."
The music for the single 'I Flip Thou', composed by DJM, was inspired by the feeling of being underappreciated and overlooked. DJM says, "Making music has been evolving from a hobby since high school and only recently have I started experimenting with synthesizers and beat making. With an industry that has lost much of its emphasis on meaning and artistry, what's needed is for outsiders with passion to stand as reminders of what has been lost."
Big Mike the Emcee recounts what emoted for him at the studio. "The rhythm inspired the inflections, and the rapper persona of a cross between Batman and the Count of Monte Cristo. Always loved the motif of an avenger and hero. Much of it was random and spur of the moment." What resonates the most with the PAPPI mission and vision is what Big Mike the Emcee says about the recurring theme in his music and writing. "My music and writing is giving voice to those without the confidence to do so."
---
The article continues after this ad
---
---
Mickey's Bar & Grille is located at 601 Riverside Avenue in Lyndhurst, New Jersey. Tickets for the release party are $40 and are available for purchase online.
Actress and PAPPI Founder Sunflower Duran says, "I wrote the song 'I Flip Thou' alongside DJM amidst producing the state page 2 Faces One Mirror. This was a busy time for me embarking on a new endeavor as Producer. I was feeling chaotic at the time and was vacillating between the responsibility of bringing a writer's complete work of Art to the stage as a Producer and completely losing my wit. The feeling I felt was: just because I am a woman with power and dignity doing honorable things, don't think I'm not one to go batshit crazy and completely lose my mind. The lyrics just came to me. You know that I have class as you know that I have grace, so you're often so surprised when I come up to your face, cuz I flip thou. And I just went with it."
PAPPI will be also be releasing an album titled Boys with a launch date TBD. You can follow PAPPI on Instagram and Facebook @pinkartspeace and Founder Sunflower Duran @sunflowerduran.
PAPPI is the Art production company that provides a growing platform for new Artists to showcase their talent to the world. By availing them with the team and the resources they need to nurture the Artist within and grow their potential, they help them embark on the journey of creating and, ultimately, bringing their Art to life. Their all-inclusive platform will enable new Artists to live their dreams of creating, promoting, and exhibiting their Art to the world. Most importantly, it will empower them to come out of their shells and be Artists.