originally published: 08/14/2019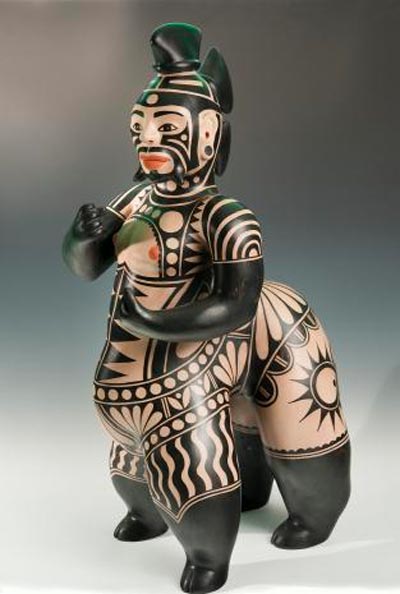 (MONTCLAIR, NJ) -- Virgil Ortiz: Odyssey of the Venutian Soldiers, a new exhibition at the Montclair Art Museum (MAM), showcases a striking light-infused wall mural and dramatic videos created by famed Pueblo artist, Virgil Ortiz. A number of Oritz's exquisite ceramic vessels and figurines, on which the artist painted comic-book and sci-fi imagery that shows a heavy influence of contemporary art, are also on view. The exhibition is open at MAM September 14, 2019 through June 21, 2020. 
Through his work, the past and future come alive as Ortiz tells the story of the Pueblo Revolt of 1680, an important Native historical event, and blends it with a series of sci-fi fantasy stories that include a cast of imaginary characters. For the exhibition at MAM, Ortiz designed a mural that features a parade of Venutian Soldiers, sci-fi superheroes living in the year 2180 (500 years after the Pueblo Revolt) possessing extraordinary strength and magical powers. They are faced with the devastation of their environment by their enemies and march along wearing gas masks and oxygen tanks in search of a new homeland where they can preserve a traditional Pueblo way of life.
At the forefront of a contemporary era of Native art that is sweeping the country, Virgil Ortiz (b.1969), works in a wide variety of mediums: ceramics, graphic art, blown glass, painting, photography, multimedia, and high fashion. Born at Cochiti Pueblo, located between Santa Fe and Albuquerque, New Mexico, Ortiz still lives and works in Cochiti. He hails from a celebrated family of potters, and was taught the art at a young age by his famed grandmother and mother. The family was involved in all the essential activities of pottery making: digging local clays, gathering wild spinach plants used for painting pottery with black designs, and Native outdoor firing techniques.
Ortiz continues the tradition of creating figurative pottery that had for some time died out. After years of experimentation, Ortiz has moved past his early static figures to those showing action. His figurative forms have also grown in size as he has learned how to create much larger ones that are stable and structurally sound.
Combining with his life-long passion for science fiction (he credits seeing Star Wars at an early age), his pottery figurines are players in his futuristic stories. His narrative transports visitors back more than 300 years to the 1680 Pueblo Revolt and then speeds forward through time to the year 2180. Ortiz introduces superhero characters such as the Venutian Soldiers, Tahu and her army of Blind Archers and Aeronauts, who all help the historical leaders of the 1680 Pueblo Revolt fight once again against the Castilian army. His work is very popular with younger audiences who share his love of fantasy characters, helping to build new supporters of the arts.
---
The article continues after this ad
---
---
"My mission of nearly two decades has been to create a narrative of the revolt utilizing the various mediums in which I work," said Ortiz. "I want to make it interesting and relevant to the next generation. I want them to understand our history, how we survived genocide, and how our ancestors kept our art traditions and ceremonies intact."
The exhibition's presentation at the Montclair Art Museum is coordinated by Pamela Jardine, MAM guest curator. The Virgil Ortiz: Odyssey of the Venutian Soldiers exhibition is located in the Laurie Art Stairway and Rand Gallery.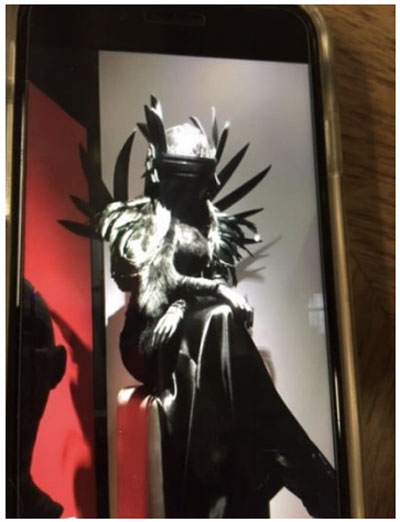 1680 Pueblo Revolt: The History
By 1300 CE, ancestors of modern Pueblo Indians settled in approximately 80 independent pueblos—Spanish word for towns—scattered along the Rio Grande in present day New Mexico. They lived peacefully, except for sporadic raids of nomadic tribes, until Spanish conquerors and missionaries came in search of gold for the Spanish Crown and Native souls to convert to Christianity in the mid–1500s. Pueblos fought against these invaders but were overpowered by their military might. In 1598, Spaniards established their first colony and claimed authority over Native people.
Living under Spanish colonial rule, Pueblo people endured religious persecution, forced labor, extreme physical abuse, and loss of their lands. Finally, in 1680, when living conditions worsened due to a prolonged drought and famine, Pueblos launched the great Pueblo Revolt, a rebellion sometimes called the first American Revolution.
A charismatic Pueblo leader named Po'Pay devised a strategy to overthrow Spaniards with a surprise attack. Po'Pay enlisted the help of messengers who secretly carried ropes tied in recurring knots to pueblo leaders with instructions to untie a knot every day. The last knot signaled it was time for a united uprising.
Fierce fighting led to the deaths of hundreds of Spanish colonials. Among those killed were 20 Franciscan friars who were targeted for their role in religious persecution. For days, Pueblo rebels encircled Santa Fe, where survivors had sought refuge, until they allowed thousands of them to flee.
---
Related Programs
The Vance Wall Art Education Center at MAM will present a series of programs and art classes for all ages in conjunction with the special exhibition of Virgil Ortiz: Odyssey of the Venutian Soldiers.
MAM CONVERSATIONS: Virgil Ortiz and Mike Marino in Dialogue
5th Annual Gaelen Artist Lecture
Thursday, March 19, 7:30 pm
FREE for members / $15 nonmembers/ $5 students with ID



Join artists Virgil Ortiz and Mike Marino as they discuss the use of special makeup effects, prosthetics, and more used in fine arts, as well as film and television



Gallery Interpretation: Character Cards



Artist Virgil Ortiz creates futuristic worlds full of mysterious warriors that blend the past and the future. Find out more about these warriors by picking up MAM's collectible Character Cards in the galleries



Family Day: Parent/Child Costume Making
Saturday, October 5, 2:00-4:00 pm
$60 members/ $80 nonmember



Trick or treat in style this year! Inspired by the artwork of exhibiting artist Virgil Ortiz, participants will design and create their own costume. Come prepared with a character idea, and create an original costume using cardboard, fabric, yarn, paint and other materials. All ages welcome



Art Class: Fab Lab, Future Worlds (ages 8-12)
Wednesdays, 4:00-5:00 pm, September 18 through November 20
$245 members/ $275 nonmembers



Inspired by the artwork of exhibiting artist Virgil Ortiz, students will create their own future worlds using a variety of mixed media materials and techniques such as drawing, painting, printmaking, assemblage and sculpture. Students learn how different mediums interact and experiment to find their own voice in creating one-of-a-kind works of art



Art Class: Special Effects for Teens
Mondays, 4:30-6:30 pm, September 16 through November 18
$280 members/ $310 nonmembers
Visual effects enable filmmakers to create virtual worlds and fantastic stories that push the boundaries of imagination. From the surreal and the absurd to the fantastical and dreamlike, students develop and produce a series of original short films while putting into practice a set of foundational production tools such as green screen, masking, matte painting, compositing and other visual effects techniques.
Art Class: Illustration for Teens
Mondays, 4:30-6:00 pm, September 16 through November 18
$260 members/ $290 nonmembers
Bring your characters to life! This class will teach students how to create original illustrations using a variety of materials bring characters to life by gathering information about the human figure and anatomy from life drawing. 
Art Class: Introduction to Visual Effects for Adults
Wednesdays: 7:00-9:30 pm, September 18 through October 16
$150 members/ $170 nonmembers
This course offers an overview of the fundamentals of visual effects production for moving image works – videos, films, TV shows. Students explore the history and language of special effects through a series of hands-on projects. Achieve both practical and digital special effects, including basic jump cutting, masking, matting, chroma keying, compositing and motion graphics.
---
The Montclair Art Museum (MAM), located at 3 South Mountain Avenue in Montclair, boasts a renowned collection of American and Native American art that uniquely highlights art making in the United States over the last 300 years. The Vance Wall Art Education Center encompasses all the Museum's educational efforts, including award-winning Yard School of Art studio classes, lectures and talks, family events, tours, and the mobile MAM Art Truck. MAM exhibitions and programs serve a wide public of all ages, from families and seniors to artists, educators, and scholars.
IMAGES: (Top) Virgil Ortiz (b. 1969) Southwest, Cochiti Pueblo Ceramic Figurine, Kade, Cacique of the Horseman Tribe, 2017 Cochiti clays, slips, wild spinach pigment 27 x 11 x 15 in. Museum purchase; Acquisition Fund 2018.8
(Bottom) Virgil Ortiz (b. 1969) Aeronaut Theatrical Costume, 2010 Leather, feathers, fur, and foam fabrication, satin (dress and gloves), synthetic hair, crushed aluminum glitter surface detail. Mannequin: fiberglass and resin Approx. 51 x 25 x 25 in. Courtesy of Virgil Ortiz