originally published: 08/14/2019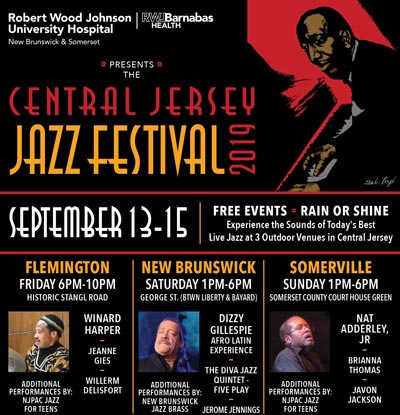 This week also features Stone Temple Pilots, The New Bardots, The Parlor Mob, Abbey Road 50th Anniversary Tribute, Asbury Park Music Foundation, Hip Hop Institute, Promise, Remember Jones, Dinosaur Stampede, Dw Dunphy. BlowUp Radio's Banding Together Spondylitis Benefit, Asbury Park Porchfest, Amanda Rose Riley, Minor Setback, NJ Weedman's Joint, Karyn Kuhl Band, Rick Barry, Glen Burtnik's Summer of Love, Joe Nevolo and The Afraid Brigade.
Seventh Annual Central Jersey Jazz Festival, an unprecedented partnership of three county seats, will take place Sept. 13 in Flemington, Sept. 14 in New Brunswick and Sept. 15 in Somerville. The free three-day, mega-musical event will kick off with renowned drummer Winard Harper, a child prodigy who studied at the Conservatory of the University of Cincinnati and Howard University, before being awarded a scholarship to study under the guidance of the late Jackie McLean at the University of Hartford. Upon graduation, Winard's first gig was with the legendary Dexter Gordon ("'Round Midnight"). Ever since, Harper has been an in-demand bandleader and sideman.
NYC-based singer songwriter Jeanne Gies holds the second spot on the bill. She has toured in Scotland, France, Germany, England, Austria, Italy, and Brazil. Gies is recognized for her full-bodied, emotionally expressive voice and distinctive phrasing. Opening the show will be rising star pianist-organist-composer Willerm Delisfort, a versatile fusion of jazz, gospel, R&B, hip hop, soul and more. NJPAC Jazz for Teens will perform between sets.
On Sept. 14, Dizzy Gillespie Afro Latin Experience, led by the late jazz great's bassist John Lee will headline the all-star New Brunswick arm of the festival. The group's musicians will include trumpeter Freddie Hendrix, saxophonist Sharel Cassity, Brazilian pianist-vocalist Abelita Mateus and drummer Tommy Campbell. New Brunswick's lineup also includes FIVE PLAY, the sister group of the world-renowned DIVA Jazz Orchestra. FIVE PLAY, Helmed by drummer-music director Sherrie Maricle, FIVE PLAY includes pianist Tomoko Ohno, bassist Noriko Ueda, trumpeter Jami Dauber, and saxophonist-clarinetist Janelle Reichman. Dynamic drummer Jerome Jennings will open the New Brunswick show. Performing, touring and being resident conductor of the Julliard Jazz Orchestra keep Jennings active on the international jazz scene. His debut recording, "The Beast," was named one of the top three jazz releases by National Public Radio and was nominated for the prestigious French Grand Prix du Disque award for 2016 Album of the Year. The New Brunswick Jazz Brass will get the afternoon off to a swinging start and keep the music going between main stage performers.
The Somerville Jazz Festival, which evolved to become the Central Jersey Jazz Festival seven years ago, started in 2009, and in this, its 10th year, Somerville is bringing back three favorites. On Sept. 15, the weekend will culminate with pianist Nat Adderley Jr. topping the bill. Adderley is the son of Nat Sr. and nephew "Cannonball," both jazz greats. He is best known for his work with Luther Vandross having served as his musical director for 24 years until his 2005 death. He wrote "The Wave" for Kirk Whalum, arranged Natalie Cole's 1987 hit, "When I Fall In Love," and arranged most of Aretha Franklin's album "Jump To It." Sunday's lineup also includes tenor saxophonist Javon Jackson, who came to international prominence touring and recording as a member of Art Blakey and the Jazz Messengers. One of the most talented young vocalists on the scene today, Brian Thomas opens the show in Somerville. Thomas has performed with jazz greats Wycliffe Gordon, Wynton Marsalis, Russell Malone, Count Basie Orchestra, and Dianne Reeves. On the Somerville Courthouse steps, NJPAC Jazz for Teens will keep things going between sets.
Central Jersey Jazz Festival will honor the 125th birthday of New Brunswick-bred stride piano pioneer James P. Johnson, composer of "The Charleston" and other standards of the Roaring Twenties and the Golden Age of Jazz. Festival co-organizer New Brunswick Jazz Project also will honor Johnson with one of the inaugural events of the soon-to-open New Brunswick Performing Arts Center on Sept. 8 with a free tribute performance by pianist Aaron Diehl.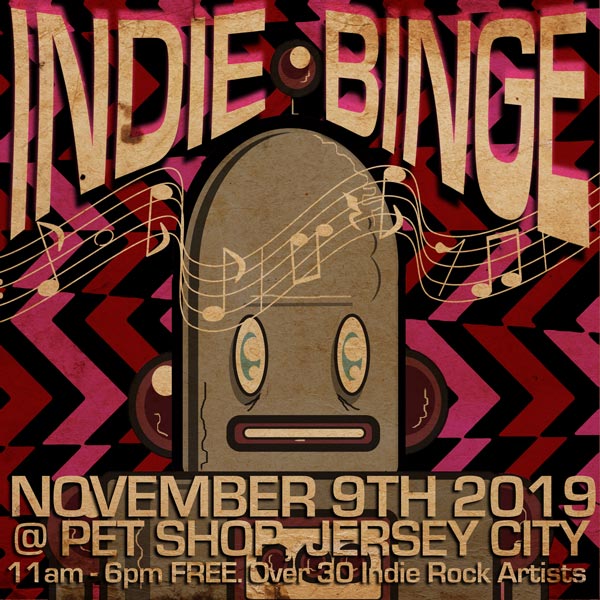 Mint 400 Records has set out on a new venture called Indie Binge, which will take place Nov. 9 at Pet Shop Bar in Jersey City. The free event will include 30 bands on three stages in a showcase for music industry reps. The venue has a beer and wine menu, as well as great bar and vegetarian food that will be sold throughout Indie Binge. Stay tuned for more details.
Summer is winding down at The Stone Pony, but there are still plenty of hot shows, including Stone Temple Pilots featuring two fellas with whom I grew up in Point Pleasant Beach: guitarist Dean and bassist Bobby DeLeo. They'll rock the Pony Summer Stage with what is sure to be a hometown crowd on Sept. 15. Opening will be Rival Sons, a funky roots band from Nashville via Long Beach, Calif.
Other hot Pony shows include Squeeze, They Might Be Giants and a local band called The New Bardots on Aug. 22 on the Pony Summer Stage. Together 50 years, British alt-popsters Squeeze sound as good as ever, and it's been a while since TMBG have played Jersey, so it will be interesting to see what they are up to. The New Bardots are a local super group featuring Rockids mates Wayne Oliveri and Gar Francis together again and backed by Oliver's Twist bassist Dan Skye, drummer Johnny Rago and keyboardist John Croot Jr. Released on Francis' Bongo Boy Records, The New Bardots debut album, "French Kisses," was co-produced by Francis and Skye, who recorded it Skye at his Skylab Recording Studio in Roosevelt.
The Parlor Mob also have a new record, "Dark Hour," dropping Aug. 16. A month-long national tour with fellow Asbury rockers Deal Casino will culminate on Oct. 25 at the Pony. Other area dates include Oct. 22 at World Café Live in Philadelphia. Look for a Makin Waves Record of the Week soon and an interview not too long after that.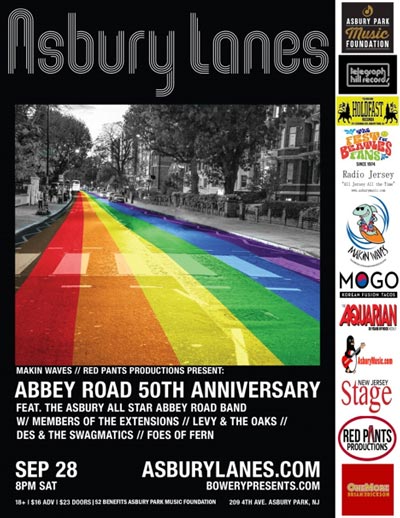 Makin Waves and Red Pants Productions will present The Abbey Road 50th Anniversary Tribute featuring the Asbury All Star Abbey Road Band with members of The Extensions, Levy & the Oaks, Des & the Swagmatics, Foes of Fern, The Paper Jets, The Vaughns and much more. Led by Red Pants' Brian Erickson of The Extensions and "OneMore with Brian Erickson," the All Stars will recreate the beloved album in its entirety. That not-to-miss set, which will be recorded on audio and video by co-sponsor Telegraph Hill Records, will be sandwiched by sets by label acts Foes of Fern, Levy & the Oaks and Des & the Swagmatics. Look for interviews with Brian and Levy & the Oaks here soon.
The show coincides with a 50th anniversary box set that will be part of a charity gift basket whose sponsors will include Hold Fast Records and Makin Waves. The gift basket will be silent auctioned at the event to benefit Asbury Park Music Foundation, an event sponsor who graciously donated rehearsal space for the All Stars. AMPF also will benefit $2 from each ticket, as well as from a free both where they will sell their T-shirts and other merch. Other sponsors include New Jersey Stage, AsburyMusic.com, "Radio Jersey," MOGO Tacos, The Aquarian Weekly, and "OneMore with Brian Erickson."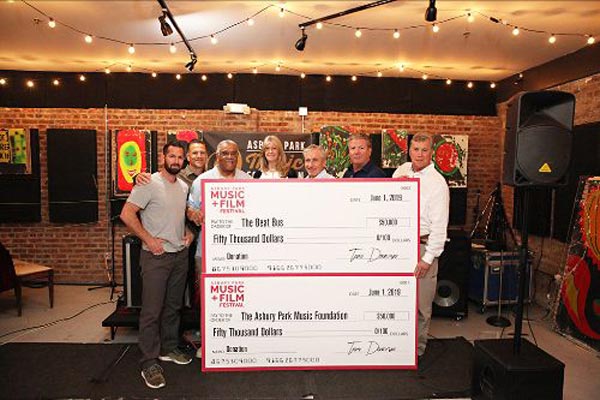 APMFF Board Members Tom Donovan, Tom Bernard and Adam Block present two checks from Asbury Park Music + Film Festival totaling $100,000 to APMF Board Members Jon Leidersdorff, Dorian Parreott, Eileen Chapman and Jim Lenskold. PHOTO COURTESY OF APMF
Asbury Park Music Foundation provides music-based programs, events and resources that generate opportunities for youth, artists and community to succeed and build on Asbury's legacy as a thriving, music-rich city by the sea. Funds raised by APMF support youth music programs, including the Hip Hop Institute at the Boys & Girls Club of Monmouth County, in-school music classes at Hope Academy, after-school music classes at Our Lady of Mount Carmel School and Asbury Park public schools, and scholarships for under-served youth to attend the Lakehouse Academy. Asbury Park Music + Film Festival recently contributed $100,000 to support Music Saved My Life youth music education initiatives, a partnership between APMF and Lakehouse Music Academy. APMFF Board Members Tom Donovan, Tom Bernard and Adam Block presented two checks to APMF: $50,000 earmarked for the Beat Bus, the state-of-the-art mobile operating studio that made its debut at the 2018 film festival and has provided music training to more than 3,500 children in its first year, and $50,000 to further the mission of providing under-served youth with life-changing music education. The latter funds will support the after-school program at Our Lady of Mount Carmel School in Asbury, scholarships to summer music camps and other youth programs. The Asbury Park Music + Film Festival was launched in 2015 by the Asbury Park Music Foundation. APMFF has been a top fundraising source every year.
The Asbury Park Music Foundation has experienced significant growth in the past year, thanks to the increased funding from APMFF and new events, such as the A Very Asbury Holiday Show. Corporate sponsors, foundations and individual donors have made it possible to impact hundreds of children annually. APMF Board Chairman Jim Lenskold said, "Students learn more than music as they build confidence and forge relationships across income levels and ethnic backgrounds. New youth programs and partnerships with organizations such as the Boys & Girls Club of Monmouth are extending the reach throughout Monmouth County."
One of those programs, The Hip Hop Institute, recently dropped "Illlusions Mixtape Volume 2," a compilation of its student rappers. "This is a gift," said Institute supporter Jon Leidersdorff, owner of Lakehouse Music Academy and Studios. "The young people and staff from the HHI are so impressive. I've been to the live shows and the support and warmth that they have for each other is amazing. They have a powerful community of their own. The stories in their music and poetry is clever and always seems to have a positive view. The quality of the recordings and performances continue to get better. They are teaching each other how to use the technology and at the same time, mentoring each other about life and art. I see the results from the gifts, donations and time and effort from all. This is just the beginning! I can feel where this is going."
Recent Hip Hop Institute graduate Promise recently released her self-produced six-song debut EP, "Ambition," which chronicles her musical dream and plans to pursue them. The Neptune-raised rapper will live up to that title during her freshman year this fall as a record technology major at Hampton University in Virginia. "I plan to inspire the people around me and to keep growing that community until it's the whole world I'm making an impact on," Promise said. "God blessed with this gift, so now it's time to be a blessing onto others. My music is very versatile, but the message will always remain clear, and that is being passionate about something and to keep dreaming."
Remember Jones, the 12-piece rock 'n' soul band led by a namesake front man has toured continuously the past two years in 25 states out to California and back. Recent tour highlights include the kick off on July 6 playing in front of 4,000 opening for Southside Johnny & the Asbury Jukes with special guest Bruce Springsteen at the Stone Pony Summerstage, as well as drawing on their own and performing to more than 2,300 in Victor, Idaho, and 1,500 in Cloverdale, Calif. Check out Remember Jones when they perform Aug. 21 at Parker Press Park, Woodbrige; Aug. 22, Pier Village, Long Branch; Aug. 23, Colony, Woodstock, N.Y.; Aug. 24, Snowshed Lodge, Killington, Vt.; Aug. 28, Kennedy Plaza, Atlantic City; Aug. 31, Bird & Betty's, Beach Haven; Sept. 7, Axelrod Performing Arts Center, Deal, where they'll play a 50th anniversary tribute to The Who's "Tommy"; Sept. 12, Brooklyn Bowl in New York, and Sept. 13, Sellersville Theatre in Pa., both of which will feature tributes to Amy Winehouse, and Oct. 4, The Warehouse, Fairfield, Conn.; Oct. 5, Count Basie Theatre, Red Bank, and Hard Rock Hotel & Casino, Atlantic City, all three of which will feature tributes to Queen.
Rising from the Primordial Soup that was Trenton's fabled City Gardens, Dinosaur Stampede are a local super-group featuring vocalist-bassist Keith Hartel of Motel Shootout, True Love and Pleased Youth, lead guitarist Keith Kenny, drummer Sim Cain of Rollins Band, Dean Ween Group and Billy Hector Band, and vocalist-guitarist Packy Pterodactyl, aka Patrick Thompson of …but ugly and Black Vomit. They will celebrate the release of their self-titled debut album on Patrick's Dumb Head Records on Sept. 7 at Randy Now's Mancave in Bordentown with special guests Naughty Clouds. All who attend will receive a free eight-song CD, which was co-produced by Sim and both Keiths and engineered by Kenny at Studio 303 in Monroe. Packy also will play solo Aug. 21 with R.W. Kingbird.
"There's a part of me that feels like I just lucked into this by getting Keith and Sim to come practice these songs with me and trick them into thinking they were having a good time," Packy said. "But the truth is that once we dove in and started to collaborate, it became a project that everyone became invested in and their skills brought it to a level that I could not have imagined. Getting to work with such incredibly talented professional musicians, I had the time of my life. From practicing in a big, cold rehearsal space in Trenton to polishing and refining the songs at Keith's intimate studio in Monroe, it was an incredibly satisfying experience that was rooted in a lot of history and homeground. In the end, it has exceeded my expectations and we are all extremely proud of the final product."
The always busy Dw Dunphy has two new projects worth checking out. A new single, "Reconsider Me," is a collaboration on the Warren Zevon tune with Nashville singer-songwriter Lindsay Murray, aka Gretchen's Wheel. The single follows Gretchen's Wheel's "Moth to Lamplight: A Tribute to Nada Surf" album and precedes the latest volume of Dunphy's Co-Op Communique series of unsigned and indie music artist compilations. Vol. 5 will drop on Labor Day and will feature "Reconsider Me" and several other recently submitted tracks. If you would like to get involved at the last minute, send one high quality WAV with title, credits, publisher, rights association, a song graphic or artist photo, and links to Bandcamp and either a website or Facebook page to dw.dunphy@gmail.com.
"As always, it was free for artists to submit and will be free for individuals to download," Dunphy said. "The goal always was -- and continues to be -- to get new audiences to these performers."
Feast on previous editions of the Co-Op Communique online.
Since 2006, BlowUpRadio.com has been doing a Banding Together Spondylitis Benefit during October and November to raise money for the Spondylitis Association of America, which helps those with the disease, including the wife of BlowUp's Lazlo. The benefit will include another Banding Together compilation featuring previously unreleased songs, new live versions or remixes, all of which would need to be exclusive through January. A second compilation featuring live performances from BlowUp's annual webathon also may be produced, Lazlo said.
"If you like the way you sounded on an original song you performed at a previous webathon, let me know, and I would be happy to use it on the compilation," he said.
Tracks must be submitted Lazlo@BlowUpRadio.com by Sept. 1 for an early October release that will be followed Oct. 18 to 20 by the annual Banding Together Webathon, featuring acts performing 30-minute sets acoustically on BlowUpRadio.com, live from Laz's basement in South Amboy. For performers, the webathon is very much a party atmosphere with food and drinks donated by local restaurants.
The webathon will be followed by a series of benefit concerts in October and November. Those interested in performing at the webathon and/or concert series should contact Laz.
"I am working with some friends to secure some venues," he said. "If anyone is interested in helping to put together a benefit concert and is able to secure a venue, please let me know."
Asbury Park Porch Fest returns as a fundraiser for the community empowering Interfaith Neighbors and Asbury Park Homeowner's Association. Acoustic performers on the porches of homes throughout Asbury Park will include Alex Varga, Andrew Stoddard, Barbara Paskin, Ben Resnick, Bob Kasper, Bobby Mahoney, Brian Erickson, Carl Chesna & Co., Chris Brown, Christine Mitchell, Chuck Lambert Band, Connor Bracker & the Mother Leeds Band, Dave Mooney, Dave Vargo, Deena, The Foes of Fern, Ian Bamburger, Jackie June, Jennifer Karma, Jo Wymer Band, Jonathan Tea, Joshua Mark, Joshua Van Ness, Marc A. Tappan, Matt Dubrow & the Captives, Mike Herz, Mike Montrey Band, Natalie Farrell, Pamela Flores, Paul Whistler & Thomas Ghent, Saraha Moon, Shady Street Show Band, The Wag, Waiting on Mongo, Wynward and much more.
Also performing at Porchfest, as well as BlowUp Radio's aforementioned webathon, is Amanda Rose Riley, an up-and-coming Morris County-based singer-songwriter who recently dropped a seven-song EP, "Millennials Are Going Gray" as a follow-up to her 2018 debut LP, "Secrets I Told to a Sound Hole." You also can her play selections from both on Aug. 15 and 29 when she busks at Secaucus Junction and Dec. 14 at Krogh's, Sparta.
Featuring former members of The Y.I. Ought Ta's and Doc Rotten, South Jersey punk rockers Minor Setback have released their five-song debut, "Have You Had Your Rabies Shot"? The spirited collection was mixed and mastered by Wes Bentley of the similar-sounding Doc Rotten with whom vocalist-bassist Robby Novaskosha toured. Videos are in the works for two of the tracks, "Ballyhoo" and "Greyhound."
In the meantime, the fun, fierce four-piece will play NJ American Dissonance Festival on Aug. 24 at NJ Weedman's Joint in Trenton with Warhawks, Famous and Fallen, Springbrooke, Castle Black, Brandish, Club 27, Future Trash, Emmanuel O. and the Perpetual Motion, Darren Deicide, Pre-K Dropout, Tool Shed, Savan DePaul, Whiskey Drippin and Mr. Lisp. The fest is a benefit for NJ Weedman's Joint, a 420-friendly restaurant and head shop across from Trenton City Hall. A marijuana legalization advocate and political activist, "Edward "NJ Weedman" Forchion has been under legal scrutiny from the state for the past decade that have taken a financial toll. "Our goal is to raise money for the Joint because we truly believe that it's a place where artists, musicians, activists alike can gather and share ideas," organizers said.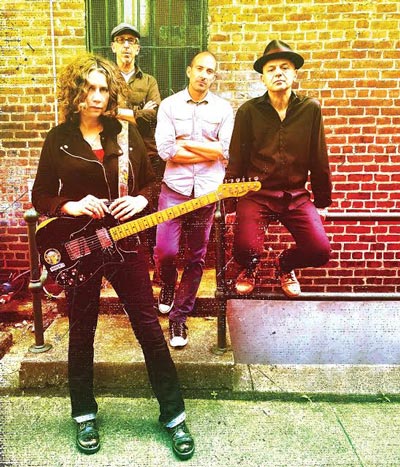 Karyn Kuhl Band have a new EP, "Hey Kid," that they will perform Aug. 15 at Bowery Electric, New York City; Sept. 7, Outpost in the Burbs at Montclair Center Stage, and Oct. 12 at Fox and Crow, Jersey City. Pictured from left to right are Kuhl, bassist Larry Heinemann, drummer Jonpaul Pantozzi and guitarist-keyboardist James Mastro. PHOTO COURTESY OF KARYN KUHL
Karyn Kuhl Band have a new EP, "Hey Kid," a musical reminder that there are "more of us than them, but we need to rise up and make some righteous noise." The EP was produced, recorded, mixed, and mastered by Ray Ketchem (Guided by Voices, Alex Chilton, Luna) at Magic Door Recording in Montclair. Karyn first received national acclaim for her early bands Gut Bank and Sexpod, growing out of the vibrant Hoboken music scene and the legendary club Maxwell's (Gut Bank's "The Dark Ages" got a rave review in the New York Times). Her current group features James Mastro (The Bongos, Ian Hunter, reunited Mott the Hoople) on guitars and keyboards, Larry Heinemann (Springhouse, Blue Man Group) on bass, and Jonpaul Pantozzi on drums. Karyn's rich, expressive vocals blend with the weaving, sonic textures of her and Mastro's unique guitar interplay and the locked-in rhythm section. The songs "Hey Kid" and "It's Over" reunite her with Gut Bank band mate Alice Genese (Psychic TV) on backing vocals.
"Hey Kid" follows the band's 2013 debut LP, "Songs for the Dead," and 2016 EP "The Stars Will Bring You Home." More than in her previous work, the new songs were inspired by current events. "I wrote 'Hey Kid' and the other three songs on the EP after the last presidential election," Karyn said. "Around that time, I found an old college ID card from the '80s and couldn't believe the strong and innocent energy beaming from my face! I had been feeling beaten down after the election. Seeing that photo, marching with the young and old against the current administration, inspired this song as a call to bring together youthful exuberance and resilience with the depth of maturity and experience. The music and lyrics poured out!"
The EP also includes the stripped-down, swampy "Strong Woman Blues," about overcoming inner and outer obstacles to owning your power. The song was recorded by Tom Beaujour, who has worked with Juliana Hatfield and Nada Surf at Nuthouse Recording in Hoboken. On "The Wheels," psychedelic jazz explodes into noise punk, taking a ride through the gentrification and homogenization of cities, bodies, and minds. But the EP's centerpiece is the opening scorcher "It's Over" on which Karyn calls out Trump and the patriarchy, bigots and haters he fuels and inspires, reminding them that their time is done. "The end is near, and it's what you fear," she taunts. "The future is female, black and queer!" The rocking, rallying anthem for resistance, along with the other new tracks and some previous songs, can be heard live at "Season of the Witch: A Benefit for the ACLU to Fight Abortion Bans" on Aug. 15 at Bowery Electric, New York City, with more than a dozen other female and female-fronted acts; Sept. 7 at Outpost in the Burbs at Montclair Center Stage with Robinson Treacher and Marry the Sea, and Oct. 12 at Fox and Crow, Jersey City.
Jersey Shore singer-songwriter Rick Barry's latest release of "mood Americana" is "A Sunk Cost Fallacy and the Enduring Mirage" comes as the anticipated follow-up to his acclaimed 2016 effort, "Curses, Maledictions and Harsh Reiterations." Released on Codependent Records, the album was recorded mostly live at The Farm in West Chester, Pa. The 11-song collection features guest vocal appearances by Asbury indie rock Emily Bornemann of Dentist, Asbury-based Mountain Fever recording artist Tara Dente, and Nashville-based country-soul singer Maggie Rose.
"I'm really excited about this new album," Barry said. "I feel like it completely captures how a particular group of players, at a particular time in my life, were able to inspire and influence the direction of these tunes in a way that is unique to anything I have put out before."
Barry was a 2005 grand prize winner in the John Lennon Songwriting Contest with the tune "Courage For a Rainy Day," while his "Graphic Narrative" placed second. Both appeared on his debut album, "Declaration of Codependence." Barry since has been the recipient of various national and international songwriting and performance awards.
Just in time for Woodstock's 50th anniversary celebration, Glen Burtnik's Summer of Love is making a stop on its tour Aug. 24 at Hard Rock Hotel & Casino in Atlantic City. The tour has been in support of a debut LP that perfectly captures the classic rock hits-steeped production by its co-producer Tony Pallagrosi. Tickets in A.C. are a very affordable $20 to $30. Summer of Love also can be enjoyed Aug. 15 at Mayo Performing Arts Center, Morristown, and Aug. 16, Freeman Stage, Selbyville, Del.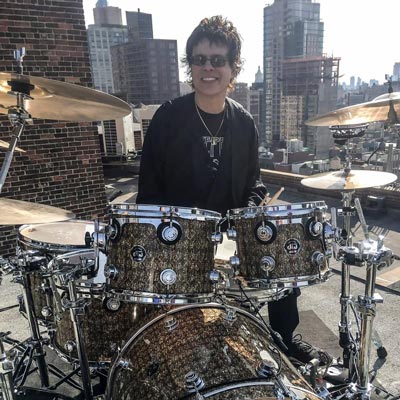 Jersey Shore drummer Joe Nevolo, owner of Big Beat Music School in Neptune City, will perform at the Woodstock 50th anniversary concert in Bethel, N.Y., with Jesse Kinch, a contestant on ABC-TV's "Rising Star" competition, alongside Ringo Starr, Santan, John Fogerty, The Doobie Brothers and many more. PHOTO COURTESY OF JOE NEVOLO
In other Woodstock news, Jersey Shore drummer Joe Nevolo, owner of Big Beat Music School in Neptune City, will perform on Aug. 18 at Woodstock 50 backing "Rising Star" contestant Jesse Kinch. The Woodstock weekend also will include performances by Ringo Starr, Santana, John Fogerty, Tedeschi Trucks, The Doobie Brothers, Grace Potter and more.
"This is such an honor for me to be part of a show so significant to the history of music" said Joe, who recently toured with Kinch in England promoting his debut album, "I'm Not Like Everybody Else".
Besides owning Big Beat since 1983 and teaching drums before that since he was 13, Joe's resume also includes gig with Shadow Gallery, Mahogany Rush, Jesse Bolt, The Good Rats, Phantom's Opera and much more.
Central Jersey indie outfit The Afraid Brigade have released their latest EP, "Feel the Sunshine," which they describe as "an experiment in reaching new levels of emotional conveyance. It traverses moods that live within the flux of dark rock anthems and celestial, folk-influenced ballads." Inspired by Band of Horses, My Chemical Romance and spooky old Disney vibes, specifically 'Pink Elephants on Parade' from "Dumbo," Afraid Brigade have compiled four tunes that they call "indie fantasy." Among them is "Red Sun," a 10-year-old relic from the art-school days of vocalist-guitarist Joe Ruff. "If there is a theme to the record, it's about how hard it is to be happy," Joe said. "Being happy takes work. It takes exercise, patience and healthy relationships. It's something we're always striving for and struggling with. 'Feel the Sunshine' is another way of saying stop and smell the roses."
"Feel the Sunshine" was recorded and mixed by Connor Hanson at Lakehouse Recording Studios in Asbury Park. Hear it live when Afraid Brigade play Aug. 26 on "OneMore with Brian Erickson" at Asbury Park Music Foundation; Oct. 11, Muchmores, Brooklyn; Oct. 18, The Asbury hotel, Asbury Park, and Nov. 25, The Wonder Bar, Asbury Park.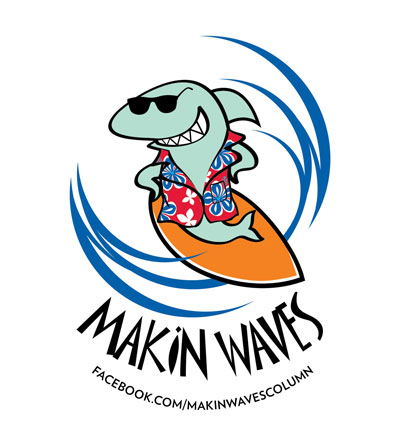 Bob Makin is the reporter for MyCentralJersey.com/entertainment and a former managing editor of The Aquarian Weekly, which launched this column in 1988. Contact him at makinwaves64@yahoo.com. And like Makin Waves at www.facebook.com/makinwavescolumn.