By Spotlight Central
originally published: 08/14/2019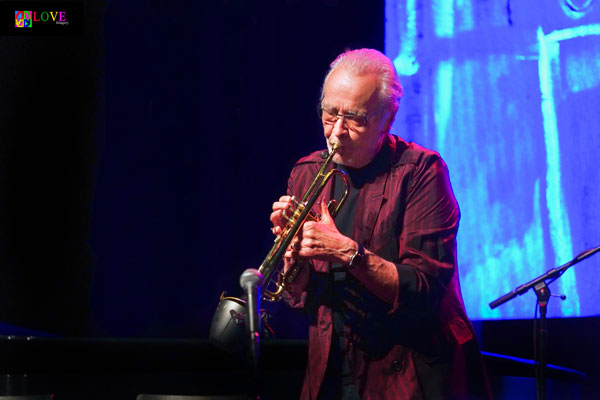 It's a beautiful August 1, 2019 summer's eve on South Street in Morristown, NJ. While some people window shop as they walk the tree-lined streets, diners can be observed enjoying a tasty meal at one of a number of local eateries offering outdoor seating. Still others, however, are currently making their way inside Morristown, NJ's jewel of a theater, MPAC, for a live concert appearance by Herb Alpert and Lani Hall.
Herb Alpert is a trumpet player most often associated with his iconic '60s band, Herb Alpert and the Tijuana Brass. He is also known for his work as a recording industry executive, having founded A&M Records — an organization which presented the world with such popular recording artists as Sérgio Mendes and Brasil '66, The Carpenters, Joe Cocker, Sting, Janet Jackson, Sheryl Crow, and more.
Although over the past two decades Alpert has become a skilled painter and sculptor, his personal musical accomplishments include 28 albums on the Billboard Albums chart, five number one singles, and record sales of over 72 million units worldwide. Alpert is the only artist to have ever had a #1 single as both a vocalist — for 1968's "This Guy's in Love with You" — and as an instrumentalist — for 1979's "Rise." A recipient of nine Grammys, Alpert's most recent award is for Best Pop Instrumental Album for 2013's Steppin' Out, a recording he created with his wife, Lani Hall.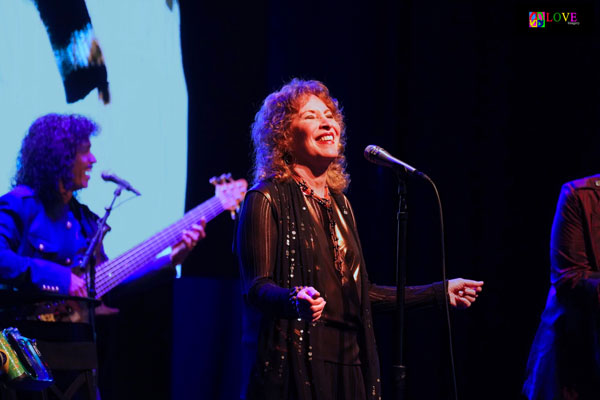 Lani Hall started her musical career as lead vocalist for Sérgio Mendes and Brasil '66. In 1972, she released her first solo album, Sun Down Lady. Hall has the distinction of recording over 22 albums in three different languages. Movie fans know her for her rendition of the theme song to the 1983 James Bond film, Never Say Never Again.
Hall received her first Grammy in 1985 for "Best Latin Pop Performance" for Es Fácil Amar. More recently, she's released three albums with her husband — Anything Goes, I Feel You, and Steppin' Out — and accepted her second Grammy Award as producer of 2013's Steppin' Out.
---
The article continues after this ad
---
---
Inside the stunning MPAC auditorium, the lights dim and a video is projected onto a large screen at the back of the stage which features Louis Armstrong and a soundtrack recording of Herb Alpert playing the trumpet on Armstrong's uplifting song, "What A Wonderful World," in a unique world music-style arrangement.
Filled with images of a variety of instruments, animals, and happy faces from around the globe, the video flashes messages like "Be Kind," "Be Honest," and "Help the Unfortunate." On the recording, Herb and a children's choir sing "What a — what a wonderful world," the video ending with a short film clip of the two smiling trumpet masters and friends — Herb Alpert and Louis Armstrong.
Following enthusiastic applause, a trio of musicians — Bill Santos on piano/keyboards, Hussain Jiffry on bass, and Michael Shapiro on drums — take their places behind their respective instruments before Herb Alpert and Lani Hall make their way onto the stage to avid whistles and cheers.
The audience drinks in every note of the group's first offering — a medley of Herb Alpert and the Tijuana Brass' "Work Song" and "What Now My Love" — Alpert's trumpet tone sounding warmer, rounder, and more emotionally stirring than ever on this highly rhythmic arrangement.
The interplay between the musicians builds as the crowd experiences the feel of a NYC jazz club inside Morristown's MPAC's auditorium thanks to an intimate performance filled with nuance and soul.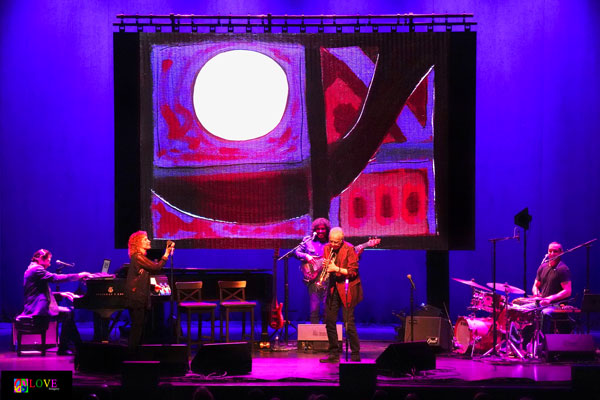 With the screen behind him showing examples of his visual art talents, Alpert and the band segue into a highly rhythmic up-tempo funk arrangement of Michael Jackson's "Human Nature." While Lani Hall's vocals ask, "Why? Why?" harmony background vocals and Santos' keyboard sound effects add to the ethereal effect of Alpert's ultra-cool arrangement of this King of Pop classic. Jiffry's funky bass slides along as he accompanies Alpert's soulful and percussive style of articulation and phrasing.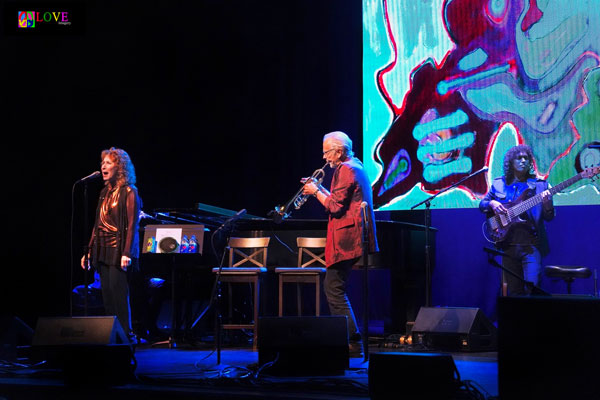 Moving on to Van Morrison's "Moondance," Alpert's trumpet dances as he leads the musicians through the number before Hall joins them with her interpretative vocal — jazzy and mellow, exciting and fresh. On this Latin/hip-hop arrangement, the rhythm section is precise and expressive and features Jiffry's clean bass lines, Santos' thoughtful piano chords and runs, and Shapiro's rhythmic slapping of his drum sticks on the rims of his drums. As the three instrumentalists play off one another, Alpert, 84, solos around them filling the stage — and the entire MPAC performing arts space — with his distinctive sound.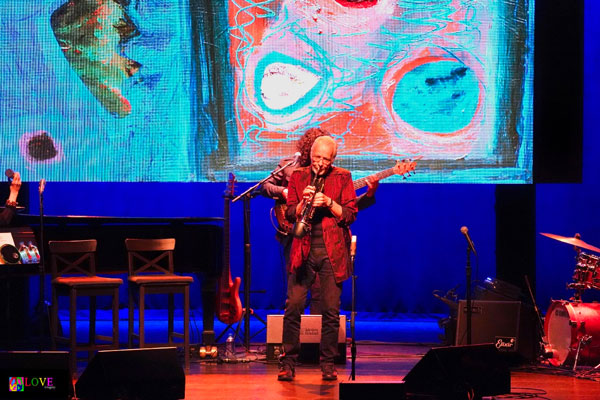 Lani Hall's turn in the spotlight comes when she sings a medley of two Sérgio Mendes and Brasil '66 songs — "Tim Dom Dom" and "The One Note Samba" — her voice sounding lovely and expressive while being deftly accompanied by her husband on trumpet.
The audience responds with avid applause when Alpert proudly exclaims, "Lani Hall! Lani Hall!" Hall bows graciously and Alpert retakes the mic to welcome tonight's Jersey crowd announcing, "Sometimes New Jersey gets a bad rap, but we were flying over New Jersey today and saw how beautiful and lush it is. It's magical."
Revealing about the group's next number, "I'm going to disguise it for a while — and then you'll recognize it," Alpert and Co. perform a unique rendition of "Besame Mucho." Featuring a funky bass line with a backbeat emphasized by Shapiro's drums, Santos' clean crisp piano playing echoes Alpert's brassy trumpet sound — the two complimenting one another as they wind their way through the composition. As Jiffry impresses with a lyrical bass solo, Alpert and Hall watch him with admiration while holding hands.
Following audience cheers, Alpert takes a seat and spotlights Hall who gives her own sultry spin on "Besame Mucho" — her beautiful rich, warm alto voice expertly accompanied by Hussain Jiffry who plays chords on his bass like a guitarist.
One of several audience-pleasing performances of the evening is a medley of songs made famous by Herb Alpert and the Tijuana Brass. As images of a younger Herb and Lani fill the screen, Alpert and the band put a modern spin on such classics as "Rise," "Whipped Cream," "The Lonely Bull," "Spanish Flea," "Route 101," "Tijuana Taxi," and "A Taste of Honey" — bringing back sweet memories to the smiling crowd.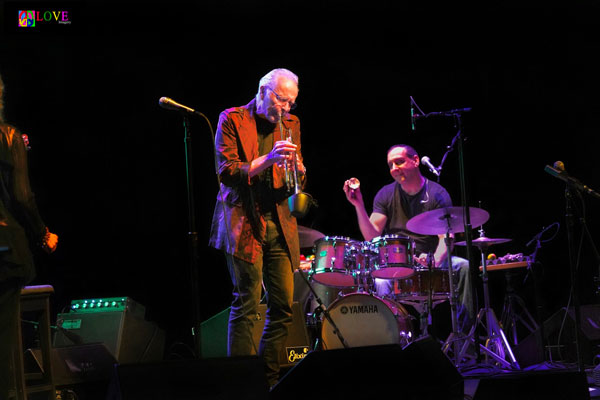 Following Santos' use of Count Basie's infamous three-chord piano ending, audience members stand as Herb Alpert raises his horn in appreciation.
Alpert invites the crowd to join him in singing his 1968 #1 hit, "This Guy's in Love with You." As the audience happily takes this trip down memory lane with Alpert — everyone singing with feeling — he concludes by declaring "Beautiful!" at the end of the piece.
After explaining that Hall was a member of Sérgio Mendes and Brasil '66 — a group which boasted a "hybrid sound" featuring elements of "classical, jazz, Brazilian, pop, and African music" — Alpert reveals that he and the group's lead singer, Lani Hall, have been happily married for 45 years.
Hall smiles when Alpert says when he first heard her sing, it gave him "goose bumps."
Following avid applause, Hall, 73, tells a childhood story about sitting out on her back porch with her father and watching the night sky. Here, she sings Carole King and Gerry Goffin's "Up On the Roof," bringing new meaning to this time-honored song and making it personal and artistic with just her voice and the sound of Santos' piano.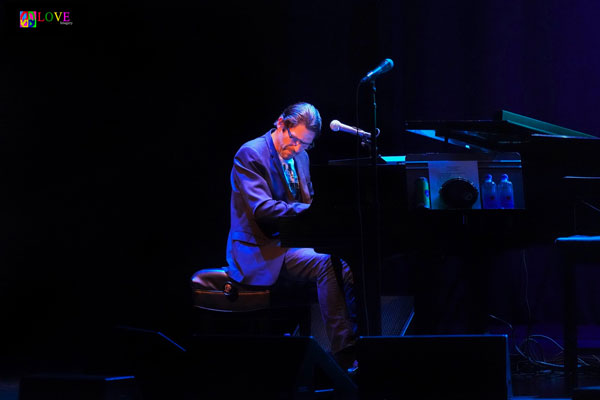 Segueing into one of Sérgio Mendes and Brasil '66's biggest hits, "The Look of Love," wedding photos of Lani and Herb appear on the screen. Sounding as young and vibrant as ever, Hall performs a medley of such additional Sérgio Mendes and Brasil '66 songs as "Upa Neguinho," "Fool on the Hill," "Scarborough Fair," "Like a Lover," "Night and Day," and the infectious "Mas Que Nada," which has the audience singing along to the tune's contagious Latin groove and responding with a standing ovation.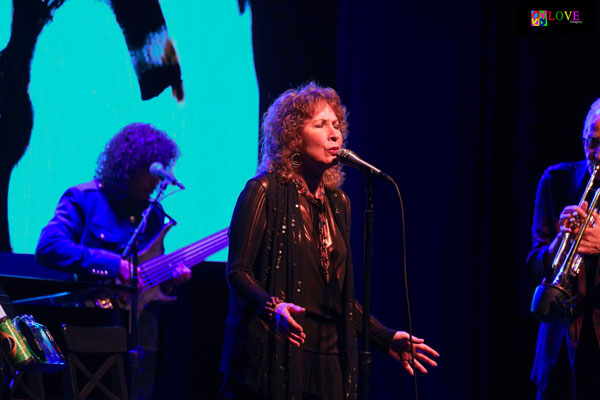 Addressing the audience, Alpert exclaims, "That's my girl! Am I lucky or what?"
Alpert invites audience members to ask questions and/or comment on tonight's concert, at which point an audience member shouts out, "I brought my 20-year-old daughter to expose her to the greatest music ever. Thank you for all the years of great music!"
Albert responds by stating, "All the arts are about the feeling. We're trying to put out positive energy — to make music that makes you feel good."
Another audience member calls out, "What was your favorite Beatles song?"
Laughing, Alpert replies, "What a perfect segue!" as he dedicates his next number to his friend, Beatle George Harrison. Here, Alpert and the band present a jazzy version of "Something" where Alpert's trumpet swings accompanied by Shapiro's skillful use of brushes on the drums.
Soon, the ensemble segues into an arrangement of Bill Withers' "Ain't No Sunshine" which features an Afro-Latin feel. Jiffry sings lead as he plays bass and Santos accompanies him with a Hammond organ sound. Soon, Hall joins in singing and the vocalists alternate with Alpert's rhythmic trumpet playing before the group concludes in four-part harmony.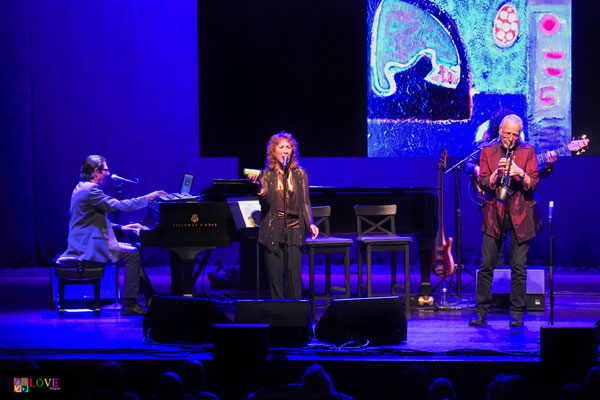 The band follows up with "Fly Me to the Moon," where Jiffry inspires the crowd as he plays chords on his bass, Hall taps a hand drum, and Shapiro simultaneously taps and shakes a tambourine, the group building in dynamics and intensity to large applause.
Taking a short break, a pre-recorded reggae instrumental version of Jason Mraz's "I'm Yours" plays while a heartfelt video comprised of images of trumpet lovers and couples in love from all over the world appears on the screen.
Alpert announces that tonight will be the first time the group will perform Cole Porter's 1934 composition, "Anything Goes." Calling Porter a "visionary," Alpert asks the members of tonight's audience to "concentrate on how the lyrics apply to 2019."
As Hall sings, "The world has gone mad today/And good's bad today/And black's white today/And day's night today," she gives the audience points to ponder before the group segues into their rendition of Cole Porter's "I've Got You Under My Skin." Following Hall's splendid lead, Bill Santos takes over on vocals and solos on the piano, taking the song in a new and amazing direction — at times, singing in his falsetto voice. As Hall watches with approval, Santos scat sings while simultaneously harmonizing his vocal solo with chords on the piano.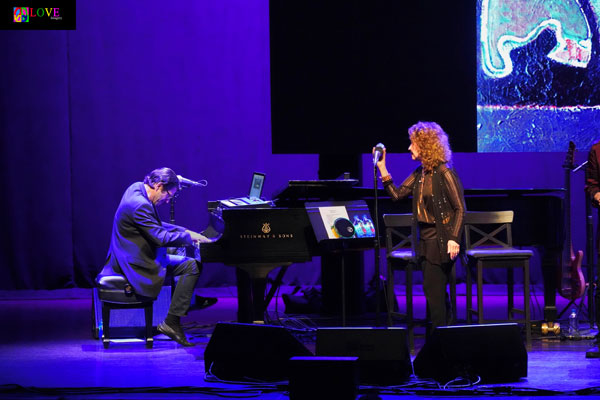 The audience applauds for this novel musical treat before Alpert joins in on the trumpet and Hall returns to finish the number to cheers and a standing ovation from the appreciative crowd.
After an audience member calls out, "You're the best!" Alpert and Hall wrap up the evening's festivities by performing a live hip-hop musical soundtrack to the duo's "Puttin' on the Ritz" music video which flashes on the screen behind them. A lip-dub-influenced production, Alpert discloses that the entire video — featuring a troupe of talented dancers in addition to Alpert himself who appears as a bus driver, a barber, and a bartender — was filmed without a single edit. The crowd stands and cheers for this entertaining performance.
For an encore, Alpert and the band perform "On the Sunny Side of the Street," a number with a New Orleans jazz feel on which Shapiro tap dances with his sticks on the rims of his drums until Jiffry's bass and Santos' piano join in the action and bring another layer of varying timbres to accompany Alpert's lyrical trumpet improvisations.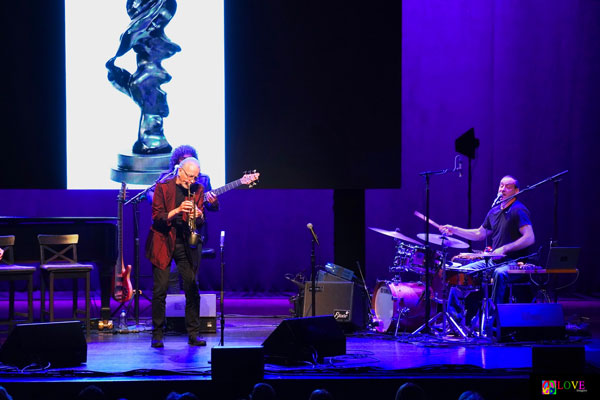 The audience leaps to its feet again and Alpert responds by stating, "We're not finished yet! I wish everyone could feel like me! I paint, I sculpt, and I make music. I'm 84 years old. It gives me life! Thank you, it's been a delight."
Albert invites the audience to sing along as he, Hall, and the band perform a high-energy rendition of Barry Manilow's "Copacabana," where Jiffry sings lead on the first verse, Hall handles the second verse in Portuguese, and the crowd follows up both verses joyfully singing the famous "At the Copa/Copacabana/The hottest spot north of Havana" chorus.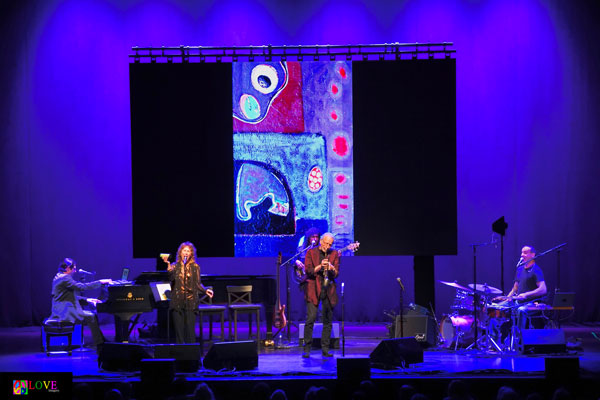 At the conclusion, the entire crowd stands as Herb Alpert, Lani Hall, and the trio take a bow and exit the stage.
As audience members make their way out of the MPAC auditorium, we get a chance to chat with bass player Hussain Jiffry who reveals, "It is amazing to play with Herb Alpert and Lani Hall. It's been quite a ride. They both are amazing human beings."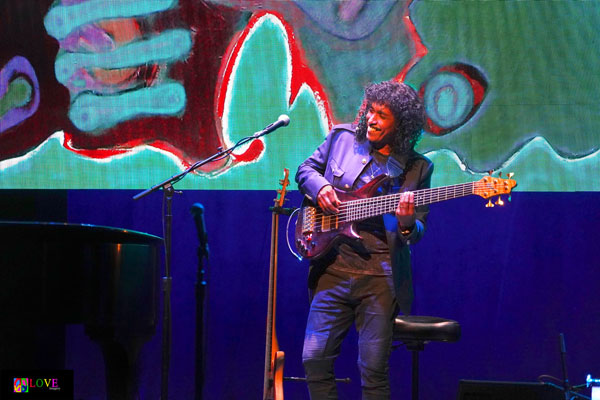 Acknowledging, "This was a great, receptive audience. We played here four years ago and it's wonderful to be back," Jiffry explains, "I played with Sérgio Mendes for 18 years and, in fact, I still play with him sometimes."
Continuing, "I grew up in Sri Lanka listening to such great pop and R&B groups as The Beatles, The Bee Gees, and dance music," Jiffry notes, "but I also love Brazilian music and jazz — especially artists like Jaco Pastorious, Chick Corea, Lee Ritenour, and Larry Carlton," before concluding, "I guess you could say I just love good tunes."
We also get a chance to chat with several concertgoers who share their thoughts about tonight's performance.
States Catherine from Chatham, "I've been listening to Herb Alpert since the '60s. I love horns and brass, and I love Latin music. During the '70s and '80s I lived in the West Village and I was neighbors with Herb Alpert's niece. By coincidence, I recently went to LA and wound up at a jazz club owned by Herb Alpert's daughter, and I told her about my connection with his niece, and now I can't believe that in a few minutes I am going to get to meet Herb Alpert!"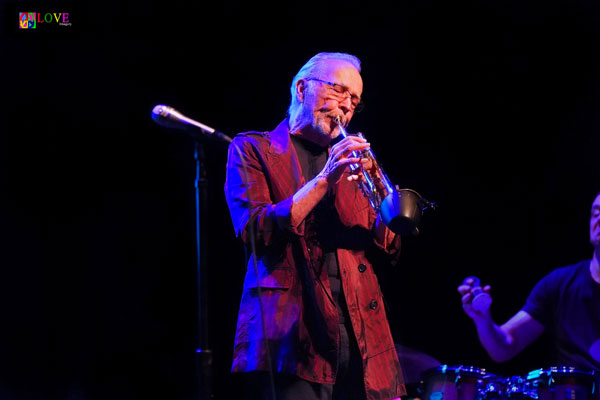 Remarks Dora from Linden, "Herb Alpert is amazing — just great! When I was in grammar school, my dad really liked him so I learned to love his music, too. I still have a lot of his records, and I love that he does all of that painting and sculpting. Also, Lani Hall sounded incredible tonight. She's a talented woman — just amazing!"
Glenn from Linden comments, "This show was great," explaining, "My dad had a 1968 Buick LeSabre with an 8-track tape deck. He owned exactly five tapes and four of them were Herb Alpert, so I know every single nuance of every single song — those songs are embedded in my brain," before acknowledging, "I just had to bring my dad here tonight."
Responds Glenn's dad, Julius from Linden, "The show was excellent — really good — I enjoyed the variety."
Andrew from Montville recalls, "My dad used to own a luncheonette in Madison and people used to put 25 cents in the jukebox so they could hear Herb Alpert's music."
Continuing, "When I was in third grade, my family wanted me to play the viola, but Herb Alpert inspired me and I picked the trumpet, which I still play," Andrew reveals, "It was so nice to hear him perform live. It was very touching. I even brought my 25-year-old daughter, Chelsea, and her friend with me tonight telling them, 'You've just got to come see him perform!'"
Whereas daughter Chelsea remarks, "I liked it a lot, and I even recognized a bunch of the songs," her friend, Dana, comments, "It was really good — and Herb Alpert and Lani Hall were just adorable together on stage."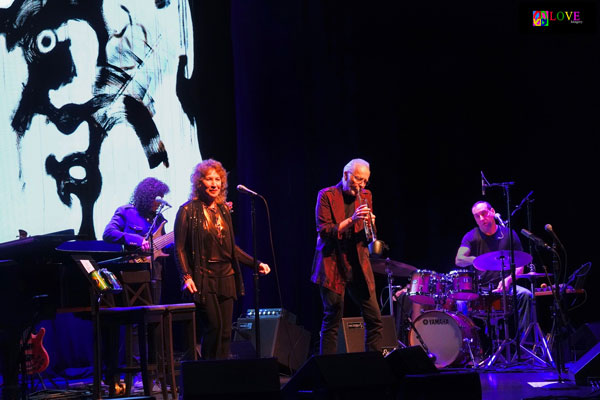 Mary from Tenafly observes, "There was a palatable love on the stage and in the audience tonight, and to be steeped in that environment was lovely," before noting, "It's hard to conceive that Herb Alpert is 84 and Lani Hall is 73 and it's truly unbelievable that, at their ages, they could still have such energy and talent."
Lastly, we chat with Mark from Madison who asserts, "This concert was excellent! I've seen Herb Alpert a couple of times before and I can't believe he's 84," before concluding with a smile, "Are you kidding — Herb Alpert live? How could you not love that!"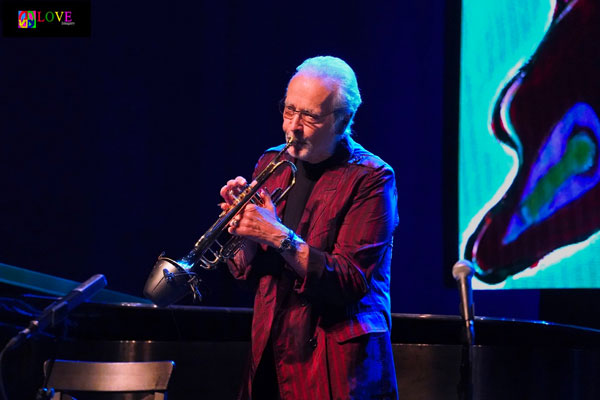 For further information on Herb Alpert, please go to herbalpert.com. To learn more about Lani Hall, please click on lanihallalpert.com. To find out more about upcoming concerts at MPAC — including Rock the Yacht starring Ambrosia, John Ford Coley, The Looking Glass, Peter Beckett formerly of Player, and Denny Laine formerly of Wings on August 20; Daughtry on August 27; and Graham Nash on September 20 — please go to mayoarts.org.
Photos by Love Imagery
Spotlight Central. Your source for Jersey entertainment news and reviews
Love Imagery Fine Art Photography. all you need. peace/love/flower/power