By Bill Wolak
originally published: 08/09/2019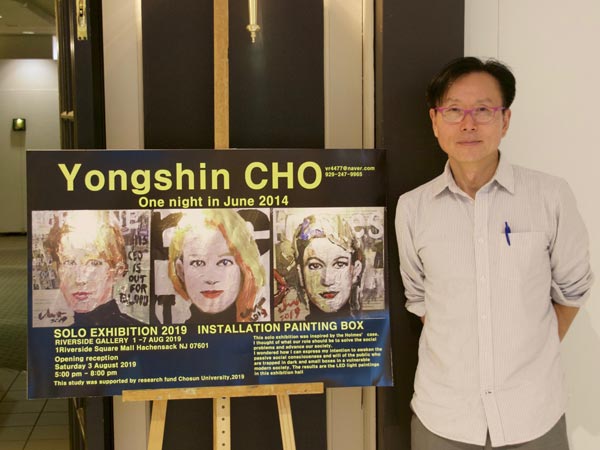 Yongshin Cho's latest exhibition, which closes on August 10 at the Riverside Gallery in Hackensack, is titled One Night in June 2014. The show is a call for honesty and integrity in an era of greed and hypocrisy. 
The case in point that Mr. Cho uses to focus his attack on unscrupulous corporate swindlers is a TED Conference in June of 2014 at which Elizabeth Anne Holmes touted her company Theranos that supposedly had invented a medical device called Edison, which could diagnose 200 diseases from a single drop of human blood faster and cheaper than existing technologies. All her claims turned out to be lies, for which she has been indicted by a federal grand jury. Her case, in which prosecutors allege that she engaged in two criminal schemes, one to defraud investors and the other to defraud doctors and patients, will be tried in 2020.
So how was Elizabeth Anne Holmes able to perpetrate such a fraud? Connections. Her father is Christian Rasmus Holmes IV, who was once a vice president at Enron. The early investors in her company included Tim Draper, Rupert Murdoch, the Walton family, and the De Vos family. Later, her company's board members included George Shultz, Henry Kissinger, William Perry, James Mattis, Bill Frist, Sam Nunn, and Dick Kovacevich.
These are some of the faces represented by Mr. Cho in 5" by 5" frames. The depictions are highly textured mixed media which include elements of collage, painting, and montage. Newspaper and magazine cutouts are painted over to produce the portraits of the people involved in the Theranos scandal.
Here is how Yongshin Cho describes the intent behind One Night in June 2014: "I wondered how I could express my intention to awaken the passive social consciousness and the will of the public who are trapped in the dark and small boxes in a vulnerable modern society. The results are the LED light paintings in the exhibition. Small works are used for the show. The square boxes 5" by 5" are symbolic of the passive consciousness of the public."
---
The article continues after this ad
---
---
Mr. Cho explains how the works were constructed in the following manner: "Inside the boxes are images of characters which are roughly sketched, torn, concealed, and hard to recognize. These faces are well known from media magazines. They are influential politicians who avoided their responsibilities. A very small LED chip (light device) is attached to the inside of each of the boxes. These are symbolic of consciousness seeking to reveal and monitor the concealed hypocrisy inside the mass media and powers that seem superficially just."  
Like his previous exhibition at Riverside Gallery in 2017 Time, Body & Desire, Yongshin Cho continues to engage his viewers wth dynamic works that encourage thought, insight, and direct action. He is the conscience of a generation too easily distracted by social media. His artwork encourages us to pay attention and remain mindful of the difference between deceit and integrity, hypocrisy and honesty, mere celebrity and actual achievement, frivolous entertainment and that which remains meaningful.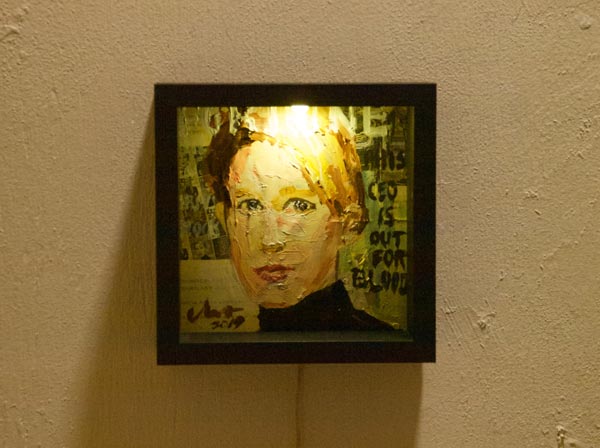 Bill Wolak is a poet who lives in New Jersey and teaches Creative Writing at William Paterson University. He has just published his thirteenth collection of poetry entitled Love Opens the Hands: New and Selected Love Poems with Nirala Press. His poetry has appeared in over a hundred magazines. His most recent translation with Mahmood Karimi-Hakak, Love Me More Than the Others: Selected Poetry or Iraj Mirza, was published by Cross-Cultural Communications in 2014. In 2016, he was a featured poet at The Mihai Eminescu International Poetry Festival in Craiova, Romania; Europa in Versi, Lake Como, Italy; The Pesaro International Poetry Festival, Pesaro, Italy, and The Xichang-Qionghai Silk Road International Poetry Week, Xichang, China.