originally published: 08/06/2019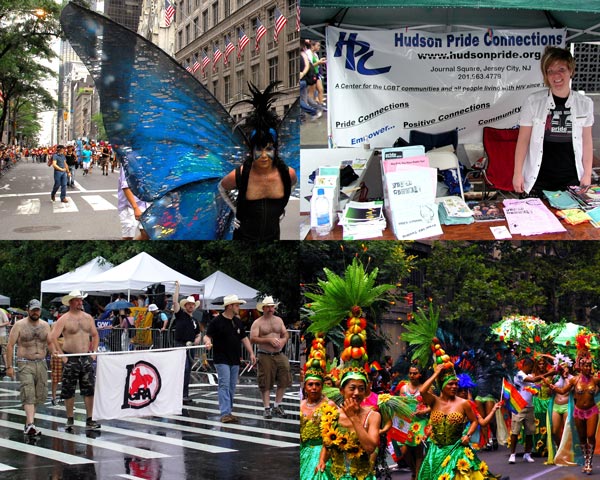 (JERSEY CITY, NJ) -- Art House Productions presents "PRIDE: From Raids to Parades" - an exhibit honoring the 50th Anniversary of The Stonewall Rebellion - from August 17 through August 31. The exhibition is an Official Jersey City LGBT Pride Festival Event. Curated by Andrea McKenna, the exhibition includes artists whose work demonstrates the passion they embody for this momentous occasion.
The iconic Stonewall Inn in New York City was a haven for the LGBT community and in the early hours of June 28th,1969, they were raided by the police as they often were.  The constant harassment and abuse made them react and fight back. Riots began and lasted for several evenings and thus ignited the LGBT Liberation Movement.
In commemoration of this night...the first Pride March was organized by the Gay Liberation Front the following year, in June of 1970, and it is considered to be the most significant event leading to gay liberation and the "modern" fight for LGBT rights.
In the last 50 years, the LGBTQ Community has had to fight for their rights and acceptance in just about every area there is: the government, the military, the arts, sports, education, entertainment, marriage equality and much more.
Participating artists include Beth Achenbach, Luis Alves, Alina Balseiro, Miguel Cardenas, John Crittenden, Jim Fallon, Donald Gallagher, Nicole Gamboa, Robert Koch, Jo-el Lopez, Vincent Minervini, Lucy Rovetto, Debashish Sinha, Bryant Small, and Arthur Velwest.    
---
The article continues after this ad
---
---
There will be an Opening Reception on Saturday, August 17th from 5:00 to 8:00pm. The show runs until August 31st. Gallery Hours will be Saturdays and Sundays from 12:00pm to 3:00pm.
Art House is located at 262 17th Street in Jersey City and is a 5,500 square foot facility with elevator access, accessible bathrooms, and wheelchair ramp accessibility. For additional accessibility requests and inquiries, please contact info@arthouseproductions.org or call 201-918-6019.
Art House Productions is a 501(c)(3) nonprofit arts organization committed to the development and presentation of the performing and visual arts in Jersey City, NJ. Art House Productions produces and presents original theater, events, visual arts, adult and youth arts education classes, festivals such as Your Move and The Sixth Borough Comedy Festival, and the citywide arts festival, JC Fridays.