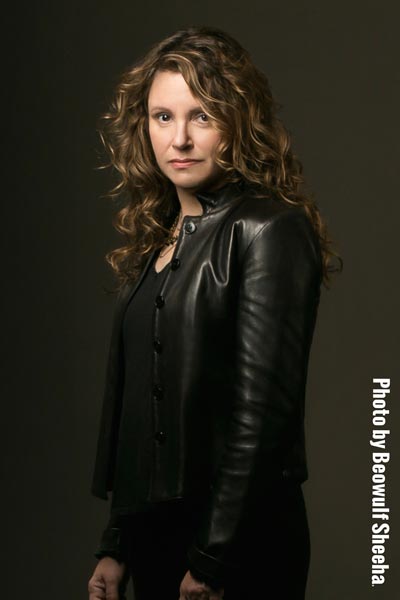 (FAIR LAWN, NJ) -- The Hurdy Gurdy Folk Music Club presents folksinger Lucy Kaplansky on Saturday, September 14 at 8:00pm at the Fair Lawn Community Center.  Tickets are $25 in advance, $28 at the door.
Lucy Kaplansky began performing at Chicago's folk music clubs as a teenager. She was barely out of high school when she headed east to join the New York City folk scene. Her beautiful flair for harmony soon made her a popular singing partner, most often performing with Shawn Colvin. She was on her way to a successful musical career. Then she became convinced her calling was in another direction. She pursued and earned a doctorate in clinical psychology.
As Dr. Kaplansky, Lucy began to treat chronically, mentally ill adults at a New York hospital and to start a private practice. She also continued to sing and to perform on the record albums of some of her friends. She harmonized on Colvin's Grammy winning "Steady On" and with Nanci Griffith on "Lone Star State of Mind" and " Little Love Affairs."  She sang with Suzanne Vega on the soundtrack for the movie, "Pretty in Pink," and with Griffith on the soundtrack for the "The Firm." She earned several commercial credits, including "The Heartbeat of America" for Chevrolet.
Lucy soon left her psychologist positions and returned to her music career full-time.  She began to record solo albums to critical acclaim.  She has teamed with Dar Williams and Richard Shindell, and with John Gorka and Eliza Gilkyson. Her story is included in the book, SOLO: Women Singer-Songwriters in Their Own Words; among them, Ani DiFranco, Shawn Colvin, Sheryl Crow, Jewel and Sarah McLachlan. Her new album, "Everyday Street" is a stunning, intimate performance reminiscent of her live shows. It features Lucy on guitar, mandolin and piano, accompanied by multi-instrumentalist Duke Levine, and includes powerful and provocative new songs by Richard Litvin. 
The Hurdy Gurdy Folk Music Club has been bringing the best in folk music to the Northeastern New Jersey area since 1981. With its September 14 concert, the Club marks its 12th anniversary of presenting concerts, co-sponsored by the Borough of Fair Lawn, at the Fair Lawn Community Center. The Center, located at 10-10 20th Street in Fair Lawn, provides theater-style seating, professional stage lighting and a state-of-the-art sound system.  Upcoming 2019 concerts will feature Buskin & Batteau on October 5, Bill Staines on November 2 and Julie Gold and David Massengill on December 7.  
---