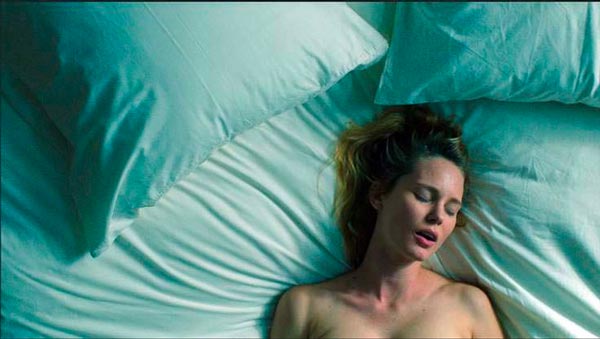 (NEW BRUNSWICK, NJ) -- The 38th Bi-Annual New Jersey Film Festival Fall 2019 showcases new international films, American independent features, animation, experimental and short subjects, and cutting-edge documentaries. The New Jersey Film Festival Fall 2019 is presented by the Rutgers Film Co-op/New Jersey Media Arts Center, in association with the Rutgers University Program In Cinema Studies. Screenings will take place on select Friday, Saturday and Sunday evenings between September 13 and October 13, 2019 with 7:00pm start times in Voorhees Hall #105/Rutgers University in New Brunswick. All total, the festival includes 29 film screenings with more than 25 films having their New Jersey or Area Premiere screenings.
Highlights include Bi Gan's highly acclaimed noir-inspired, dream-like film Long Day's Journey Into Night in which a man returns to his hometown after a long absence and searches for a woman he has never been able to forget; Mikail Ekiz's crazy stop motion animation Pit Stop which stars Bill Heck and Marcus DeAnda as Gabe and Ernesto, two gay men in a small town in Texas, who begin to build a relationship via their interactions at the local gas station; and Arnold Lim's immersive short All-In-Madonna about 16-year-old Maddie attending public school for the first time and discovering rumours her father is known as a dangerous thug.
The festival features Nathan Catucci's nightmarish psychological Impossible Monsters which stars Tony Award winner Santino Fontana as an ambitious professor becomes caught up in the murder of a participant in his sleep study, as the line between dreams and reality blur; Thom Leavey's short documentary on the vinyl resurgence – On Vinyl: Revival and Survival; and Daniel Ferrer's intense short Ex Disposer, which follows Andy, the destructively neurotic former drummer for New Jersey hardcore outfit Disposer, who discovers his old band is returning home after a cross-country tour. Nostalgic for his days behind the kit, Andy attempts to reunite with his bandmates, but first, he must confront the bad blood that was shed during his split from the group.
Further highlights include Brad May's affectionate feature documentary portrait of urban decline and revival of Trenton, New Jersey is shown in Two Trentons; Sonni Rossi & Megan McClelland's beautiful experimental Super 8 film from London, England The Beginning; Mauraya Sharma's sensuous short from India Unbinding; Tawny Sorensen and David Spaltro's touching short As One; Lou Assous's sexy feature love story Online Billie from Paris, France; Two surreal shorts from California – Emma Penaz Eisner's I Am He Who Created Himself and Alessia Cecchet's The Hearing of the Eye and one another one form Spain – Pol Rebaque's Babasha; Damian Fitzsimmons terrific coming-of-age feature set in the 1970s – Off The Rails; Two political shorts – No Al Muro by Luis Pena and Post Election Works by Kate Haug; Leticia Tonos Paniaqua's poignant dramedy Juanita which is about migration, love, and survival; an informative documentary on the rebuilding of the Tappan Zee Bridge – Rebuilding History; Michael Dominic's poignant, feature-length documentary Clean Hands which chronicles the difficult path of the Lopez family; Kerry David's important documentary Breaking Their Silence – on the sordid world of wildlife trafficking and poaching; and a series of films by New Jersey filmmakers as part of Jersey Fresh program.
Screenings take place at 7:00pm in Voorhees Hall #105/Rutgers University, 71 Hamilton Street, New Brunswick, New Jersey. Visit www.njfilmfest.com for more info.
---
The article continues after this ad
---
---
Special Guest Appearances by Directors, Artists, and Scholars: There will be over fifteen confirmed special guest appearances by film directors, artists, actors, and writers to the New Jersey Film Festival Fall 2019. All visiting artists will introduce their work and do a Question and Answer session after the screenings. For more information on these special guest appearances go to www.njfilmfest.com. Note: more filmmakers will be appearing but were not able to confirm their attendance at this time. So check the website for updated information.
All the competition films selected were screened by a panel of judges including media professionals, journalists, students, and academics. These judges selected the 27 finalists which will be publicly screened at our Festival. These finalists were selected from over 618 works submitted by filmmakers from around the world. In addition, the judges chose the Prize Winners in conjunction with the Festival Director. Prize winners will be announced after the screenings on Sunday, October 13.
Sponsors: The New Jersey Film Festival is funded and sponsored in part by The Rutgers Film Co-op/New Jersey Media Arts Center; The Rutgers University Program in Cinema Studies/School of Arts and Sciences; Middlesex County Board of Chosen Freeholders through a grant provided by New Jersey State Council on the Arts / Department of State, a Partner Agency of the National Endowment for the Arts; The Rutgers University Confucius Institute; Rutgers University School of Arts and Sciences Honors Program; Jungle Software; The Rutgers University American Studies Department; The Rutgers University Office of Disability Services; Rutgers University French Department; Johnson & Johnson; WCTC/WMGQ; WRSU; The Home News Tribune; The Asbury Park Press; New Jersey Stage; New Brunswick City Market; The Rutgers University Office of Community Affairs; The Rutgers University Digital Classroom Services Office; Design Ideas; Advanced Printing; Steven C. Schechter, Esq.; Share and Harris.