originally published: 07/25/2019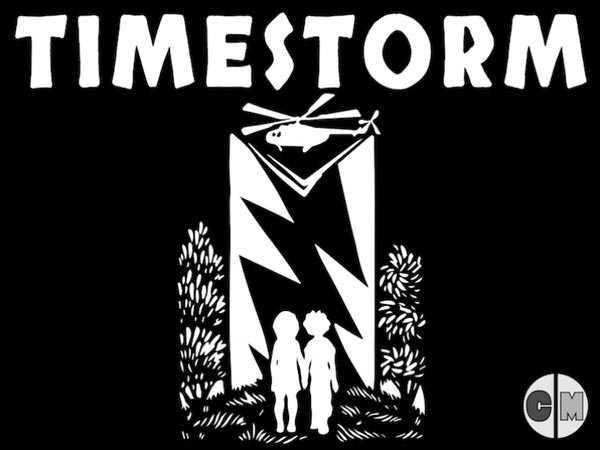 Timestorm, which launches on August 1st, is a fiction podcast revolving around 12 year old twins Alexa and Beni Ventura who are yanked into another dimension. There they meet a distant cousin who gives them an extraordinary mission: travel through time to preserve their culture's true history.
In the 21st century, the twins must navigate school, friendship, and family while keeping their time-traveling quests a secret.  When a natural disaster devastates islands across the Caribbean, Alexa and Beni understand what's at stake for their ancestral homeland.  As Puerto Rico faces an uncertain future, the twins do all they can to witness, find, and remember its past.
Timestorm is produced by Cocotazo Media with support from PRX and the Google Podcast creator program.  The series is written by Dania Ramos and features sound and music by her husband Michael Aquino.  It features the voices of Leilany Figueroa from Montclair; Walter F. Rodriguez from Budd Lake; Alicia Rivas from Jersey City; and Orlando Segarra from New York City.
"We began the main development process for Timestorm in the spring of 2016," explained Dania Ramos.  "After Hurricane Maria hit Puerto Rico, I rewrote the plot so that the contemporary scenes took place in 2017 in the days leading up to, during, and following Hurricane Maria.  This meant addressing the storm's impact on the Ventura family and portraying the extraordinary fundraising efforts that took place in Newark and the surrounding towns at the time.  Michael (Aquino) and I drew on our own experiences being unable to reach family living on the island for several weeks.  It was an extremely difficult period for so many in our community and we hope people find that we've represented it with truth and respect."
Ramos says the initial idea came from a proposal she wrote in 2013 for a stage play about New Jersey history.  Once the idea was expanded into an audio drama series, the premise shifted so the twins were time-traveling beyond New Jersey.
---
The article continues after this ad
---
---
The first two episodes of Timestorm were performed as part of a live reading during the New Jersey Theatre Alliance Stages Festival and was showcased at WBUR's CitySpace in Boston.  This gave them a chance to see how the podcast story would be received in the Garden State and beyond.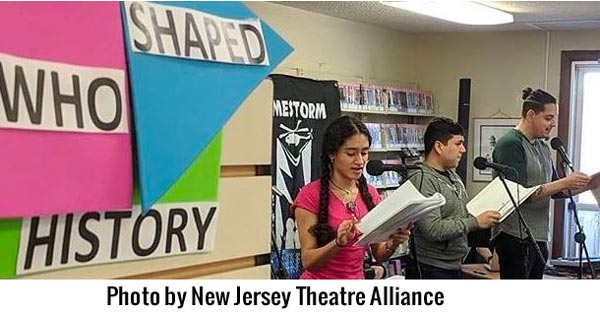 "We loved seeing the reactions from New Jersey families and we gained valuable feedback that helped in the development of the series," said Michael Aquino.  "The Boston performance was more of a podcasting industry presented and a celebration of Timestorm at the conclusion of the PRX Google Podcasts creator program.  We presented audio clips from the first five episodes and talked about our vision for the series.  That audience was a podcast hungry audience so they were very enthusiastic!"
Timestorm was one of six podcasts out of over 6,000 to be selected for the inaugural cohort of the PRX Google Podcasts creator program.  According to Aquino, PRX is a media company at the forefront of the podcasting industry and Google Podcasts is very motivated to see the international podcasting landscape take off with a mix of more diverse voices.  The program offered them training, mentorship, and seed funding.
"The podcasting landscape is so wide and varied," explained Aquino.  "Interested in listening to a podcast? Think of a subject or a genre and you're likely to find a nice lot.  The international podcasting scene is exploding as well with a lot of interest in countries like Chile, Argentina, India, and Brazil.  Podcasts are relatively gate-keeper free, so you don't have to wait for someone to give you the opportunity.  That's the beauty of podcasting - we're hearing stories we might not hear otherwise."
They see their target audience as being speculative fiction fans, children between 8-12, parents, and middle-grade teachers.
"Families and kids are a growing podcast audience," adds Ramos.  "Podcasts are a great screen-free source of entertainment.  We're members of an excellent organization called Kids Listen, which is a grassroots organization of advocates for high-quality audio content for children."
They currently have four seasons of 10 episodes mapped out, along with bonus content between seasons.  It's like Back to the Future with a larger purpose.
"Alexa and Beni are New Jersey kids to the core, but they have a genuine curiosity about who and what came before them," continued Ramos.  "While exploring their culture's past, they start to take ownership over it.  Since the twins are traveling back in time and witnessing moments from their culture's past, they gain a deeper understanding of how complex and mixed their Puerto Rican heritage is. Their travels will include trips to Europe and Africa as well as the island before the arrival of the Spanish.  The twins' quests also bring up questions about gaps in the history they've been taught: How and why are certain people celebrated and remembered while others are mostly forgotten?"
Eve Batey of Inside Podcasting says, "It's audio fiction with a mission, a fun kids' sci-fi show that embeds its Latinx history message in young-adult appropriate adventures."
Aquino utilizes many of the skills he's learned from recording his own music and adapts it for audio fiction.
"In Timestorm, we're employing various miking techniques to create the three different environments in our show: contemporary Newark (stereo), the past (mono), and inside the Timestorm (binaural or 3D audio)," explained Aquino.  "We've also recorded some of our own foley as well as utilizing an online sound effects library to create the soundscapes."
The two work well together, which as Ramos points out, is good since they're married! But their skillsets also mesh well together and enhance the project.
"Michael has an excellent ear and he's an incredibly talented audio engineer," said Ramos.  "His sound design places you right in the middle of a given setting, ranging from the otherworldly timestorm to contemporary Newark and various locations in other centuries.  He also wrote the theme song and other original music for the show.  Music plays a large role in the series, so it's great that he's also a gifted musician."