originally published: 07/25/2019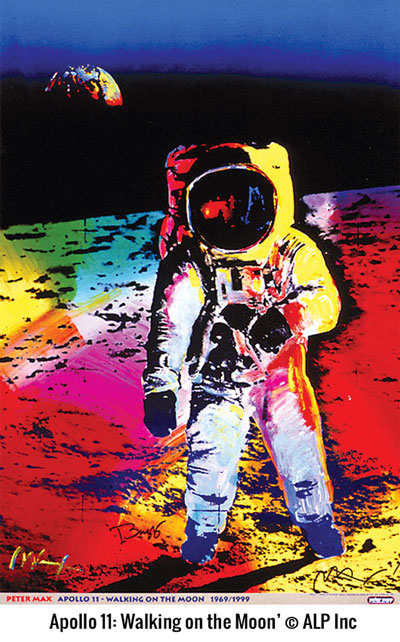 Some of us at New Jersey Stage may not have been alive to see it, but we were all watching the plethora of televised specials celebrating the 50th anniversary of the Apollo astronauts landing on the moon on July 20th. It's still cool thinking that the second man to walk on the moon (Buzz Aldrin) was a Jersey boy.
One person who did watch the moon landing live was artist Peter Max. He was captivated with the idea of space travel from a young age, creating cosmic poster art to commemorate the moon landing in 1969. He created posters in his '60s cosmic- collage style to celebrate the event after the successful mission and when the astronauts returned home safely. He honored the historic and heroic event again on the 30th anniversary in 1999, with his vibrantly colored paintings and posters of Buzz Aldrin's historic first walk on the moon and the Apollo 11 blast off.
"From the time that a German scientist told me when I was young that the diameter of the sun was about 100 times bigger than the earth, I've been fascinated with our universe and everything in it. That made me start thinking about all of the stars and how big they were and our moon, and our place in the universe," said Peter Max.
"I wanted to express my new understanding visually, and I sketched images of planets with strange suns, futuristic vistas, and flying saucers hovering above land," Max added. "I went from doodling futuristic cities in class to conceiving of huge alien landscapes that, to me, were as real as anything I could see or touch- maybe more so."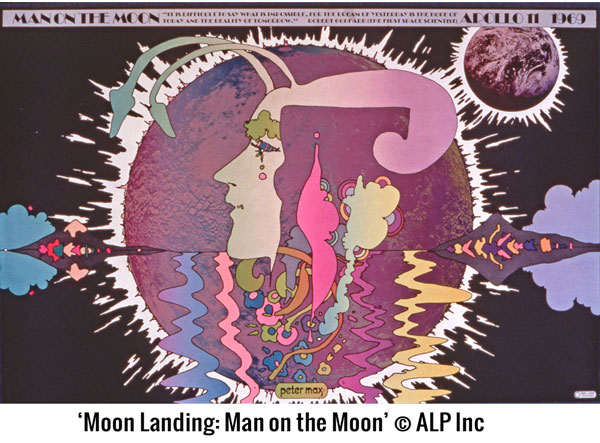 ---